Baltimore Police Commissioner Seeks Federal Help To Fight Crime Wave
Police Commissioner Anthony Batts is asking for more federal resources to combat a sudden spike in crime in the streets of Baltimore.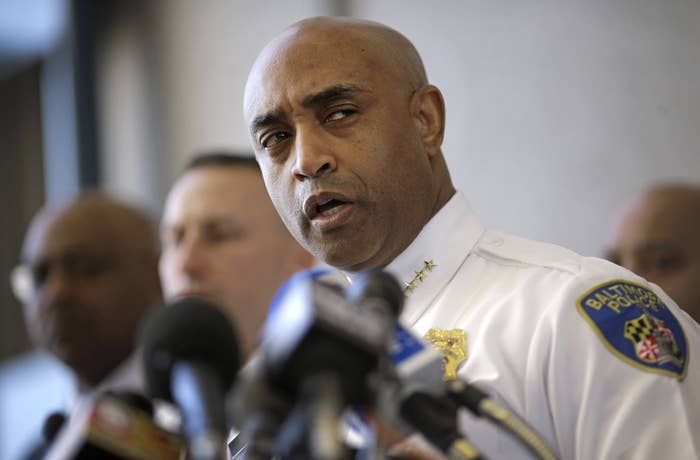 A rise in violent crime on the streets of Baltimore has pushed Police Commissioner Anthony Batts to ask for more federal resources to fight the sudden crime spike.
In a press conference Wednesday, flanked by representatives of multiple state and federal agencies, Batts said he is asking for federal prosecutors and agents to help, calling the renewed effort an "all hands on deck."
Batts' comments follow unrest in the city of Baltimore after the April 19 death of Freddie Gray, and the indictment of six Baltimore police officers involved. Since then, local prosecutors and Batts have come under fire by the police officers' labor union, and theres been suspicion the rise in crime may be linked to a work "slowdown" organized by police officers.
After the riots, the city's murder rate has increased steadily and arrests have plummeted.
"We understand fully the concern over the recent violence," Batts said. "Nothing is more important than the sanctity of human life within this city."
According to a database of homicides maintained by the Baltimore Sun, there have been 122 homicides so far this year. More than one-third of those killings, 46 of them, occurred in the last 30 days.
Yet according to city data, Baltimore officers made just 1,452 arrests in the three weeks after Freddie Gray's death. In previous years, the data shows, officers had made more than 2,000 during the same time period.
Batts highlighted two recent homicide arrests made by detectives in the last week, and stressed investigators had "strong leads in a number of cases."
He also suggested some of the violence may be linked to 27 pharmacies that were looted during the riots.
"Criminals are selling those stolen drugs," Batts said. "There are turf wars that are leading to violence and shootings in our city."
Batts said he would also ask the U.S. Attorney's Office to seek felony charges in more cases.
"We remain focused on the crime fight," he said. "We will return the city back to its normalcy."
Tensions between Batts and his rank-and-file, however, continued to appear stressed.
Missing from the uniformed personnel that attended the press conference with the police commissioner were representatives from the officers' Fraternal Order of Police, where hundreds of its members supported a possible vote of "no confidence" against Batts.
Hours before Batts press conference, the president of the union, Lt. Gene Ryan,held his own press conference and asked for internal communications in the department during days of riot in the city to see how leaders handled the unrest.
Ryan said about 130 officers were injured in the riots.