Surviving Giant Panda Cub At National Zoo Is A Boy
The National Zoo in Washington, D.C., on Friday announced that Mei Xiang's cub is male. The giant panda mother had given birth to fraternal twins on Saturday, Aug. 22, but the smaller of the two cubs died the following Wednesday.
The Smithsonian National Zoo on Friday announced that the surviving twin of giant panda Mei Xiang is a boy.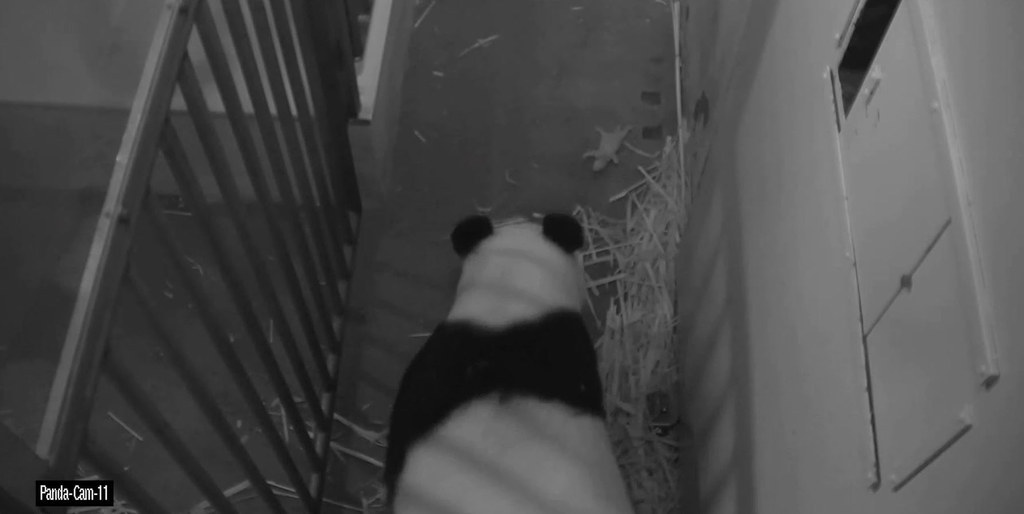 The zoo determined the gender of the cub using genetic testing. The same test was performed on the deceased twin, who was also a male.
Mei Xiang was artificially inseminated with samples from two different pandas — Tian Tian, also from the National Zoo, and Hui Hui, from a research center in Wolong, China — so a paternity test was also performed. Tian Tian was announced as the father of both cubs.
"What we have learned will greatly add to our body of knowledge about artificial inseminations in pandas," said Rob Fleischer, head of the Smithsonian's Center for Conservation and Evolutionary Genetics, in a press release. "Determining the pedigree relationships of a cub is a key aspect of helping to maintain a genetically diverse population. Our ability to assess the cub's lineage will help our colleagues ensure that he finds a suitable mate."
The surviving cub was born on Saturday, Aug. 22, alongside a fraternal twin. His twin was born significantly smaller, however, and died on Wednesday, Aug. 26.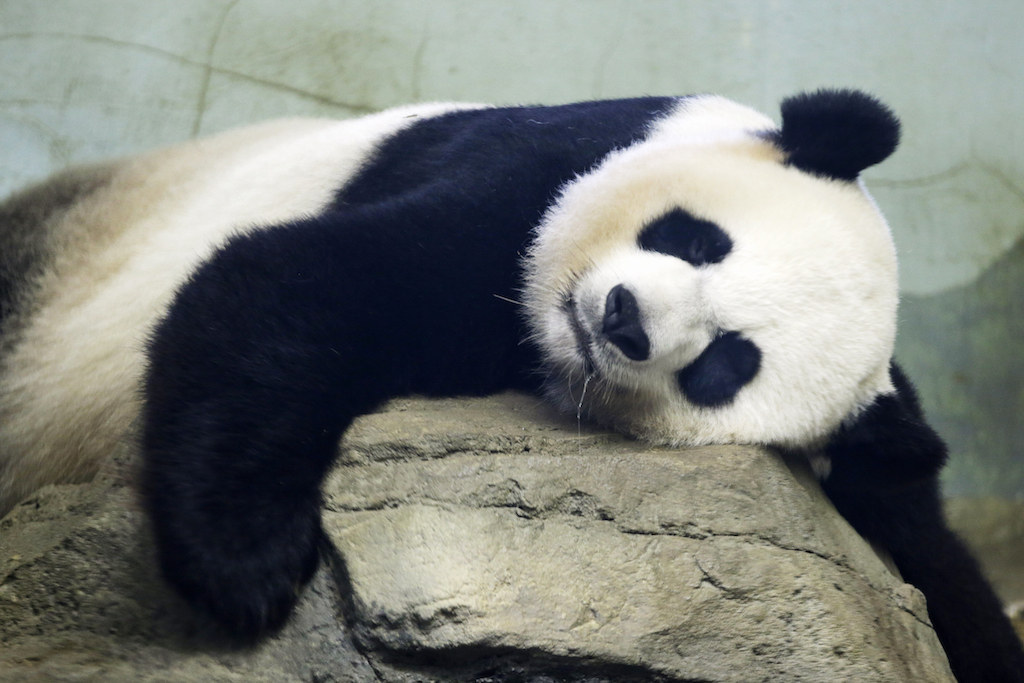 The twin births to Mei Xiang, a 17-year-old giant panda at the Smithsonian National Zoological Park in Washington, D.C., had been a surprise, and staff members had warned that newborns are prone to early death.
Though the second panda was significantly smaller than the first, zoo officials said in a news conference Wednesday that they both seemed to be healthy and vocal. They also noted that Mei Xiang was seen trying to care for both.
The first panda cub was born at 5:35 p.m. The cub remained with its mother after birth and appeared to be healthy.
Less then five hours later, at 10:07 p.m., Mei Xiang gave birth to a second cub.
After the second birth, one of the cubs was placed in an incubator, per official protocol, zoo spokesperson Devin Murphy told BuzzFeed News. The cubs traded off, spending some time with Mei Xiang and some time in the incubator, giving them both a chance to nurse and increase their odds of survival.
Zoo officials had not been expecting the second cub.
Panda cubs' health is precarious after birth. According to Pandas International, a nonprofit organization that works on the preservation of endangered animals, the cubs are hairless and are about the size of a stick of butter when they are born.
To increase their chances of survival, officials swapped the cubs from an incubator to spending time with mom to make sure they got medical attention and time to spend with Mei Xiang.
"Nothing replaces mom and we wanted them equal opportunities to bond," chief veterinarian Don Neiffer said.
The smaller cub spent the night with Mei Xiang, and it was when officials were switching the cubs Wednesday morning that they noticed it had not increased in weight, appeared weaker and had trouble breathing.
The cause of death is still unknown, Neiffer said.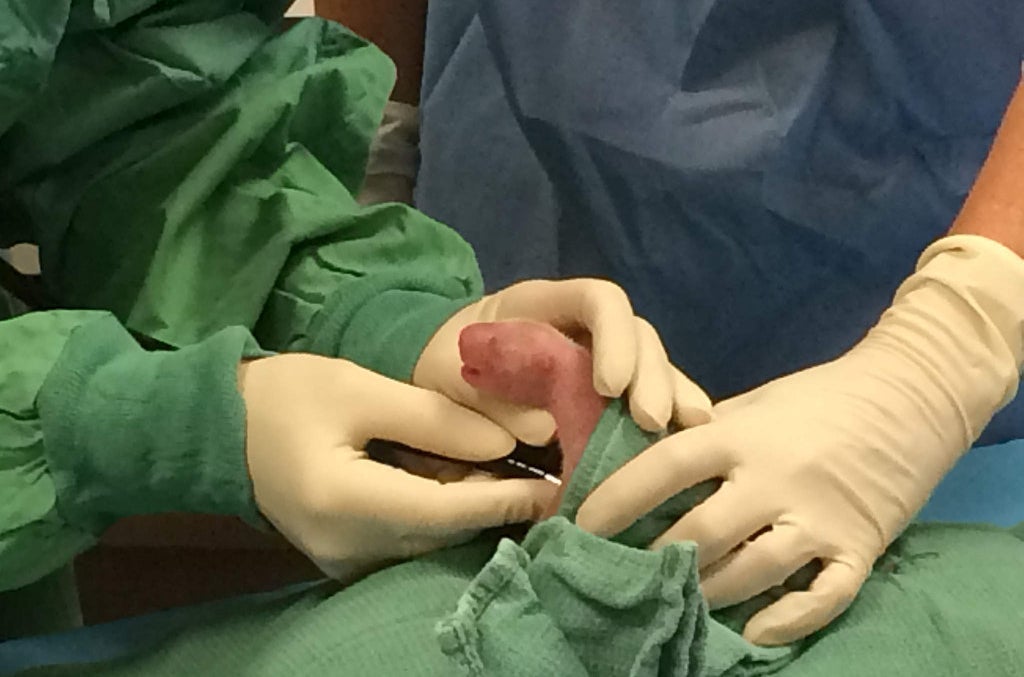 Officials announced the birth of the pandas in a news conference Sunday, where zoo officials said they had been "tickled" that two cubs were born and that both seemed to be doing well.
The cub that was placed in the incubator weighed about 4.8 ounces and was "vocalizing very well," according to a statement the zoo provided to BuzzFeed News.
Both cubs had been doing well as of early Sunday morning.
According to the zoo, giant pandas have twins about 50% of the time. Saturday's double births were only the third set of giant panda twins ever born in the U.S.
And despite concerns that the mother would show preference for one of them, zoo officials said Mei Xiang appeared to be trying to care for both of the tiny cubs equally.
Though saddened by the cub's death, zoo officials said they wanted to focus their attention on the healthy baby cub that was currently in Mei Xiang's enclosure.
That panda was still showing signs of being healthy and strong, officials said.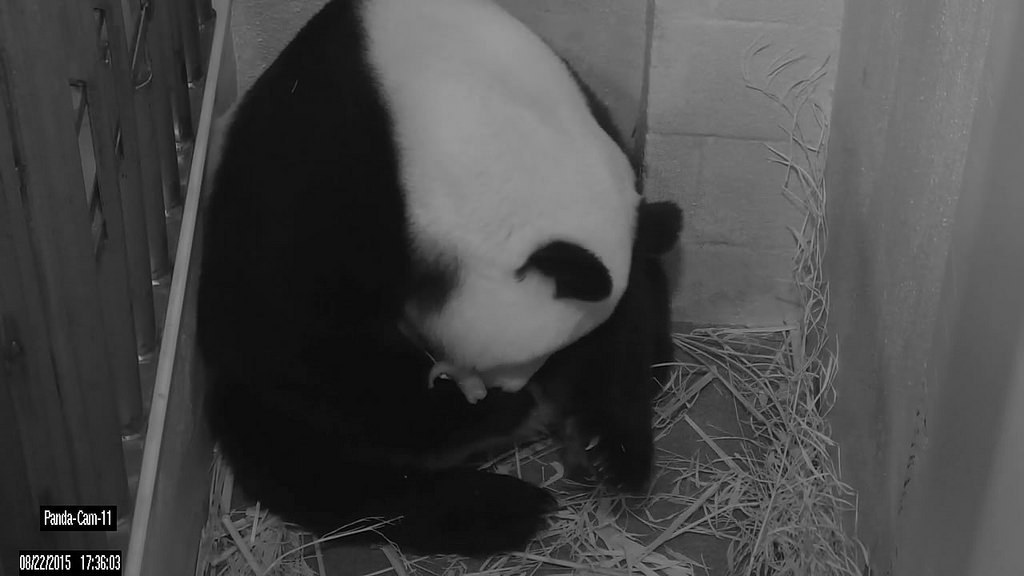 According to the zoo, Mei Xiang reacted to the birth of the first cub "by picking it up."
The cubs were Mei Xiang's third and fourth living offspring. In Aug. 2013, she gave birth to Bao Bao, who also lives in the Washington Zoo.
And in 2005, she gave birth to Tai Shan.
The giant pandas are part of a population of less than 2,000 in the entire world.
This is Mei Xiang, celebrating her 17 birthday this year.
Mei Xiang, who weighs about 233 pounds, is one of three pandas in the Washington zoo.
Her name means, "beautiful fragrance."
Mei Xiang was inseminated four months ago with the semen of two pandas: Tian Tian who also lives at the Washington Zoo, and Wei Wei who is housed at Wuhan Zoo in China.
But veterinarians weren't able to confirm for weeks whether she was pregnant. She was just not cooperating with ultrasounds.
Panda baby-making is extremely difficult. Females have a fertility window of only 24 to 72 hours a year to conceive, which means vets are constantly monitoring their urine for hormone changes to find the perfect time for artificial insemination.
Efforts to try to get pandas to breed in captivity started in 1955, but it wasn't until 1963 that the first panda was born in captivity in Beijing, according to Pandas International.
Natural breeding between captive pandas is also difficult because males and females sometimes appear to lose interest, or simply don't know how.
Scientists have therefore turned to artificial insemination.
The Smithsonian National Zoological Park in 2011 also signed an agreement with China to study breeding and cub behavior.
Veterinarians at the zoo first found signs Mei Xiang was pregnant Wednesday, when an ultrasound showed a 4-centimeter fetus.
However, the zoo's panda team had suspected for some time Mei Xiang might be pregnant after noticing she was sleeping and spending more time in her den, licking and cradling objects.
Still, veterinarians at the Smithsonian Zoo said there was a possibility Mei Xiang could reabsorb the fetus, or the panda could be stillborn.
By Saturday, however, Mei Xiang looked to be restless and was having contractions, signs she was in labor. A short time later, zoo officials confirmed her water broke.
Mei Xiang gave birth to a stillborn cub in 2013, a day after she gave birth to Bao Bao. A year earlier, one of her cubs died six days after being born because its lungs didn't fully develop.
The sex of the cubs born Saturday was not immediately known. Officials were watiting to name them until they could determine the sex.
Correction
The first panda cub was born on Saturday afternoon. A sentence in an earlier version of this story incorrectly stated the cub was born on Saturday morning. 🐼