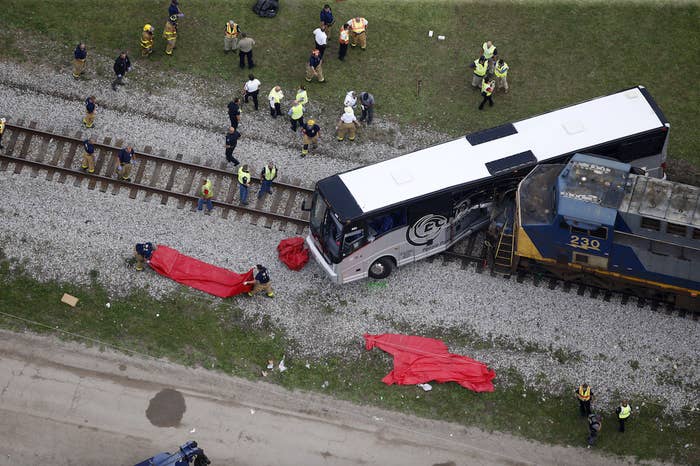 Four people were killed and 35 others injured Tuesday in Mississippi when a freight train crashed into a tour bus that had come to a stop on the tracks.

"It's a terrible tragedy," Biloxi Police Chief John Miller told reporters Tuesday afternoon. "I know there are a lot of families that are going to be impacted here."
Authorities said the bus was stopped on the tracks at the time, and witnesses told the Sun Herald the bus appeared to be stuck on the tracks.

The bus originated in Austin, Texas, and Miller said he believes it was headed to casinos in the Biloxi area.
The CSX train slammed into the side of the vehicle just after 2 p.m., Miller said. At least four people on the bus have died, he said, and most of the 48 passengers were injured in some way.
Thirty-five of the people onboard were taken to nearby hospitals to be treated for various injuries, Biloxi Fire Chief Joe Boney told reporters.
At least eight of the passengers suffered critical injuries, Vincent Creel, spokesman for the city of Biloxi told BuzzFeed News. Seven others were not injured.
"It's a terrible, chaotic scene," Miller said.

Witnesses told the Sun Herald that the tour bus appeared to have become stuck on the train tracks for several minutes before the deadly crash.
"I took off running," Craig Robinson told the Sun Herald, describing the moment he saw the train headed toward the immobilized bus. "My first instinct was trying to get people to tell them to get off the bus, and by the time I got there the train had already hit it, dragged it to where it is now."

One witness told the paper the bus was hit about five to 10 minutes after it had became stuck on the tracks.
"(The conductor) was blowing his horn and doing all kids of different things trying to get the bus off the tracks, but it was stuck," Mark Robinson told the paper.
Robinson said he saw at least one person get off the bus before the crash, but the person was hit by the wreck and became pinned under the bus as it was dragged by the freight train.
Creel told BuzzFeed News the passengers were evacuating the bus just before the crash occurred, but several of them were still inside when they were hit by the train.
Several of the victims were airlifted to hospitals for their injuries.
Miller said it was still unclear to investigators why the bus had come to a stop along the tracks.