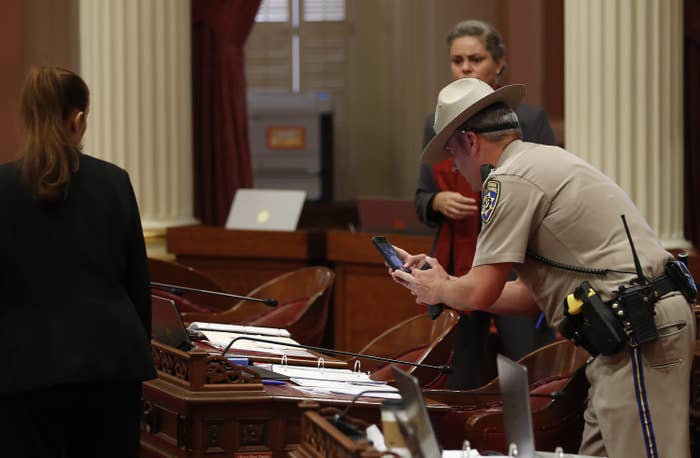 The red liquid that was thrown onto the California state senate floor by an anti-vax protester, just as lawmakers were set to roll back vaccine exemptions in September, was in fact human blood, tests have confirmed.
"That's for the dead babies," Rebecca Lee Dalelio yelled on Sept. 13 after she tossed what reportedly looked like a menstrual cup with red liquid onto the floor.
In a letter to staffers on Wednesday, the secretary of the senate, Erika Contreras, said lab tests confirmed the blood was human, but "it was negative for any blood borne pathogens or infections."
The letter, obtained by BuzzFeed News, did not state whether the blood was menstrual in nature. Some of the blood did land on lawmakers, including Steve Glazer, who underwent a medical checkup the following day.
The attack, on the last day of the state senate's session, was the latest escalation from anti-vax groups who descended on Sacramento as legislators considered the strictest vaccine law in the country.
In August, an anti-vax activist assaulted Dr. Richard Pan, a state senator who has led the effort to tighten vaccine requirements. Kenneth Austin Bennett livestreamed the attack on Facebook, in which the senator was peppered with questions about discredited anti-vaccine arguments, and then pushed from behind.
Dalelio was arrested on suspicion of vandalism, misdemeanor batter, and charges of disrupting official state business. She was released from Sacramento jail the following day after posting a $10,000 bond.

The Sacramento Bee, which obtained screenshots of Dalelio's Facebook page, reported that it had several anti-vaccine posts, and showed that she had been fighting against Pan's efforts to close vaccine exemption loopholes.
Her father, Henry Dalelio, told the paper his daughter "was always one to express her opinion."
In her letter to staff, Contreras said the senate floor was closed for more than two weeks until Wednesday, after a company certified by the California Office of Environmental Health Hazard Assessment had cleared the scene.

Meanwhile, the bill being protested by demonstrators that September day was approved by the senate and signed by Gov. Gavin Newsom. It goes into effect on Jan. 1.