Donald Trump supporters clashed with protesters Friday in San Diego as the presumptive Republican presidential spoke at a rally, leading to 35 arrests as authorities tried to keep tensions from boiling over.
Punches and objects were thrown between the opposing sides as police in riot gear tried to separate both sides.
Video showed police using their batons as a protester tried to get past a barrier that was set up outside the convention center.
In anticipation of the campaign event in downtown, San Diego Police Chief Shelley Zimmerman announced Wednesday that officers would have zero tolerance when it came to violence or disruptive behavior.
"For anyone who comes to disrupt, to do illegal activities, we will take swift and decisive action to make sure we have a peaceful event," she said in a press conference.
In an effort to maintain peace, the city also set up "free speech zones" in front of the convention center, where Trump spoke Friday afternoon.
But tensions remained high as protesters and supporters of the presumptive nominee yelled and shoved each other.
Police estimated about 1,000 people were gathered outside the convention center at one point.
Several people were seen being detained by police during the protest, including one person who was chased by plainclothes officers.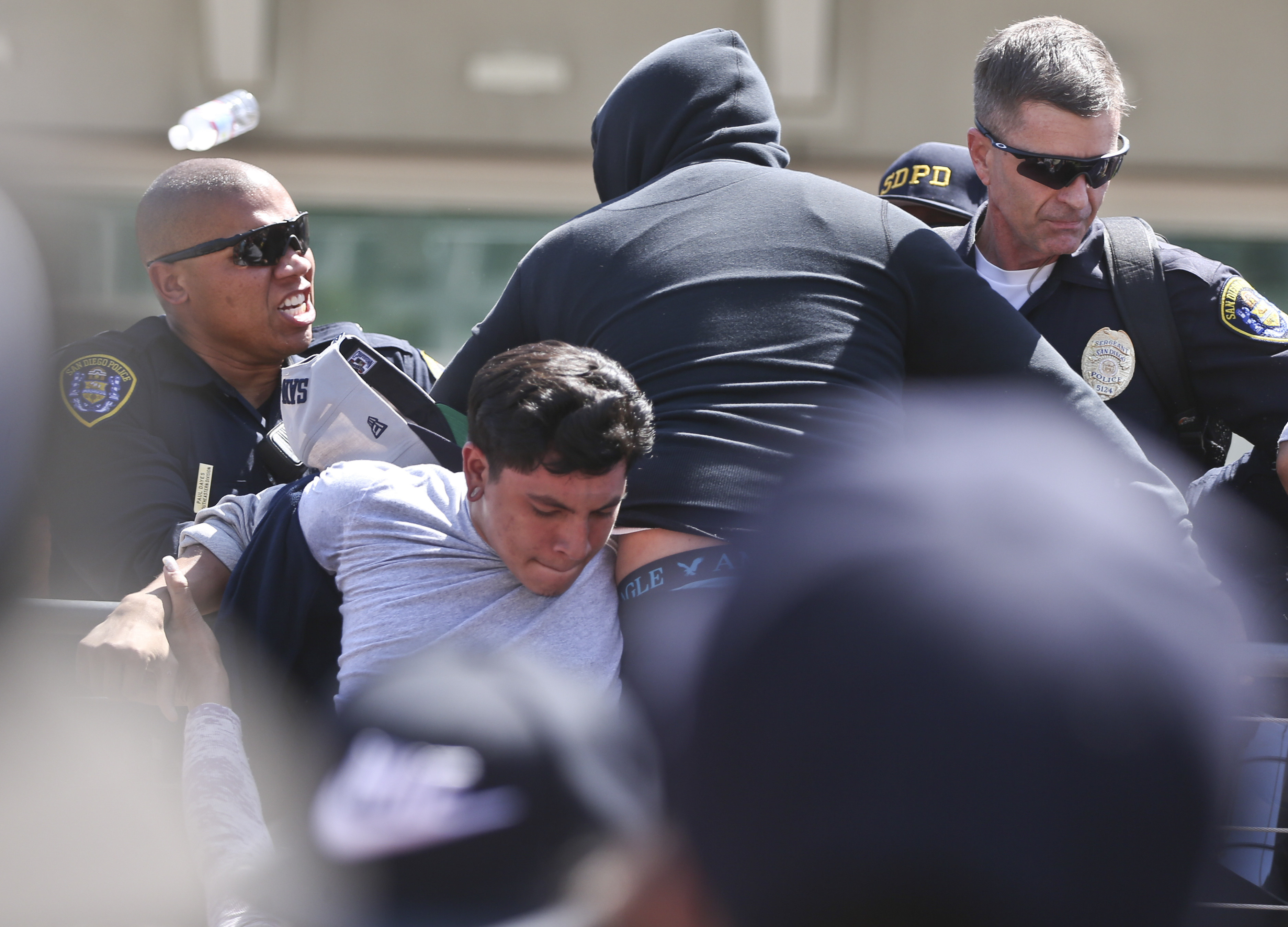 Police said a total of 35 arrests were made during the protest, but no property damage or injuries were reported.
Protesters remained outside the convention center long after Trump finished his speech, most of them appearing to have walked outside of the designated "free speech zones."
As crowds continued to protest and chant outside the center, in front of hotels and bars, police declared the ongoing protests "unlawful" around 4:30 p.m.
Police in riot gear and masks began to corral the crowd out of public streets after 5 p.m., frequently using batons to push the crowd back, and by 7 p.m., only a handful of protesters remained.
There was no immediate information regarding reported injuries.
As the protests wound down, Trump took to Twitter to thank police for "handling the thugs."
The tense protests in San Diego follow other violent recent demonstrations in California outside Trump rallies, including Costa Mesa and Anaheim.