MLB Player Kneels During The National Anthem, Stevie Wonder Follows Suit During Concert
Bruce Maxwell of the A's took a knee Saturday in protest of President Trump, who criticized professional athletes for using the gesture and called for their firing.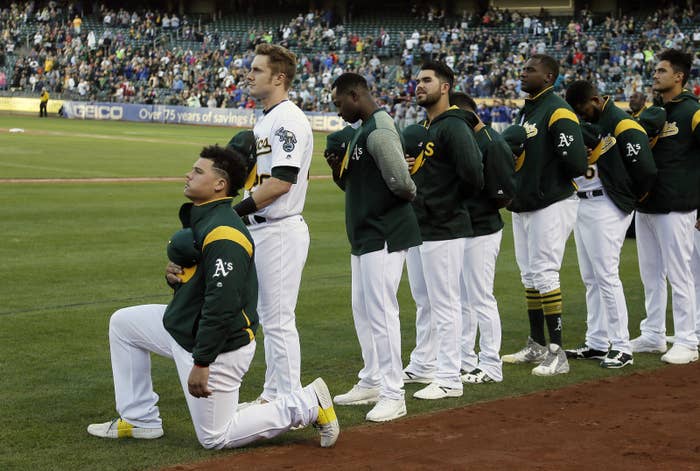 Bruce Maxwell of the Oakland Athletics walked out onto the field Saturday, stood next to his team, faced the American flag and took a knee for the national anthem, becoming the first Major League Baseball player to use the protest gesture.
The 26-year-old catcher, who was born on a military base in Germany while his father was stationed there with the Army, held his green cap over his heart as the team stood on the foul line of the Oakland field. Immediately after he stood, he was hugged by left-fielder Mark Canha.

Moments later, The A's released a statement supporting "all of our players' constitutional rights and freedom of expression."
Maxwell's protest came after President Trump appeared to criticize NFL free agent Colin Kaepernick and dozens of other athletes who have protested police shootings by taking a knee during the playing of the national anthem before games. By using the gesture before the A's game against the Texas Rangers, Maxwell brought America's pastime into the political fray.
The controversy moved beyond sports on Saturday night when Stevie Wonder, performing at the Global Citizens Festival in New York's Central Park, said he was "taking a knee for America" to cheers from the crowd.
With help from his son Kwame Morris he knelt and said a prayer for "our planet, our future, our leaders of our world".

On Friday night, President Trump told a crowd gathered in Alabama he would "love to see one of these NFL owners, when somebody disrespects our flag, to say, 'get that son of a bitch off the field right now. He's fired. He's fired!'"

He continued the criticism Saturday and Sunday in a series of tweets.
"If NFL fans refuse to go to games until players stop disrespecting our Flag & Country, you will see change take place fast. Fire or suspend!"
Maxwell's decision to kneel was in protest of Trump's remarks and in solidarity with NFL players who have used the gesture, his agent, Matt Sosnick, told the San Francisco Chronicle.

"Bruce's father is a proud military lifer. Anyone who knows Bruce or his parents is well aware that the Maxwells' love and appreciation for our country is indisputable," Sosnick said.
"Bruce has made it clear that he is taking a stand about what he perceives as racial injustices in this country, and his personal disappointment with President Trump's response to a number of professional athletes' totally peaceful, non-violent protests. Bruce has shared with both me and his teammates that his feelings have nothing to do with a lack of patriotism or a hatred of any man, but rather everything to do with equality for men, women and children regardless of race or religion."
Trump's public squabble with professional athletes didn't end there. On Saturday morning he rescinded an invitation for Stephen Curry of the Golden State Warriors to visit the White House after Curry said he was opposed to going.

The president's decision to lash out against players, however, prompted athletes, teams and its owners to respond, most of them expressing support for Curry and his decision not to visit the White House.
"I don't want to be applauded on my accomplishments on the court when the guy that would be doing the pat on the back, I don't think, respects the majority of Americans in this country," Curry told reporters at a press conference Saturday.
Several NFL players have also expressed the intention of protesting in a similar fashion during Sunday's games.