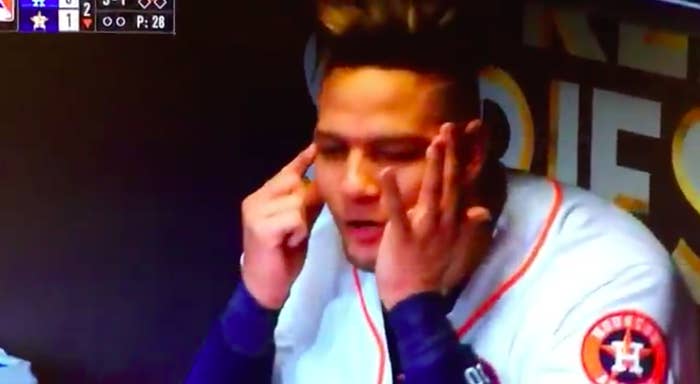 The Houston Astros' first baseman, Yulieski Gurriel, was caught on camera Friday night making what appeared to be a racist gesture after hitting a home run against Dodgers pitcher, Yu Darvish, who is of Iranian and Japanese descent.
As a result of his "inappropriate actions," MLB officials announced Saturday that Gurriel would be suspended without pay for the first five games of the 2018 regular season. He will not miss the World Series.
Gurriel had just scored the first run of Game 3 of the World Series and was being followed by cameras as he celebrated with teammates in the dugout. The 33-year-old was then seen pulling his eyes back with his hands to squint, an offensive gesture against people of Asian descent.
The moment was caught by several baseball fans watching the game, who called the gesture offensive.
Even other professional baseball players weighed in, criticizing Gurriel.
Darvish, 31, was removed early in the game after allowing 4 runs in just two innings.
The Astros did not immediately respond to a request for comment from BuzzFeed News.
After the game, Gurriel spoke to reporters and confirmed he was indeed mocking Darvish by the gesture, but said he wasn't trying to offend anyone by it.
"In no moment did I try to offend anyone, on the contrary I have a lot of respect," he told reporters in Spanish.
Gurriel noted that he has played baseball in Japan.
The first baseman also confirmed that while doing the gesture, he was saying "Chinito," which translates roughly to "small Chinese man."
The word is a generalized term used by some in Latin American countries to refer to all people of Asian descent.
"In Cuba and other places instead of saying 'Japanese' they say 'chinito' for anyone who is Asian," Gurriel told reporters. "But I was in Japan and I know that it's offensive, and honestly, I apologize to him."
Darvish tweeted a short statement after the game, and seemed to be striking a more conciliatory tone than some fans saying, "No one is perfect."
"What he had done today isn't right, but I believe we should put our effort into learning rather than to accuse him," Darvish wrote.
He told reporters in the team's locker room what Gurriel did was "disrespectful" but hoped Gurriel would learn from it.