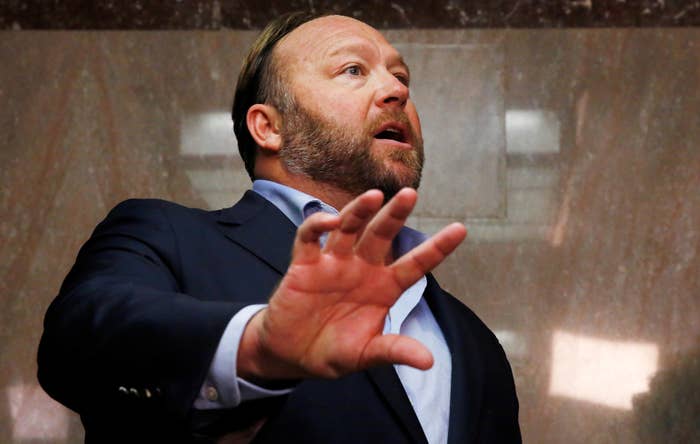 Alex Jones, the infamous conspiracy theorist and Infowars founder, handed over several emails containing child pornography to the lawyers for families of Sandy Hook school shooting victims who have filed a lawsuit against the far-right media figure.
The child pornography was found in 12 emails of more than 57,000 messages that were turned over by Jones to lawyers representing families of the school victims, Jones' attorney Norm Pattis said. One of the images was discovered when consultants hired by attorneys for the Sandy Hook families began to review the files, prompting them to contact the FBI, according to court documents.
On his radio show Friday, Jones insinuated he had been the victim of a conspiracy that involved attorneys on the opposite side of the lawsuit planting child pornography in his emails.
"You're trying to set me up with child porn!" Jones said, while announcing a $1 million reward to his viewers to find and prove the material had been planted.
"Imma get your ass," Jones warned. "One million dollars, one million, you little gang member. One million dollars to put your head on a pike."
Families of students killed in the Sandy Hook Elementary School massacre in 2012 have sued Jones and Infowars for defamation over his repeated claims that the shooting was a hoax. The lawsuit alleges that Jones and his guests continuously suggested the mass shooting had been faked and that relatives of the victims who spoke out about their loved ones' deaths had been "crisis actors."
Jones has said he believes the shooting occurred, but that it is his right to be able to question the events from the shooting.
"I am proud of questioning Sandy Hook," Jones said during his show Friday. "I was not the progenitor, or the daddy of it. The public questioned it, so it was the tail wagging the dog."
As part of the lawsuit, Jones had been ordered to turn over thousands of Infowars emails referencing the shooting as part of the lawsuit's discovery process.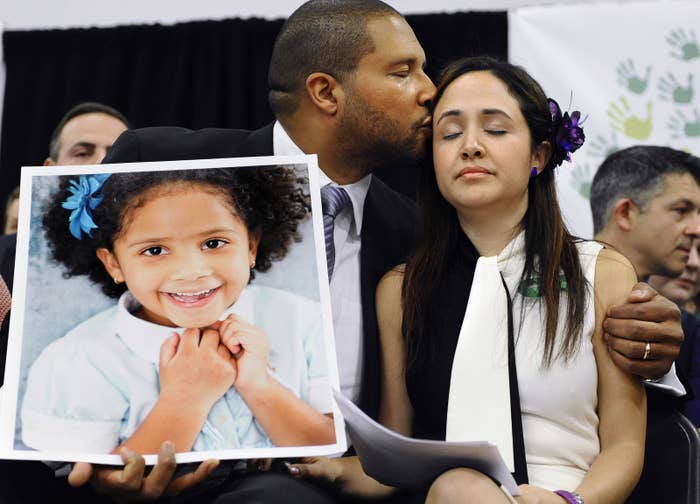 The trove of data containing the child pornography was handed over to the FBI, which reviewed the material and found additional images in the cache. According to court filings, FBI investigators told attorneys that the pornography — which would be a crime to possess — "had apparently been sent to Infowars email addresses." Jones' attorney, Pattis, told BuzzFeed News the emails had not been opened by anyone at Infowars, including Jones.

"Neither he nor his defense, nor for that matter lawyers for plaintiffs knew the material was embedded in emails until a big data processing firm found them," Pattis said in an email.
It's still unclear where the emails or the images came from, Pattis said, adding that Infowars had seen a "spike of this sort of thing" after the 2016 election.
But on his show Friday, Jones insinuated the discovery was part of a conspiracy to peg him as a pedophile, and singled out one of the attorneys representing Sandy Hook families.

"We all know who did it," Jones said on his show as the camera focused on a Wikipedia entry for Chris Mattei, a trial lawyer for the firm Koskoff Koskoff & Bieder, which filed a suit against Jones.
Jones was also seen pounding on the picture of Mattei with his fist.
"What a good American, what a good boy," Jones said of Mattei. "I'm gonna kill..." he said before trailing off.
During the segment, Jones repeatedly denied being being aware of the images and tried repeatedly to link pedophilia and child abuse to Democrats.
"I like women with big giant tits and big asses. I don't like kids like you goddamn rapists," Jones said. "I literally would never have sex with children, I don't like having sex with children, I would never have sex with children. I am not a Democrat. I am not a liberal. I do not cut children's genitals off like the left does."
In a court filing Monday afternoon, attorneys representing Sandy Hook families asked the judge in the case to review video from Jones' show and accused him of threatening Mattei and his firm.
Pattis denied that the Infowars host was threatening anyone and said "to suggest otherwise is to engage in precious pleading."
The day after the show was broadcast, Jones apologized for cursing and backtracked from his accusations suggesting that the images had been planted.
"I'm not saying that the lawyers for Sandy Hook families set this up or did this," Jones said. "Whoever sent this, for whatever reason, this shows the escalation and the insanity of all of this."
Jones also backed off his $1 million reward offer for those he suggested planted the pornography, saying he "did become unhinged" during the rant Friday.
"Technically, I did not issue the offer correctly," Jones said. "(Pattis is) going to explain this. So the original press release they put out stands: $100,000."