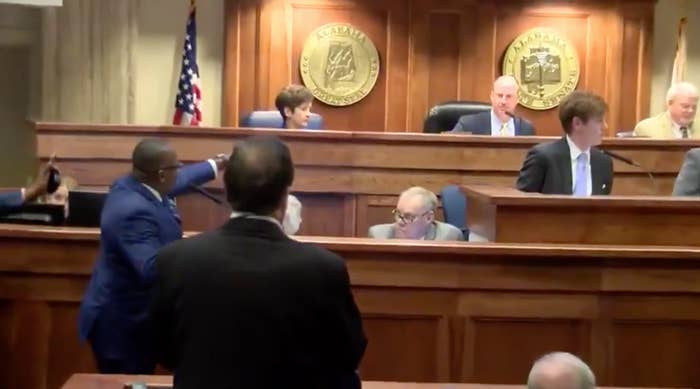 Alabama senators got into a shouting match Thursday after Republicans suddenly stripped exceptions for rape and incest from a near-total ban on abortion in the state without allowing a roll call vote.
Democrats acknowledged that Republicans had the votes to strip the exceptions, but after angrily denouncing the sudden move, a full vote that had been planned for Thursday was rescheduled to next week.
"I didn't even hear the motion even come out of the senator's mouth before the lieutenant governor started gaveling it through," Senate Minority Leader Bobby Singleton, a Democrat, told reporters at a press conference. "He rushed it before the man even get the motion out his mouth."
Alabama senators were expected to vote on HB 314, a bill that would make it a felony for a doctor to perform or attempt an abortion, unless a woman's health was at "serious" risk. Otherwise, they could face up to 99 years in prison.
Before the amendment was hurriedly approved Thursday, the only other instances when an abortion could be done would have been when pregnancies were the result of rape or incest.

In a statement released Thursday, Lt. Gov. Will Ainsworth brushed aside criticism that he rushed the motion through and stressed that the bill would not only have an impact in Alabama, but it was intended to tackle the issue of abortion on a national scale by overturning Roe v. Wade.
"Abortion is murder," Alabama's lieutenant governor said in a statement. "Now that President Donald Trump has supercharged the effort to remake the federal court system by appointing conservative jurists who will strictly interpret the Constitution, I feel confident that the U.S. Supreme Court will overturn Roe and finally correct its 46-year-old mistake."
Republican Gov. Kay Ivey has not commented publicly on the bill, but is expected to support it.
With Democrats holding only eight seats in the Senate, the bill is expected to easily pass. Even so, the Senate ground to a halt Thursday when Republican Sen. Clyde Chambliss moved to table the rape and incest amendments, a committee amendment that under the rules of the legislature is not debatable.
Three senators are required to raise their hands to spark a roll call vote, meaning each member of the legislature would cast a vote on the exceptions. However, Lt. Gov. Will Ainsworth quickly gaveled through the motion, prompting Singleton to raise his hand and object.
"Heck no!" Singleton yelled as he hit the lectern with his hand. "He did not make a motion! He did not make a motion!"
"He made a motion to table," Ainsworth responded.
"I don't care what the chair is about. He did not make a motion," Singleton said. "No, no, no, no!"
Although the bill is expected to pass, Singleton asked that all motions be submitted to a roll call vote in an effort to record the position of all members of the legislature as the bill makes its way through.
"You're gonna get your way, but at least treat us fairly and do it the right way," state Sen. Vivian Figures, a Democrat and one of four women serving in the legislature, told her Republican colleagues. "You're gonna get your way, but at least treat us fairly and do it the right way. That's all that I ask. That's all that my Democratic colleagues ask. That's all that women in this state ask, both Democratic and Republican women."
Video of the shouting exchange went viral, although some social media posts falsely claimed Republicans were trying sneak through a ban on all abortions.

Ainsworth defended his actions, telling AL.com the motion was not debatable under the rules.
But at a news conference, Singleton objected to the way Ainsworth presided over the Senate, warning that Democrats would shut down the Senate.
"You don't have to procedurally run over us," he said. "I hope he hears from the people from the state of Alabama."
Alabama is just one of several states that have either passed or introduced bills to further restrict abortion in recent months. Although many of those efforts have been blocked by state courts, they are believed to be geared toward getting the issue before the Supreme Court, which under President Trump, has a more conservative-leaning bench. Anti-abortion proponents hope that the court's new makeup could lead to the dismantling of the landmark 1973 Roe v. Wade decision, which legalized abortion nationwide.
Anti-abortion legislators in other states are adopting a similar approach.
On Tuesday, Georgia Gov. Brian Kemp signed a bill banning abortions if a heartbeat can be detected, which can occur as early as six weeks into a pregnancy. Mississippi and Ohio governors have also signed similar bills.
Ohio legislators are looking to go a step further with a bill that would ban private insurance coverage for abortions.
In Iowa, a state judge in January ruled its own "fetal heartbeat" law was unconstitutional. A judge in Kentucky also blocked a similar law in that state in March.