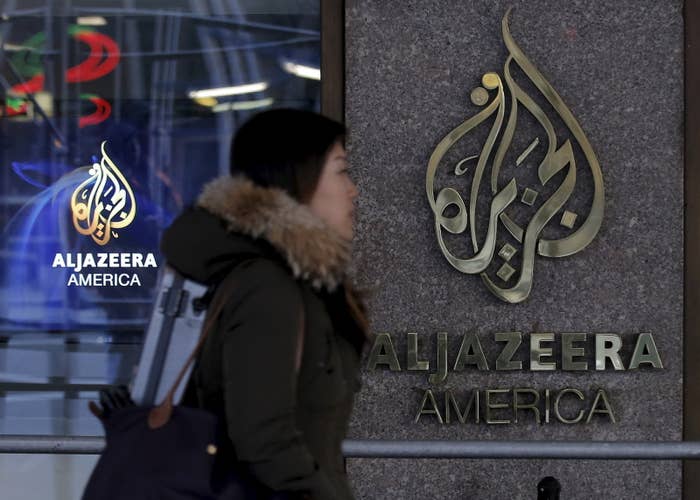 Al Jazeera America said goodbye to viewers Tuesday after a short two-and-a-half year venture by the Qatar-funded news network into the U.S.
As the news channel concluded its final broadcast Tuesday evening, it signed off with a goodbye from its on-air staff and producers.

The cable news channel launched in 2013 after buying Current TV for $500 million, and promised to cover news events with a serious and somber tone.
When it first launched in 2013, it notably took time to point out the contentious tone of other 24-hour news channels, including Fox News and MSNBC.
But the channel struggled with ratings, and according to the Hollywood Reporter, averaged just 7,000 viewers aged 25-54.

On Tuesday, Al Jazeera America posted a final reel on Facebook where it highlighted some of the larger stories tackled by the outlet, including conflicts at the U.S.-Mexico border, Ferguson protests, Baltimore riots and the U.S. military conflicts.
On its website, Al Jazeera America signed off with a tip of the hat to the classic Edward R. Murrow: "Good night, and good luck."

Yet despite its troubles and sudden, unexpected shutter, its CEO told CNN's Brian Stelter he believed the news organization had "succeeded."
"We are signing off but, somewhat counterintuitively, I believe we succeeded," Al Antsey told CNN. "People believed passionately in what we did."
Stelter reported the channel shuttered after its owner, Qatar, announced earlier this year it would no longer be bankrolling the channel.
Battling with low ratings and ad revenue, the channel was unable to stand on its own, but Anstey remained positive during the interview.
"We will leave a legacy behind that says real journalism matters and we made our mark," he said.
And its journalists took to twitter for their last goodbye.