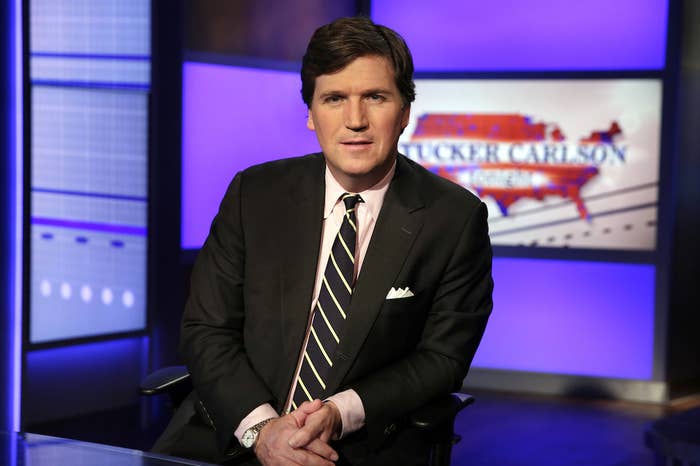 At least 14 companies have pulled their advertisements from Tucker Carlson's Fox News show after he asserted that immigrants make the US "poorer and dirtier and more divided."
As of Tuesday, Pacific Life, Indeed, SmileDirectClub, Minted, IHOP, Ancestry.com, CareerBuilder, ScotteVest, Nerdwallet, Zenni, TD Ameritrade, Land Rover, Takeda Pharmaceuticals and Nautilus, the parent company of Bowflex, announced they would suspend their advertising during Tucker Carlson Tonight.

Carlson is the latest host on the conservative cable news network to face backlash from advertisers after making controversial comments on the air, prompting critics to launch a social media campaign and pressure advertisers.
The latest outrage came after a Thursday night segment where Carlson said immigrants make the US "poorer and dirtier."
"We have a moral obligation to admit the world's poor, [political leaders] tell us, even if it makes our own country poorer and dirtier and more divided," he said.

It wasn't the first time Carlson has been critical of the migrant caravan at the southern border, and he has regularly run segments questioning the benefits of diversity in the US.
By Friday morning, Pacific Life announced that it disagreed with his comments and would "reevaluate [its] relationship with his program."

"As a company, we strongly disagree with Mr. Carlson's statements," a spokesperson for Pacific Life told BuzzFeed News. "Our customer base and our workforce reflect the diversity of our great nation, something we take great pride in."
On Monday, Indeed and SmileDirectClub confirmed to BuzzFeed News that they would no longer be advertising with the show.
A spokesperson for the job site Indeed told BuzzFeed News the company had not purchased advertising on the show for more than a month, and that it did not plan to do so in the future.
"As a company we are nonpartisan — our site is for everyone, regardless of background or beliefs," Tara Lambropoulos, a spokesperson for Indeed told BuzzFeed News.
A spokesperson for SmileDirectClub said the company was working with its media buyers to make sure it is "no longer running [its] ads around any political opinion shows."
Nautilus confirmed its decision to the Hollywood Reporter.
Minted, an online retailer of local craft makers, said on Twitter Monday night that it was "permanently" cutting its advertising during the show.
On Tuesday, IHOP, Nerdwallet, Zenni, Ancestry.com, Land Rover, TD Ameritrade, Takeda Pharmaceuticals and CareerBuilder confirmed to BuzzFeed News they also were ending all advertising during the show.
"At our core, we stand for welcoming folks from all background and beliefs into our restaurants and continually evaluate ad placements to ensure they align with our values," a spokesperson for IHOP told BuzzFeed News in a statement. "In this case, we will no longer be advertising on this show."
Nerdwallet also cut ties with Carlson's show, stating that it's content didn't "align with our company values."
"If our review determines that a certain show's content doesn't align with our company values, we take commensurate and appropriate action," a spokesperson for the company said. "That's what we've done in this instance. We've pulled advertising at this time and will be reevaluating any ongoing advertising on this program."
A spokesperson for ScotteVest defended the right to free speech in a statement, but said the company had decided to no longer advertise on Carlson's show.
"We believe that a cornerstone of our democracy is the right to free speech, which sometimes means tolerating opinions that one may disagree with and find distasteful," the company said.
On Wednesday, Just For Men told BuzzFeed News in a statement that it would no longer be advertising on Carlson's show.
"Just For Men has no further plans to advertise on Tucker Carlson's show. The brand is always considering ways to remain responsible, and this includes aligning with partners who share our brand values."

In response, Fox News called the campaign against Carlson an effort from "left-wing advocacy groups."
"It is a shame that left-wing advocacy groups, under the guise of being supposed 'media watchdogs,' weaponize social media against companies in an effort to stifle free speech," a spokesperson for the network told BuzzFeed News. "We continue to stand by and work with our advertisers through these unfortunate and unnecessary distractions."
On Tuesday, Fox News criticized some of the organizations that have called for companies to remove their advertising from the show, calling their efforts "a grossly hypocritical double standard given their intolerance to all opposing points of view."
"We cannot and will not allow voices like Tucker Carlson to be censored by agenda-driven intimidation efforts from the likes of Moveon.org, Media Matters and Sleeping Giants," the network said in a statement.
Fox News also compared the online campaign to protests that erupted in front of Carlson's home last month.

"He is once again being threatened via Twitter by far left activist groups with deeply political motives," the statement read.
A network spokesperson told BuzzFeed News all of the advertisers who have removed their ads from Carlson's show have moved them to other shows on the channel.
At least a handful of companies reached by BuzzFeed News said they had no plan to stop advertising on the show.
In a statement, Mike Lindell, the CEO of My Pillow said he would not be changing his advertising choices.
A spokesperson for Mitsubishi told BuzzFeed News the company's advertising decisions are, "determined based on demographics and psychographics, not politics."
Still, the spokesperson said, the company would continue to "monitor the situation."
Addressing the controversy on his show Monday night, Carlson accused "the enforcers" of intimidation.

"It won't work for the show. We are not intimidated," he said in defending his comments. "We plan to say what's true until the last day. The truth is, unregulated mass immigration has badly hurt this country's natural landscape."

Carlson isn't the only Fox News commentator to lose advertisers after controversial comments.

More than two dozen companies removed their ads from Laura Ingraham's program in March after the host mocked a high school mass shooting survivor from Parkland, Florida. Several companies also pulled their ads from Sean Hannity's show late last year over his coverage of sexual misconduct allegations against Alabama Senate candidate Roy Moore.
Matt Rivitz, the founder of Sleeping Giants, a group that has targeted conservative and right-wing media outlets in the past, told BuzzFeed News he had sent a letter to Carlson's advertisers in September highlighting his comments on diversity, asking if they wanted to be associated with his views.
The letter followed a September segment in which Carlson asked, "How precisely is diversity our strength?" But Rivitz noted that none of the advertisers who were forwarded the letter responded at the time.
Thursday's segment, however, took off on social media.
Among those who reached out to Carlson's advertisers on social media was Judd Apatow, a writer, producer, and director who has retweeted others asking companies to stop advertising on the show.
"This time, in no uncertain terms, he said that immigrants make our country more poor and dirty, and that is extremely xenophobic and incredibly racist to us," Rivitz said. "This is something that happens every week."