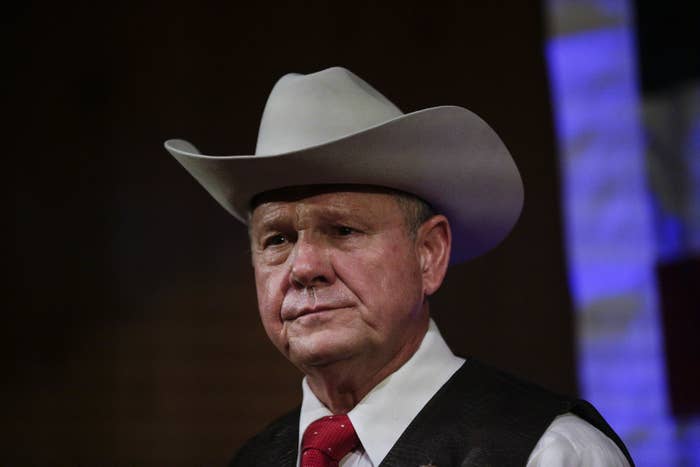 One of the women who accused Roy Moore of sexual misconduct, including sexually touching her when she was 14 and he was 32, is suing the former Alabama senatorial candidate and his campaign for defamation.
Moore repeatedly denied sexual misconduct allegations made by several women, and at one point blamed gays, lesbians, socialists, and liberals for what he called "false and malicious" claims.
On Thursday, Leigh Corfman sued Moore and his failed Republican campaign for the Senate, alleging that they defamed her "repeatedly in all forms of media, calling her a liar and questioning her motivation for publicly disclosing that Mr. Moore sexually abused her in 1979."
"Mr. Moore sexually abused me when I was 14 years old," Corfman said in a statement Thursday. "Then he and his campaign called me a liar and immoral when I publicly disclosed his misconduct. They ignored my requests to stop attacking me and to acknowledge the truth."
The Washington Post on Nov. 9 reported Corfman was approached by Moore when she was 14 years old outside a courtroom, befriending her and her mother. Alone with the teenager, he allegedly asked for her phone number, kissed her on their first time out alone together, and sexually touched her over her underwear during a second outing.
The allegations led to an upset in the Alabama special election and the first victory of a Senate Democrat in the state in more than two decades.
"The Judge welcomes the transparency of the courtroom and looks forward to his vindication," Brett Doster, a representative for Moore's Senate campaign, told BuzzFeed News in an email.

Moore and his campaign also accused some of the women quoted in the Post of being paid by the publication, an allegation the women and the paper have denied.
"Despite Defendant's defamatory statements to the contrary, Ms. Corfman has not received any compensation from the Washington Post or from any other source for disclosing Mr. Moore's sexual abuse of her when she was 14 years old," the suit reads.
According to the lawsuit, Corfman is not asking for legal compensation. Instead, she is requesting reimbursement of legal costs, a public apology from Moore, and a court order preventing him and his campaign from attacking her.