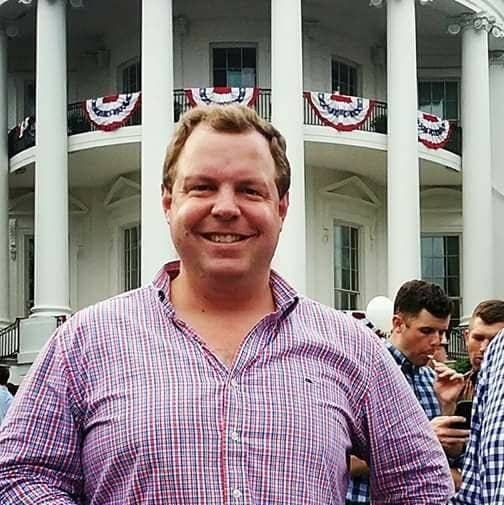 A White House speechwriter resigned Friday amid allegations he was abusive to his ex-wife during their marriage, a move that comes just days after another Trump administration official quit amid similar accusations.
Speechwriter David Sorensen resigned from his position Friday after he was confronted about the allegations, the White House said.
"Before we were contacted by the media, we learned last night that there were allegations," said deputy press secretary Raj Shah in a statement to BuzzFeed News. "We immediately confronted the staffer, he denied the allegations and he resigned today."

The Washington Post was the first to report Sorensen's departure. Sorensen's former wife, Jessica Corbett, told the newspaper that during their marriage, Sorensen ran over her foot with a car, put out a cigarette on her hand, threw her into a wall, and grabbed her by the hair while they were out at sea on a boat.
Two friends and associates of Corbett told the paper she confided in them about the abuse during the marriage. She also provided the post with a picture of a scar that she said had come from a cigarette burn.
According to the Post, Corbett spoke to reporters a week before allegations against White House staff secretary Rob Porter surfaced, leading to his resignation.
Sorensen, in a statement to the Post, denied the allegations.
"In fact, I was the victim of repeated physical violence during our marriage, not her," he told the Post, adding that he was, "considering legal options to address her defamation."
On Saturday, he released a 12-page document, including a statement denying his claims by his ex-wife and photos and text messages he said prove that instead he had been the victim of her violence, and that she lied.
"I want to be as unequivocal as possible: I have never committed violence of any kind against any woman in my entire life," he said. "My accuser can produce no authentic evidence, no legal record, and no witness to support her baseless and malicious claims of domestic violence on my part."
"In fact, I was the victim of repeated physical violence during our marriage, not her. The brazen and shameless way in which she has accused me of the very thing of which she is guilty and of which I am a victim has unfortunately come as no surprise to me, my family, friends, colleagues, and other mutual friends and acquaintances," het continued.
The statement also lists moments he said Corbett was violent and emotionally abusive against him, including threats during their breakup that she would ruin his life if she didn't get a car she wanted.
Before joining the White House, Sorensen worked as a policy adviser for Maine Gov. Paul LePage. He and his then-wife had apparently grown close to the governor's family and Corbett was a bridesmaid in the wedding of his daughter, according to the Post.
LePage's spokeswoman, Julie Rabinowitz, told BuzzFeed News that neither the governor or his wife were aware of any allegations of domestic violence.
"No accusations, allegations, or evidence of domestic violence on the part of David Sorenson were ever brought to the attention of the Governor or the First Lady," Rabinowitz said in a statement to BuzzFeed News. "Nor were they brought to the attention of the Governor's staff during David's employment in the Governor's Office. Without an allegation or evidence, there was nothing upon which the Governor could take action."
Corbett told the Post she had confided in LaPage's daughter, Lauren, about the abuse and asked her to have her father speak to Sorensen about it.
Lauren LePage told the newspaper she was aware of the problems in Corbett and Sorensen's marriage but that she, "neither witnessed or saw any evidence of domestic abuse."
A White House official told BuzzFeed News that, unlike Porter, Sorensen's position did not require a security clearance. His background check, however, was still ongoing at the time he submitted his resignation.
Porter resigned Wednesday after two of his ex-wives told the Daily Mail he had been physically and emotionally abusive during their marriages. Both women said they had told FBI investigators about the alleged abuse as part of the security clearance process that Porter was still undergoing.
Porter denied the allegations.
According to the White House, Sorensen worked at the Council of Environmental Quality, under the Executive office of the President.
His ex-wife told the Post that she too had told the FBI about the abuse as part of their background check. Sorensen said in a text message to the newspaper he resigned because he, "didn't want the White House to have to deal with this distraction."
He also provided the Post with pictures of what he said was violence from his ex-wife on him.
"This incident is an opportunity to highlight the gross underreported and unacknowledged issue of female-on-male domestic violence," he told the paper.
Corbett told the Post that she did slap Sorensen, but that the violence did not escalate beyond that.