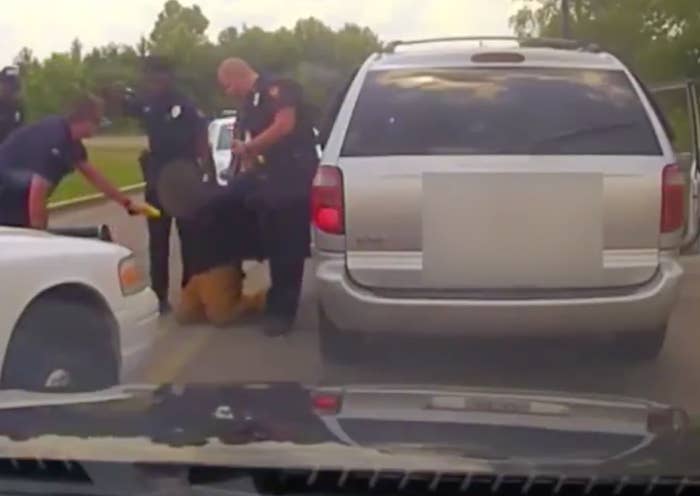 A Mississippi police officer has been fired after a video released by the department this week showed him using his stun gun on a suspect in handcuffs and then threatening to use it on him again.
The incident occurred on July 16 after Meridian Police officers stopped a suspected shoplifter just outside of a Walmart, pulling him out of his car and immediately placing handcuffs on him.
Seconds later, multiple officers responded, including one who pushes the suspect into the side of his van. The officer then pulls out a stun gun and drops it several feet away from the handcuffed suspect.
The officer, identified by Mississippi's ABC affiliate WTOK as Daniel Stark, then picks up the stun gun, walks toward the suspect and shocks him on his right shoulder, causing him to fall to the ground.
The man does not appear to be resisting the officers at any point in the video.
"It's not something I'm proud of that's connecting to the police department," Meridian Police Chief Benny Dubose told WTOK. "I know it's going to be a lot of feedback and a lot of negative feedback."
The suspect then appears to have difficulty getting up. Two police officers appear to hold the man by the arms, trying to unsuccessfully bring him up while he remains on his knees.
Stark then points the stun gun at the suspect again, causing him to recoil at the sight of the yellow weapon.
The officer was later fired from the department. WTOK reported he was issued his notice of termination Monday, two days before the department publicly released the video.
"We attempt to be as transparent as we can," Dubose told the station. "To let this particular act or anything like it just go away or get swept under the rug, that's not acceptable."
Meridian police officials did not immediately respond to BuzzFeed News' request for comment.
It was not clear if the man detained by officers was charged.