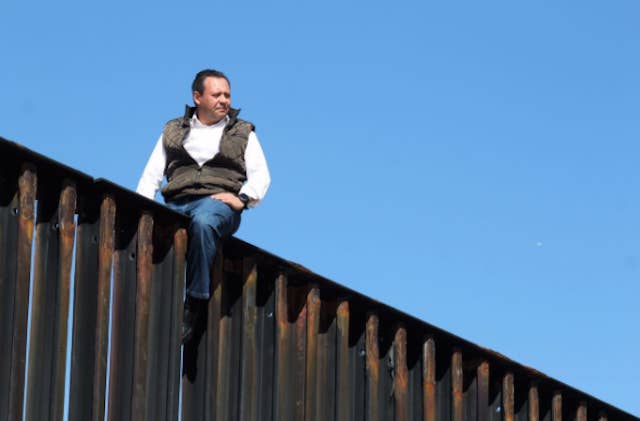 A Mexican congressman apparently climbed a 30-foot fence along the US border to send President Trump a message: Physical barriers are useless for stopping immigrants.
"I was able to scale it, climb it, and sit myself right here," Braulio Guerra, a congressman from the state of Querétaro, said in a video. "It would be simple for me to jump into the United States, which shows that it is unnecessary and totally absurd to build a wall."
President Donald Trump's promise to build a wall along the US-Mexico border has been a hot topic in Mexico's political circles, where legislators and politicians have almost uniformly responded critically to the proposal.
The Trump administration, however, is already moving ahead with its plans, and is expected to solicit proposals in the coming weeks for "the design and build of several prototype wall structures in the vicinity of the United States border with Mexico."
Tump has said a solid wall would likely cost $12 billion, but Reuters has reported that the actual cost could be up to $21 billion.
Before perching himself atop the US border fence along Tijuana's beach, Guerra spoke with immigration officials and recent deportees, whose numbers could swell under Trump mandates to crack down on nearly all undocumented immigrants in the US.
"It's easy, and it shows how unnecessary this project, this political rhetoric from Donald Trump, is," he said in one of the videos.
Guerra's state of Querétaro is more than 1,600 miles south of the US-Mexico border.
Part of the video shows that the section of wall Guerra climbed actually ends just a few feet west of where he is sitting, where the wall goes into the ocean. Someone wanting to enter the US there would likely find it easier to walk a few feet into the beach and walk around the wall rather than climb the 30-foot-tall barrier.
People on Twitter were also quick to point out that although Guerra posted several pictures and video of him atop of the wall, there is no video of him actually climbing to the top, leading some to speculate on whether the politician had some help getting there.
Some critics did not hold back.
"Braulio, fat slob" one person tweeted in response. "You can't even climb the toilet by yourself."
"Did you really climb it?" one person asked. "Why didn't you post pictures of the climb?"
Other people were not amused by the stunt, and told him to "stop with the cheap circus tricks and get back to work."
And of course, the congressman was turned into a meme.
Guerra posted several videos of himself speaking from atop of the wall, but BuzzFeed News could not find any videos or pictures of the actual climb.
In one video posted on Facebook, Guerra shows two people atop of the wall who he said had been climbing it repeatedly while he was there.

Guerra did not immediately respond to BuzzFeed News' request for comment. He does note on his Facebook and Twitter profiles, however, that he completed four Ironman challenges.