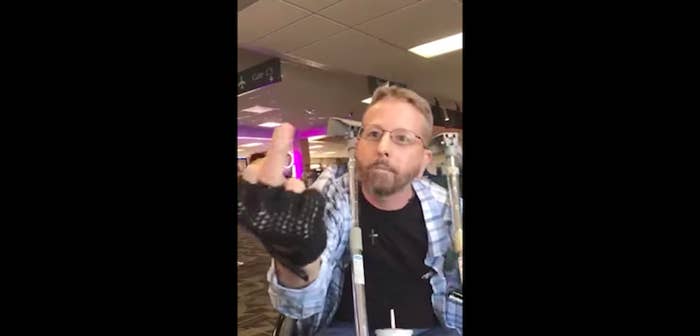 A man went on a racist tirade in an airport in Reno, Nevada, last week after he overheard another traveler talking to his mother over the phone in Spanish.
In a video that has since gone viral, the man, identified only as "Mike," yells profanities and racial slurs in the airport terminal for more than eight minutes, repeatedly calling the Spanish-speaking traveler a "spic," a "motherfucker," and a "piece of shit."
"Learn how to fucking speak English," he shouts. "We live in America."
"But I'm speaking to my mother in Spanish because that's her language," replies the other man, Hector Torres, who recorded the video.
"I don't give a shit, shut up!" the man responds. "SHUT UP!"
Torres, a 44-year-old father of four from Orlando, Florida, told BuzzFeed News that the unnerving encounter began Thursday evening, as he was speaking on the phone to his mother while waiting to board a flight to Los Angeles.
While on the call, Torres said, he heard someone behind him say, "Can you believe this shit?"

"I'm chatting away with my mom, quietly, not trying to have all kinds of volume at the airport," Torres said. "And I'm like, I hope it wasn't directed at me."
Torres said he tried to ignore the comments, which were loud enough for most people at the terminal to hear. But when he heard the man say, over his shoulder, "Trump is going to fix this. He doesn't understand this is Trump's America now," he decided to get off the phone.
"At that point, I hadn't turned around and I just told her, 'Mami, I have to handle this. I'll call you back,'" Torres said. "I can't let something like this just fly by."
Torres, who said he had never considered himself political until Thursday's incident, was taken aback when he turned and saw a man in a wheelchair. Torres said he assumed the man, because of his age and apparent injury, had been a veteran. (In the video, the man makes a reference to having "fought for this country.")
"I was like, 'Dude, are you serious?'" Torres said. "He said, 'Goddamn serious, you motherfucking spic, you oughta go back to your country.'"
At one point in the video, Torres asks the man who he voted for because, Torres said, he heard the man make the Trump comment while he was on the phone and was trying to document it on video.

Torres said he never considered a physical confrontation, and because he believed the man was a veteran, decided he would not insult him either. In the video, Torres can be heard trying to appeal to "Mike," telling him that he has a lot of relatives who also served in the military.
"So my family that's all military, fought just like you did, lost limbs," Torres can be heard saying. "I feel really sad for you."
"I'm glad you do 'cus I feel, really, a fucking piece of shit like you can kiss my motherfucking ass," the man replies.
At another point in the video, Torres turns and asks the man to "explain to me what I did to you one more time?"
"Talking that fucking Spanish around here when everybody else is a fucking English-speaking American," the man says.
Torres, who was born in Brooklyn and is bilingual, was talking to his Puerto Rican mother, who lives in Florida. Both English and Spanish are official languages in Puerto Rico, an unincorporated territory of the US.
In an interview with BuzzFeed News, Torres insisted he was genuinely trying to reach out to the man and diffuse the situation. "I did everything to be his friend, and it just didn't work," he said. "I thought, maybe I can communicate with this individual and show him what he's thinking is way off."
But Torres admitted that the exchange was unnerving. He said he began recording the encounter to protect himself and ensure that there was documentation of the incident, knowing that security or police would show up eventually.
"And true to form, when security did show up he turns around and says, 'This guy is harassing me,'" Torres said.
The video shows other people at the airport apparently trying to intervene, telling the man to calm down only to then have his profanities directed at them as well.
When security showed up about 12 minutes later, Torres said, he stopped recording and showed the video to officers. In it, the man appears to hit Torres with a pair of forearm crutches he is carrying.
The officers, Torres said, told him they could arrest the man, but he decided he didn't want to press charges.
The man in the video and his family, who were booked on the same flight as Torres, "chose not to fly," according to airport officials.
The Reno-Tahoe Airport Authority, which runs the airport, will be investigating the incident and how it transpired, spokesperson Brian Kulpin told BuzzFeed News on Sunday. Kulpin said that the airport had never dealt with a "racially motivated altercation" before.
Officials will look at who called airport police and why "people didn't intervene earlier," Kulpin said.
"The incident went on awhile before calls were made," he noted. "We will be talking to witnesses who were there, reviewing how police handled it, and what we could have done differently. It was jolting to us, an airport culture, to see someone expressing hatred and racism like that in such a bizarre way."
Torres, who was scheduled to fly back to Reno on Sunday, said he decided to post the video online because he believes the encounter was part of a larger pattern of individuals who have become increasingly emboldened to express xenophobia and act out aggressively — a trend Torres blames on the Trump administration.
"I really hope I don't offend Republicans, but this man isn't Republican," Torres said. "I do not agree with Trump's rhetoric, and he empowers this type of people."
It was part of the reason, Torres said, that he tried so hard to stay calm.
"I just thought, 'I'm not going to give you that, my man,'" Torres said. "Sorry, Mike."