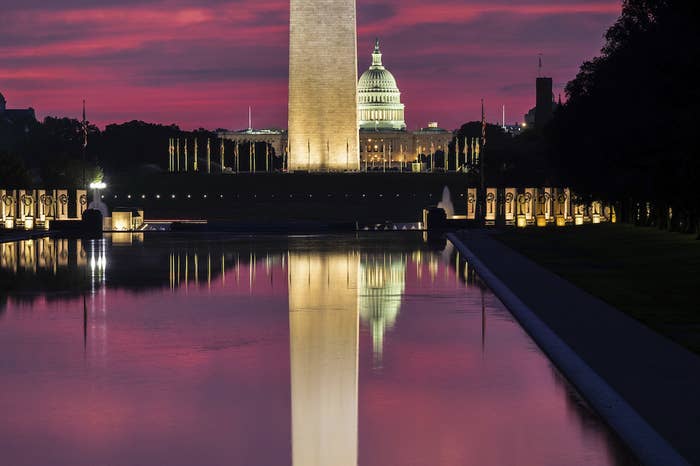 A 200-pound bomb was found in the home of a New York man who told authorities he planned to blow himself up at the National Mall on Election Day.
The attack was planned, officials said, to draw attention to the political belief of "sortition," an idea that political leaders should be chosen at random from the public.
Instead, the plan was foiled Tuesday when Paul M. Rosenfeld, from Tappan, New York, was stopped by law enforcement officials and allegedly confessed to the plot.
"Paul M. Rosenfeld concocted a twisted plan to draw attention to his political ideology by killing himself on the National Mall in Washington, D.C.—risking harm to many others in the process," US Attorney Geoffrey S. Berman said in a statement. "Rosenfeld's alleged plan for an Election Day detonation cut against our democratic principals."
FBI officials got wind of the plan when, according to a federal complaint, someone in Pennsylvania began to receive letters and text messages from Rosenfeld, 56, about his plan to blow himself up at the National Mall.
According to the complaint, the Pennsylvania resident did not know Rosenfeld.
Officials traced the phone back to Rosenfeld and, on Tuesday, obtained a search warrant to search his home in Tappan.
After being interviewed by local and federal investigators, Rosenfeld allegedly told officials about the plan and about owning a "burner" phone that he used to text his plan to the Pennsylvania resident.
In August, according to the complaint, Rosenfeld began ordering large quantities of black powder from the internet that he had delivered to New Jersey. He then picked up the powder and took it back to his home, where he constructed the 200-pound bomb made of plywood and black powder, and smaller versions of it to test out.
"Had he been successful, Rosenfeld's alleged plot could have claimed the lives of innocent bystanders and caused untold destruction," William Sweeney, assistant director-in-charge of the FBI's New York field office, said in a statement.
Rosenfeld also told authorities that he had added "certain components" in the bomb to make sure he was killed in the blast.
Rosenfeld has been charged with one count of unlawfully manufacturing an explosive device, and one count of interstate transportation of an explosive. Both counts carry a maximum sentence of 10 years each.
CORRECTION
William Sweeney is assistant director-in-charge of the FBI's New York field office. An earlier version of this post misstated his title.