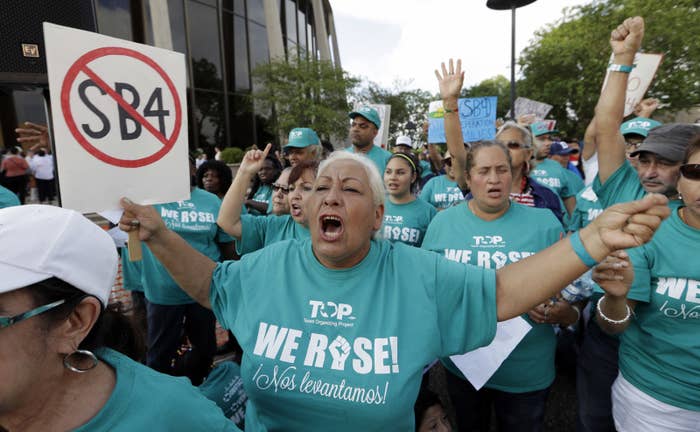 A federal judge Wednesday blocked key portions of a Texas bill to ban sanctuary cities in the state, just two days before the law was to go in effect.
SB 4, as the law is known, was set to make it a crime for local law enforcement agencies to refuse to cooperate with immigration officials, and prevent police chiefs and sheriffs from ordering their officers not to ask people about their immigration status.
In a court order signed Wednesday, US District Judge Orlando Garcia blocked a key part of the law that would have required local law enforcement agencies to comply with US Immigration and Customs Enforcement (ICE) detainer requests — which ask police to hold someone in their jails past their scheduled release dates because ICE officials suspect the person is undocumented.
The law, Garcia stated, would have required local law enforcement to make determinations of probable cause solely on someone's immigration status, something that local departments are neither trained, nor have authority, to do.
"Any enactment that would broadly empower state or local law enforcement officers to arrest or detain upon suspicion of removability would likely be unconstitutional," he wrote in his 94-page decision.
ICE detainers have been at the center of not just Texas's crackdown on so-called sanctuary cities but on the Trump administration's effort to punish cities with similar policies.
At one point, federal officials were publishing a list of crimes reportedly committed by undocumented immigrants in sanctuary cities, but stopped after multiple jurisdictions began questioning the accuracy of the reports.
The decision was an early win for critics of the law, which are looking to have the entire legislation knocked down in court.
Though portions of the law remained intact, Garcia seemed to side with critics of the law who have said the law might erode trust in law enforcement from immigrant communities and, in effect, make them less safe.

"There is overwhelming evidence by local officials, including local law enforcement, that SB 4 will erode public trust and make many communities and neighborhoods less safe," he wrote.
However, Garcia noted that the court's ruling must be based on "the constitutionality of a statute, not its wisdom or necessity."
The federal judge found that local officials can ask about immigration status while carrying their duties, as well as share that information with ICE officials. Officers, however, could not keep someone in custody based solely on their immigration status.
The federal order also blocked part of the law that prohibited local officials from adopting or endorsing policies that "materially limit the enforcement of immigration laws," calling that portion of the legislation vague.
The suit was filed against the state by multiple Texas cities, including El Paso, El Cenizo, San Antonio, and Austin.
The American Civil Liberties Union, which is also fighting the law, praised the decision.
"The court was right to strike down virtually all of its patently unconstitutional law," Lee Gelernt, deputy director of the ACLU's Immigrants' Rights Project said in a statement. "Senate Bill 4 would have led to rampant discrimination and made communities less safe."
Still, opponents of SB 4 noted the fight over the law was still in its early stages in the court.
"This is not over," Salvador Sarmiento, national organizer for the National Day Laborer Organization Network. "When Texas state government is advancing a white supremacist agenda, no single injunction or election will be sufficient."
Texas Gov. Greg Abbott, a Republican who signed the bill into law, said Wednesday's decision made Texas less safe.
"Because of this ruling, gang members and dangerous criminals, like those who have been released by the Travis County Sheriff, will be set free to prey upon our communities," he said in a statement. "This decision will be appealed immediately and I am confident Texas' law will be found constitutional and ultimately be upheld."
Texas Attorney General Ken Paxton also blasted the decision, vowed to defend the bill and to move the court where it was being considered from San Antonio to Austin.
"Texas has the sovereign authority and responsibility to protect the safety and welfare of its citizens," Paxton said in a statement. "We're confident SB 4 will ultimately be upheld as constitutional and lawful."