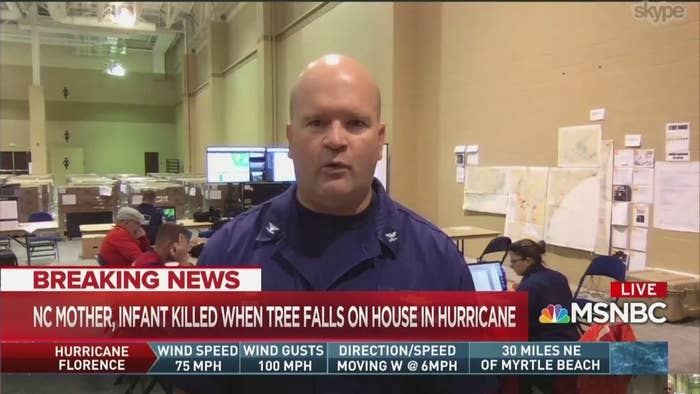 The US Coast Guard removed one of its members from its Hurricane Florence response team after he made an "offensive" gesture Friday on live television.
The gesture in question: a once innocuous symbol for "OK" that has been interpreted as a symbol for "white power" and is now used by pro-Trump and alt-right figures as a troll.
The hand signal was made during MSNBC's Live With Ali Velshi, when Sector Charleston Commanding Officer Capt. John Reed was offering an update on the actions being taken by the US Coast Guard in response to the hurricane.

During the interview, a man, who was not identified, is seen over Reed's right shoulder giving a quick glance at the camera before moving his hand into the "OK" sign.
The US Coast Guard said it was investigating the incident.
Though the hand gesture was quickly made and removed, it caught the attention of many on Twitter.

"We are aware of the offensive video on twitter," the agency said in response. "His actions do not reflect those of the United States Coast Guard."
In a statement, the US Coast Guard called the incident a "frustrating distraction," while it is busy responding to the hurricane.

"This is a frustrating distraction for the Coast Guard during our hurricane response," the agency said. "This person has been removed from the response pending an investigation. These types of actions are not reflective of the core values of the Coast Guard."