Five propane tanks, three gas canisters, and several lighters were found inside a minivan whose driver was on fire as he breached the gate of a Northern California air force base Wednesday, but FBI officials said they have yet to determine a motive behind the bizarre incident.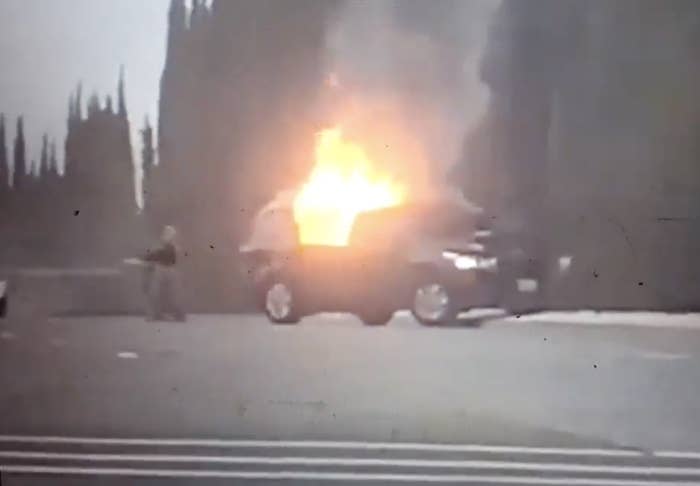 The driver, identified as 51-year-old Hafiz Kazi, a legal US resident born in India, died in the crash at Travis Air Force Base. No one else was injured during the incident.
Investigators with the FBI and the base have found no link to terrorism, Sean Ragan, Special Agent in Charge of the FBI's Sacramento office said Friday at a press conference.
"We don't have any nexus to terrorism at this point," he said.
"Now the question is why he was there, what led him there and we don't know the answer to that quite frankly," Ragan said. "What we're doing now is trying to piece together his life, trying to piece together what led up to this event."
Officials have struggled to locate friends, relatives and associates of Kazi. Several addresses were linked to the man, and Ragan said he appeared to stay in the San Francisco area.
The fiery crash occurred Wednesday evening when Kazi, who appears to have no links to the air force base, breached the main gate of the facility in Fairfield, California.
Ragan said there appeared to be a fire inside the Kia minivan as it breached the first checkpoint at the base. After the vehicle came to a stop, military personnel pulled Kazi out of the burning van and he was pronounced dead at the scene.
"The thought originally was that it was some sort of accident as it went through the front gate," Ragan said.
Video from the scene showed the vehicle in flames and firefighters responding to the incident.
Facebook: AirForceForum
After Kazi was pulled from the van, authorities discovered five propane canisters, three one-gallon gas tanks, lighters, three cell phones, and one gym bag inside the vehicle.
Ragan said no gunshots were fired during the incident.
The breach prompted a closure of the main gate of the base.
Travis Air Force Base is located 50 miles northeast of San Francisco. More than 26,000 service members and civilians live or work at the facility.
Ragan said officials have been able to gain access to at least one of Kazi's cell phones, but have found no clues to why the incident occurred.
Investigators have also had a hard time reaching any friends, relatives or associates of Kazi, who appeared to have worked for a limited time as a cab driver, he said.
Officials were able to locate a relative in India who was notified of Kazi's death.
The FBI and Travis Air Force Office of Special Investigation are continuing to investigate the incident, Ragan said, but said there were no further threats to the base or surrounding community.