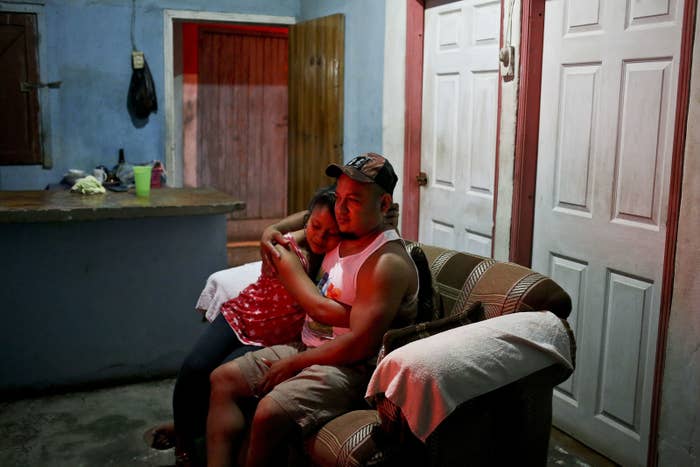 A 1-year-old boy who was separated from his father at the US–Mexico border has been reunited with both of his parents in Honduras, five months after the two were pulled apart by immigration officials.
Still drinking milk from a bottle, Johan Bueso Montecinos appeared in immigration court in Phoenix earlier this month and quickly became one of the public cases highlighting the Trump administration's policy to separate families at the US border.
"I never thought they could be so cruel," Castillo told the Associated Press.
His father, Rolando Antonio Bueso Castillo, traveled with the boy from Honduras before he was arrested by US Border Patrol in February. Five days later, the young child would be separated from his father for months, with the family's only contact being videos and pictures sent by a social worker to the boy's mother in Honduras.
While in US custody, the boy learned to walk, talk, and grew a full set of teeth, the AP reported. His 37-year-old father was deported back to Honduras in April, three months before the young child.

"I will never see my son walk for the first time, or celebrate his first birthday," his mother, Adalicia Montecinos, told the AP. "That's what I lost — those memories every mom cherishes and tells their children years later."
The toddler's case quickly became one of several to highlight the troubles of the Trump administration's "zero tolerance" policy that resulted in the separation of children from their families at the US border, which officials said was meant to deter illegal immigration.

When he appeared in immigration court in April, Johan took off his shoes and played with a purple ball while the judge, uneasily, asked the child's attorney a routine question about whether his client understood the proceedings.
"I'm embarrassed to ask it, because I don't know who you would explain it to, unless you think a 1-year-old could learn immigration law," Judge John W. Richardson told the lawyer.
Castillo told the AP he paid $6,000 to a smuggler to be taken to the US in a trip that was supposed to include hotel stays, daily meals, and vehicle transport with two other families. Instead, he and his then-10-month-old son were stuck in a tractor-trailer with several other families and forced to change his son's diapers by flashlight.
Minutes after crossing the Rio Grande, they were stopped and detained by immigration officials and taken to a detention facility.
It took three days for officials at that facility to allow him to bathe the young child, Castillo said, and five days into their detention he was told he was being taken in for questioning when he handed his son, Johan, to another agent.
It would be the last time he would see his son for five months. Castillo was taken to detention centers in Texas while his son remained in Arizona.
Castillo said he is ridden with guilt with the events that transpired, but that he plans to tell his son the truth when he inevitably asks why he was left alone in the US.
"We thought we had a good plan to give him a better life," he told the AP. "This was never my son's fault. Why did he have to be punished?"