Teen Plane Crash Survivor To 911: "I Was The Only One That Made It Out"
A 16-year-old hiked through the woods in Washington until a driver found her on a nearby highway. The wreckage of the plane crash was located Tuesday evening.
A 16-year-old who walked for days after surviving a deadly plane crash in Washington state told a 911 dispatcher, "I was the only one that made it out."
Okanogan Sheriff's officials released a recording of the call made after Autumn Veatch reached a store Monday and spoke to officials about the fatal plane crash, after she hiked through the woods to get help.
"I have burns on my hands, and I'm kind of covered in bruises and scratches and stuff," Veatch told the dispatcher.
The 16-year-old is believed to be the only survivor of the plane after it went down in the mountains in Washington Saturday.
The teenager was on the flight from Kalispell, Montana, to Bellingham, Washington, with her step-grandparents, Leland Bowman and Sharon Bowman, according to the Washington State Department of Transportation.
Veatch remained at the crash site for a while, but then began to hike down the mountain.
On Monday, Veatch walked out of the woods and into a state highway, where a driver picked up the teen and drove her to a nearby store to contact authorities.
Search crews looking for the missing plane located the wreckage Tuesday evening in the area where Veatch emerged from the woods near the town of Mazama, but were unable to reach the crash site before dark, state transportation officials said. The search was expected to resume in the morning.
Veatch told authorities the three appeared to be flying low and in poor visibility conditions when they crashed into the trees of a mountain.
"They were too low, flying in the clouds," Rogers, who spoke with Veatch, told BuzzFeed News. "When the clouds opened up, the mountain was right there. The trees were right there."
Rogers said Veatch appeared to be understandably shaken up, but was able to talk to investigators about what happened.
"I was really impressed," Rogers said. "The whole time she just has this demeanor. She's just telling me this story. It's not like she's in shock and talking. She's vivid."
Veatch was expected to be released from the hospital Tuesday, Rogers said.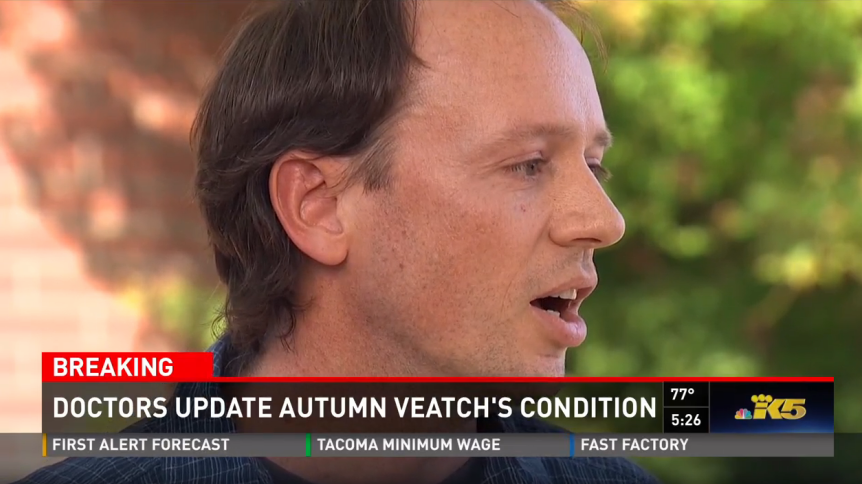 James Wallace, a doctor at Three Rivers Hospital where Veatch was being treated, said in a press conference Veatch suffered minor cuts, bruises and burns, and was severely dehydrated when she was being treated.
"She's recovering tremendously well," Wallace said. "She's extremely exhausted and will remain pretty spent for the next couple of days."
Veatch's friends, Chelsey Clark and Sara Esperance, said Veatch was visiting her mother in Montana, and was on her way back to Washington when the crash happened.
When the plane failed to make it to its destination, friends and relatives were worried all three had perished.
Clark said Veatch would be taken back home to recuperate from her physical and emotional injuries.
"It's a miracle what happened," Clark said during the press conference. "We never gave up hope."