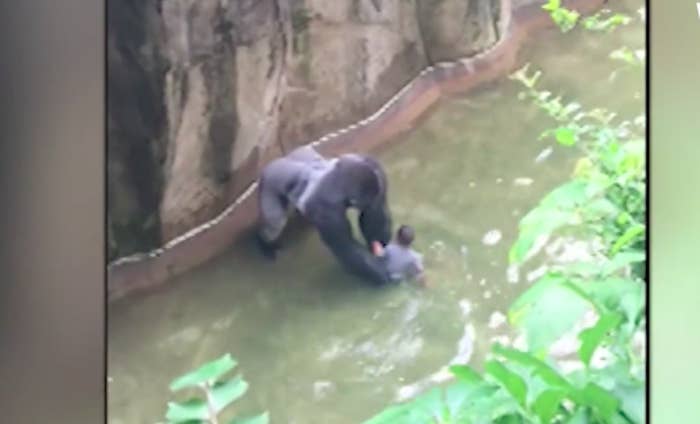 Police released the frantic 911 calls made from the Cincinnati Zoo Saturday after a 3-year-old boy fell into the gorilla enclosure.
The boy's mother can be heard telling the boy, "Be calm, be calm" as the 17-year-old male gorilla, Harambe, dragged him through the water moat of the exhibit.
"My son fell in the zoo exhibit at the gorillas," the mother is heard telling the dispatcher in the 911 call obtained by BuzzFeed News. "There's a male gorilla standing over him. I need someone to contact the zoo, please."
The dispatcher tries to get more information from the woman, including how old the boy is, but she turns her attention to her son.
The boy was initially identified as being 4 years old.
"Be calm, be calm, be calm," she is heard saying. "He's dragging my son! I can't watch this! I can't. I can't. I can't watch!"
The woman, who has not been identified by authorities, then hangs up after saying she needed to call the boy's father.
Zoo officials decided to shoot and kill Harambe for the safety of the boy, stating that using some sort of tranquilizer wasn't an option because of the time needed for it to take effect, and because the 3-year-old could have been further injured.
On Wednesday, the boy's family released a statement to BuzzFeed News, saying they were thankful for the concern and support from the public, while asking that any donations be made to the Cincinnati Zoo.
In the 911 calls released by police, witnesses sounded frantic as they tried to get help. One caller told police she had to move away from the exhibit because she had young children with her.
"Hurry! The gorillas are out," the woman tells the dispatcher. "We were just there and I wanted to get my children away. The gorillas don't have (him) yet."
Others tried to calm down people watching the entire ordeal.
"A baby fell into the gorilla cage and everyone is screaming," another woman tells dispatchers. "Everyone has to calm down and be quiet."
Dispatchers tried to get more information.
"He's dragging him from one end to another, oh my God!"
Cincinnati police have said they are looking into the actions of the parents and the circumstances of how the boy fell into the enclosure.

The review, police said, does not include the operation or safety of the zoo.
Cincinnati City Manager Harry Black said in a statement Wednesday the investigation is ongoing and will be reviewed by prosecutors.