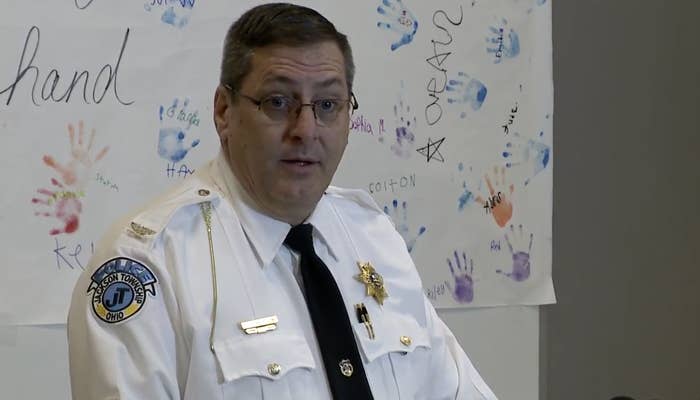 A 13-year-old boy in Ohio had laid out a plan to become a school shooter on his cell phone and then hid a semiautomatic rifle under his clothes as he walked onto campus. But instead of opening fire on his classmates on Feb. 20, police say Keith Simons changed his mind and fatally shot himself in a bathroom.
"Why he went back into the bathroom after he had come out holding the gun, and then committed suicide, we do not have an answer to it," Jackson Township Police Chief Mark Brink told reporters Thursday. "I don't know that we will ever have an answer for that."
The chilling details of the plot, Brink said, were found on Simons' phone, where the seventh-grader had apparently jotted down an eight-step plan for the shooting at Jackson Memorial Middle School.
According to police, the day before the planned shooting, the boy wrote that "this will be bigger than anything this country's ever seen," and he would become "a stain in American history."
Then on Feb. 20, Simons walked directly to a school bathroom after being dropped off by a school bus. He briefly walked out of the bathroom armed with the semiautomatic rifle, but then retreated back inside before shooting himself.
"I think we should thank God every day," Brink said. "Whatever changed his mind, he did change his mind."
The first note planning the attack, police said, was written on Feb. 14, the same day a former student walked into a Florida high school and opened fire with an AR-15 rifle, killing 17 students and staff.

"I wanna leve [sic] a lasting impression on the world," read one of the memos written on Simons' cell phone on Feb. 16, according to a statement released by police.
"I'll have followers because I'm so awesome I know someone will follow me just like I followed Eric Harris and Dylan Klebolt's [sic]," read another memo from Feb. 17, referencing the killers behind the Columbine High School shooting in 1999. "I'll look in to those scared little britches [sic] eyes before I kill them."
Brink said Simons appeared to show a fascination with the perpetrators of past school shootings, particularly Columbine.
"They say school shootings are horrible but they don't think like us like me Eric and Dylan," the note stated.
Simons was seen as a relatively well-behaved boy in his middle school, Brink said, and police found no previous contact between authorities and his family other than typical traffic stops.
"Our investigation has not shown anybody had any knowledge of this incident prior to it happening," Brink said.

Brink said police examined electronics and social media accounts that belonged to Simons, but have not found any evidence that he gave any indication of his plans.
BuzzFeed News found Instagram accounts that appeared to belong to Simons and contained multiple selfies. We contacted two students who confirmed the accounts belonged to the boy. One picture appeared to show Simons, from the back, firing a weapon at a gun range, and other posts included pictures of knives.
There appeared to be no threats on the accounts.
Inside Simons' backpack, Brink said, authorities found about 80 rounds of ammunition and multiple magazines. He was also carrying bottle rockets, batteries, and an aerosol can.
"I think in his mind he believed he had bombs," Brink said, but added that in fact Simons "did not have anything that he could assemble or make into a bomb."
Simons' notes, however, indicate that he intended to kill himself before being confronted by police. The 13-year-old had also pondered on his posthumous notoriety, imagining the media coverage of the planned attack and his name being attached to other killers.
"I'll be a stain in American history and the Simons history, it's going to be so mutch fun," he wrote. "When they interview my parents and ask how they didn't see the signs they should know it's not them it's me and it's because of how I see the world."