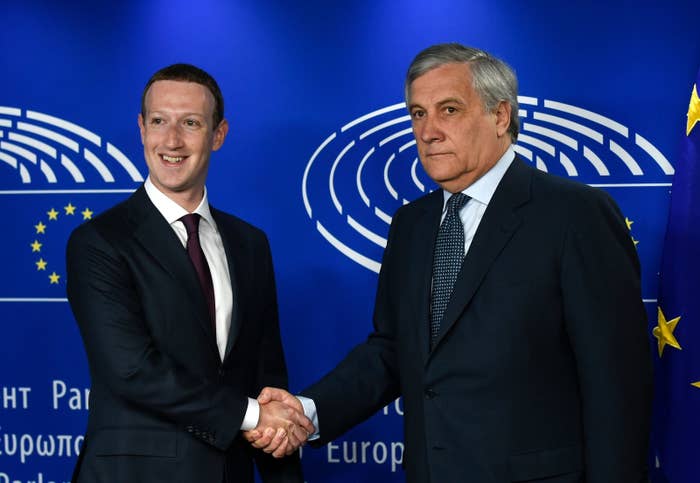 Facebook CEO Mark Zuckerberg faced a lot of questions on Tuesday. But he didn't give many answers.
The Facebook founder appeared in front of the European Parliament in Brussels to answer questions about privacy and data use following public outcry over revelations that Cambridge Analytica, a British-based political consulting firm backed by Republican donors, gained access to the private information of more than 50 million Facebook users. And while the parliamentary members had plenty of inquiries, Zuckerberg was unable to thoroughly address them due to time constraints and a format in which officials spent more than 50 minutes asking questions before the Facebook CEO had a chance to speak.
The end result was another Zuckerberg hearing largely devoid of new information but full of apologies and the talking points that Facebook has been using to temper fallout from the scandal. A Facebook spokesperson confirmed to BuzzFeed News that the questioning format was proposed by European Parliament President Antonio Tajani.
"Whether it's fake news, foreign interference in elections, or developers misusing people's information, we didn't take a broad enough view of our responsibilities," Zuckerberg said. "That was a mistake, and I'm sorry."
While Tuesday's meeting with European parliament members (MEPs) was initially expected to be private, Facebook agreed to livestream the proceedings in an attempt to show that it was transparent about its privacy and data use policies. Those policies are under heavy scrutiny from governments around the world following revelations in March that Cambridge Analytica misappropriated the Facebook data and may have been just one of at least 200 companies to do so.
In his opening statement, Zuckerberg vowed to investigate "all apps that had access to large amounts of information" and violated its developer terms of service, though it's unclear what punishments those companies could face beyond bans from Facebook.
Some lines of questioning from MEPs focused on the Cambridge Analytica scandal; others touched on issues of monopoly and data sharing across Facebook-owned apps like Instagram and WhatsApp. Belgian politician Guy Verhofstadt referenced the techno-dystopian novel The Circle before asking whether Facebook would open its books to regulators so that they could examine whether the company was engaging in monopolistic practices. He also asked the Facebook CEO about his legacy.
"How do you want to be remembered?" Verhofstadt said. "As one of the three internet giants together with Bill Gates and Steve Jobs? Or as a failed genius who created a digital monster destroying our democracies?"
Verhofstadt later slammed the hearing in a tweet, observing its "pre-cooked format was inappropriate & ensured #Zuckerberg could avoid our questions."

Other questions focused on how Zuckerberg was preparing Facebook for the introduction later this month of Europe's new General Data Protection Rules (GDPR), which grants regulators the authority to fine violators up to 4% of their annual revenue. Some questioned why Europe's new policies haven't become the operating guidelines for how Facebook conducts its business globally (Facebook has said it will maintain different procedures for European and non-European users) and asked how users are being notified of the changes.
Zuckerberg said that "dozens of percent of people" have already gone through informational slides in which they've been notified of changes and states that "the last thing we want is for someone to go through flows quicker than they need to." Critics had previously hammered Facebook in the past for rushing people past terms of service agreements and app permission requests.
The Facebook CEO also dodged specific questions about so-called shadow profiles, or information that the company stores on non-Facebook users, and how those people were being tracked. He also wanted to be clear, in response to UK representative Nigel Farage's question about supposedly declining Facebook engagement, that the company did not make decisions or changes based on political motivations.
By and large, however, the format allowed him to do that, ending abruptly when Zuckerberg noticed that the session had run 15 minutes over.
Verhofstadt and Germany's Jan Albrecht attempted to lob a few more requests, with the latter asking whether Facebook could ensure that data from different applications owned by Facebook, like WhatsApp and Instagram, would not be shared across platforms. Zuckerberg declined to answer and instead uttered a refrain that he used multiple times during his appearances in front of US House of Representatives and Senate committees last month: "We will follow up and get you your answers."
Mark Di Stefano contributed additional reporting to this story.