Billionaire venture capitalist and Facebook board member Peter Thiel is no longer affiliated with startup accelerator Y Combinator, according to an edited company blog post. Thiel was formerly a part-time partner with the accelerator. BuzzFeed News confirmed his departure with a source familiar with Y Combinator's management structure.
On Thursday, a tweet from the account of social networking company Gab – whose founder was kicked out of Y Combinator – noted that a March 2015 blog post announcing Thiel's appointment as a part-time partner at Y Combinator had been updated. That update currently reads "Edit: Peter Thiel is no longer affiliated with Y Combinator."
Thiel's departure from Y Combinator was not previously announced. It comes long after Y Combinator president Sam Altman defended Thiel's role at the accelerator, following criticism of Thiel's support of then-presidential candidate Donald Trump. A source close to Y Combinator said that the company ended its part-time partners program, which Thiel was a part of, some time last year. While some other part-time partners moved over to a program called "experts," which provides advice to Y Combinator entrepreneurs, Thiel did not join.
Altman declined to comment. A spokesperson for Thiel also declined to comment.
In Oct. 2016, following Thiel's public endorsement and financial support of Trump's presidential campaign, Altman — who vocally opposed the Republican nominee — issued a series of tweets and a blog post on his relationship with Thiel and why he believed the investor should remain connected to Y Combinator.
"Thiel is a high profile supporter of Trump," he tweeted. "I disagree with this. YC is not going to fire someone for supporting a major party nominee."
"Cutting off opposing viewpoints leads to extremism and will not get us the country we want," Altman continued. "Diversity of opinion is painful but critical to the health of a democratic society. We can't start purging people for political support."
When he joined Y Combinator in March 2015, Thiel became one of the accelerator's 10 part-time partners. Following Trump's ascendancy to the Republican nomination and subsequent election as president, some members of the tech community began to question Y Combinator's connections to Thiel, who would go on to serve on the president's executive transition team and help advise the administration on technology matters.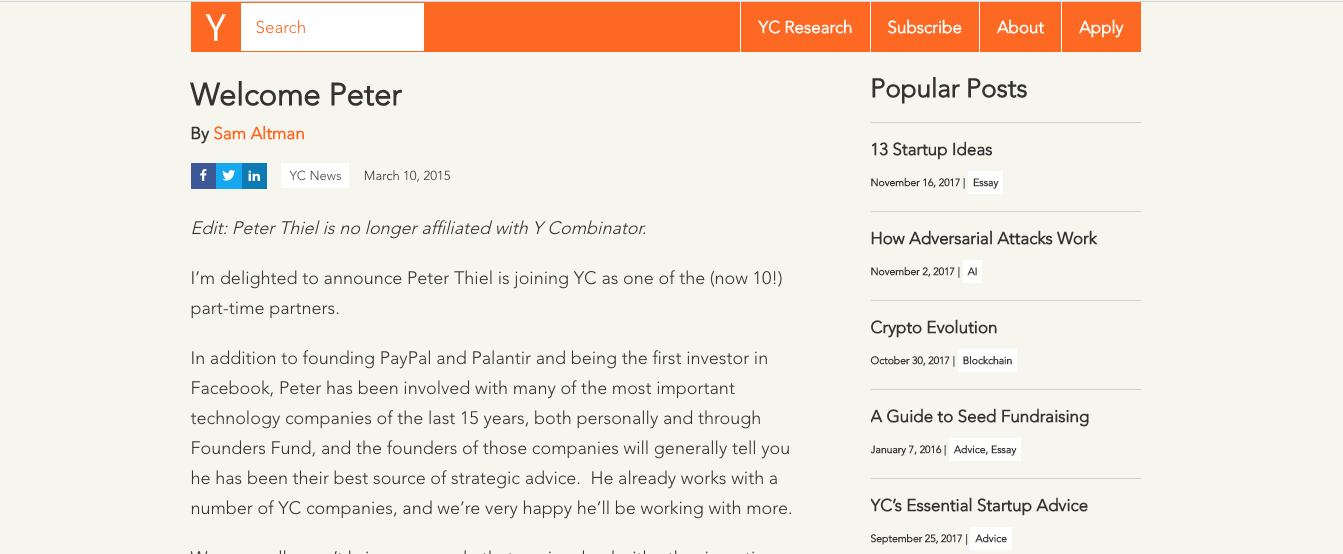 In August, BuzzFeed News reported that despite his public backing of Trump, Thiel had cooled somewhat in his support of the president, telling friends and associates that there was a 50% chance Trump's presidency "ends in disaster."

In February, TechCrunch reported that Thiel would have no role in Y Combinator's newly developed relationship with the American Civil Liberties Union, which has been heavily critical of Trump's policies.
"He is not a partner," Y Combinator Partner Kat Manalac told TechCrunch when asked about Thiel's role at the accelerator, which had committed to improve the technology of the ACLU. "He never has been. We have 19 full-time partners who work very closely with the companies." She later stated that Thiel would have no interaction with the ACLU, implying that he was still affiliated with Y Combinator at the time.
It's unclear when Y Combinator ended its part-time partnerships. As of Nov. 2016, the accelerator was still adding people to the program. It's also unclear when Thiel stopped working with Y Combinator, though an inspection of the edited blog post's source code showed that modifications — possibly including the one announcing the end of his affiliation — were made on Oct. 30, 2017.
Altman, who has said in the past that he identifies as a Democrat, plans to support a slate of candidates in the 2018 California elections and organize a state ballot initiative focused on affordable housing. He announced his intentions in a July blog post.
"Today, we have massive wealth inequality, little economic growth, a system that works for people born lucky, and a cost of living that is spiraling out of control," Altman wrote. "What we've been trying for the past few decades hasn't been working — I think it's time to consider some new ideas."
UPDATE
The story was updated with information about Y Combinator President Sam Altman's plans to support a political slate in the 2018 California elections.