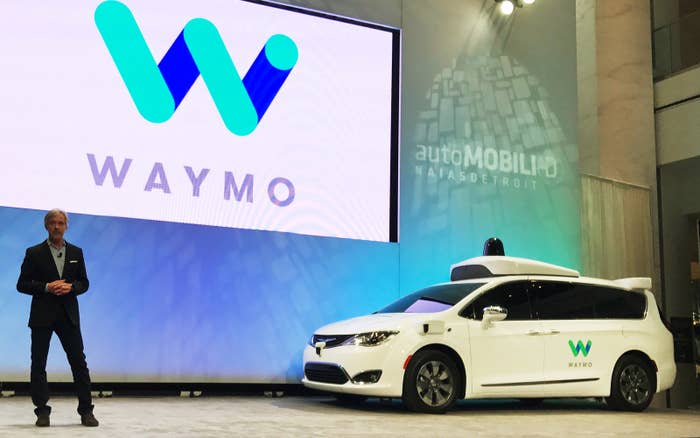 A single letter may change the course of a billion-dollar civil suit between Uber and Waymo, the self-driving car division of Google's parent company, Alphabet.
That letter, a previously undisclosed 37-page document that was discovered by the court only last week, alleges that the ride-hailing giant developed secret, off-the-books efforts to steal trade secrets from rivals and cover its tracks. On Tuesday, Waymo's lawyers read excerpts of that document aloud to a court, while its signatory, former Uber employee Ric Jacobs, sat on the stand and testified on its wide-ranging allegations.
The court was expected to release the letter to the public on Tuesday night, but Jacobs filed a motion at the last minute to designate it as confidential, citing his own privacy and the nature of the allegations to support his argument. In parts of the letter that were read in court, Jacobs' lawyers describe a secretive internal team that used ephemeral messaging platforms and stored data separate from Uber's main servers "to evade, impede, obstruct, influence several ongoing lawsuits against Uber."
The letter may provide Waymo with a decisive piece of evidence to support its allegation that Uber stole its trade secrets and tried to cover up their theft. The revelation of the letter last week by a US attorney, who then notified the district court, caused Judge William Alsup to delay jury selection. He sharply criticized Uber for its failure to disclose the information. Alsup cut a visibly frustrated figure in court on Tuesday, noting that more time was needed to get "to the bottom of this shadow system that Uber set up."
"Any company that would set up a surreptitious system is as suspicious as can be," Alsup said.
While its lawyers tried to assuage Alsup's concerns, to little avail, Uber still maintained its stance following the disclosure of the Jacobs letter and his testimony on Tuesday.
"None of the testimony today changes the merits of the case," an Uber spokesperson said in a statement Tuesday. "Jacobs himself said on the stand today that he was not aware of any Waymo trade secrets being stolen."
Waymo is seeking about $1.9 billion in damages from Uber, which it's accusing of collaborating with former Google engineer Anthony Levandowski to purchase self-driving car technology that had been taken from the company. Levandowski sold a startup he founded shortly after leaving Google, called Otto, to Uber in a $680 million deal in Aug. 2016.
It is unclear if the letter details any information specifically about Waymo, as the version that was submitted to the court and seen by Waymo's lawyers was redacted. It also remains to be seen if the public will ever be able to view the letter. If Alsup grants Jacobs' motion to make the document confidential, it would only be viewed by the parties privy to the case.
On the stand on Tuesday, Jacobs confirmed much of what was in the letter, including a program that allowed the company to track drivers who drove for competitor Lyft. That program, which was known internally as "Hell," according the Information, then offered those drivers incentives to work for Uber. The FBI is now investigating the use of Hell.
Lawyers for Jacobs also noted in the letter that Uber employees had gone to Pittsburgh, the hub of the company's autonomous driving unit, to instruct staff on how to specifically and secretly communicate with Uber's security team so that company information could not be exposed in case of a future legal dispute. On the stand, Jacobs also mentioned the use of an ephemeral messaging service, Wickr, to delete messages after a certain amount of time, thereby eliminating a paper trail.
But Jacobs also disputed some of the details in the 37-page document, arguing that he did not write the letter and had not completely reviewed it before it was sent to Uber earlier this year. He denied a statement in the letter that he was "aware" that an Uber unit had stolen trade secrets from Waymo, noting that "I don't stand by that."
Jacobs, who now lives in Seattle, said he reached a settlement with Uber for $4.5 million earlier this year. He remains a paid consultant for Uber, which paid for his travel to San Francisco to testify in front of the court. According to his testimony, Jacobs' settlement prevents him from disparaging Uber in public, though it does not prevent him from telling the truth in court testimony.
One Uber employee, Ed Russo, who was named in the Jacobs letter for helping to recruit workers from competitors, including Lyft, to steal trade secrets, also took the stand on Tuesday to deny the accusations. That did little to convince Alsup to allow the trial to move forward on its scheduled date.
"The evidence brought to light over the weekend by the US Attorney's office and revealed, in part, today in Court is significant and troubling," a spokesperson for Waymo said in a statement. "The continuance we were granted gives us the opportunity to fully investigate this new, highly relevant information."
In arguing to make the letter confidential, Jacobs' attorney Martha Boersch says that public disclosure of the letter may cause "specific harm" to Uber employees in foreign countries including Russia, China, and Turkey. "Many of the countries in which Uber employees work have legal and security regimes that place those Uber employees at an increased risk of harm, including harassment and actual violence," the motion reads.
The motion says that the statements made in the Jacobs letter were simply "allegations about individuals and entities that have yet to be fully investigated or proven," and offers the notion that disclosure of the full document could disrupt ongoing state and federal investigations. It also claims that Jacobs' personal privacy may be disrupted by the publishing of the dispatch.
"As Mr. Jacobs testified today, Mr. Jacobs brought his allegations forward to Uber in hopes that Uber would correct what Mr. Jacobs perceived as inappropriate behavior," the motion reads. "Publishing an otherwise confidential letter, particularly in such a widely publicized case, punishes Mr. Jacobs' efforts to correct perceived company wrongs."
Lawyers for Uber and Waymo are due back in court on Wednesday morning to continue proceedings.
CORRECTION
Waymo is seeking about $1.9 billion in damages. A previous version of this story misstated that amount.