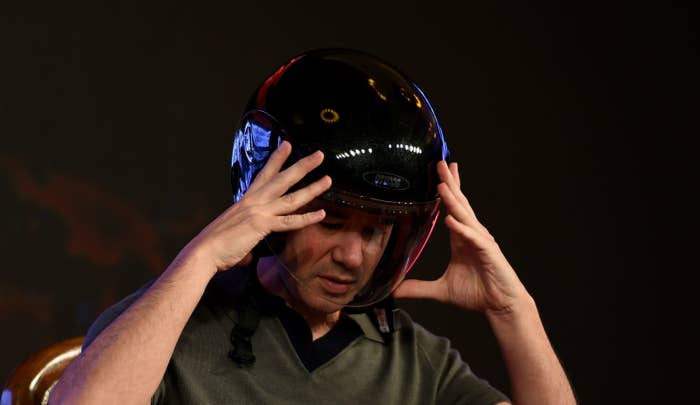 Travis Kalanick, the former CEO of Uber, testified on Tuesday in federal district court that he met several times with a former Google engineer to discuss the formation of a new company, which is now at the center of a billion-dollar trade secrets lawsuit that has engulfed two of Silicon Valley's biggest companies.
On the second day of Waymo's trial against Uber over the alleged theft of autonomous vehicle intellectual property, the embattled Uber cofounder, who resigned as CEO in June, took the stand to outline his involvement in the company's acquisition of Otto, the self-driving truck startup created by Anthony Levandowski in January 2016. Presenting a calm demeanor, Kalanick, in a tailored suit and dark gray tie, danced around the questions from Waymo's attorneys, who attempted to tie him to Levandowski's decision to download files concerning self-driving car technology from Google's servers days before he quit.
It was the first day on the stand for Kalanick, who spent about 50 minutes testifying, as the plaintiff's attorneys laid out a timeline that showed him meeting with Levandowski, an autonomous vehicle pioneer, before he had left his previous role as vice president of engineering at Waymo, the self-driving car unit of Google's parent company Alphabet. "Did you discuss the purchase of a nonexistent company with Levandowski?" Waymo attorney Charles Verhoeven asked his witness, referring to a late 2015 meeting.
"The answer is yes," Kalanick replied, with his father reportedly looking on from the public gallery. "[Levandowski] was very adamant about starting a company and we were very adamant about hiring him."
Kalanick was collected — a contrast from the bombastic personality he'd cut in the press — with Waymo's side failing to land any immediate blows to support allegations that he may have colluded with Levandowski and used Waymo's technology in Uber's own projects. Verhoeven, instead, took a calculated approach, showing emails in which Kalanick discussed Levandowski's ideas for a "newco" (or new company) with other Uber executives, and outlining visits between the two men. At one point, he showed a visitor's badge to Uber's office bearing Levandowski's name and picture. It reads: "Who are you here to see? Travis Kalanick."
That cursory evidence alone won't be enough to prove to a jury that Uber misappropriated eight of Waymo's self-driving car trade secrets, which revolve around Lidar, a laser technology that helps self-driving cars see and navigate the world. But, Waymo's lawyers went to great lengths to paint a picture where Kalanick understood the importance of Lidar, or lasers, and knew that Levandowski, who had helped start Google's self-driving car effort in 2009, had spent much of his career working on that technology.

In one exchange, Verhoeven asked Kalanick if he had discussed Lidar with Levandowski at a Jan. 3, 2016, meeting between the pair, to which the former Uber chief executive said he could not recall. Waymo's lawyers then played a deposition tape from October that seemed to suggest otherwise, and then referred to Kalanick's own handwritten notes from that meeting noting that "laser is the sauce." On another set of notes from an Uber employee outlining "three things" that Uber wanted from the acquisition of Levandowski's new company, Kalanick referred to "Lasers, Data, Advice."
Tuesday's proceedings began with a lively exchange before the jury was even let into the courtroom. After Judge William Alsup entered at 7:30 a.m., the day commenced with a discussion as to whether a text message featuring a link to a YouTube clip was admissible evidence. Levandowski sent that clip, which features actor Michael Douglas declaring "greed is good" in the 1987 film Wall Street, to Kalanick via text message. Uber's legal team argued that it was unclear if the former executive had even clicked on the link. Waymo's legal team, on the other hand, argued for its inclusion as evidence in the trial because it showed Kalanick and Levandowski were "in cahoots."
Alsup allowed Kalanick to be asked about it on the stand, but not before adding his own hot take. "It was one of the best moments in all of Hollywood," he said, as the court burst into laughter.
The other two witnesses to take the stand on day two included Waymo's Vice President of Engineering Dmitri Dolgov; Gary Brown, a Google forensics analyst who examined Levandowski's computer; and William Grossman, a hardware engineer at Google. Grossman, who was accidentally looped in on an email that proved to be the spark for this lawsuit, explained to a jury how a manufacturer unintentionally sent him computer parts designs for Otto that looked similar to Waymo's.
"We thought it looked like our board and the right thing to do would be to get legal involved," he said of his decision to notify Waymo's lawyers in December 2016.
The jury also watched clips from video depositions of John Bares, the former director of Uber's Pittsburgh-based Advanced Technologies Group, which had been tasked with building a self-driving car before the arrival of Levandowski. Bares, who was aware of discussions between Kalanick and Levandowski prior to the acquisition of Otto, said saving resources was one of the motivations for buying Otto. That was important to Uber at the time, as the company was spending about $20 million a month on its autonomous vehicle efforts, according to Bares.
"My point is that there is more value here … than 25 disparate engineers that we would pick up from different places," he said at one point in his deposition.
Kalanick, who remains a significant Uber shareholder and still sits on its board, is expected back in the San Francisco court on Wednesday for further questioning and cross-examination from Uber's legal team.