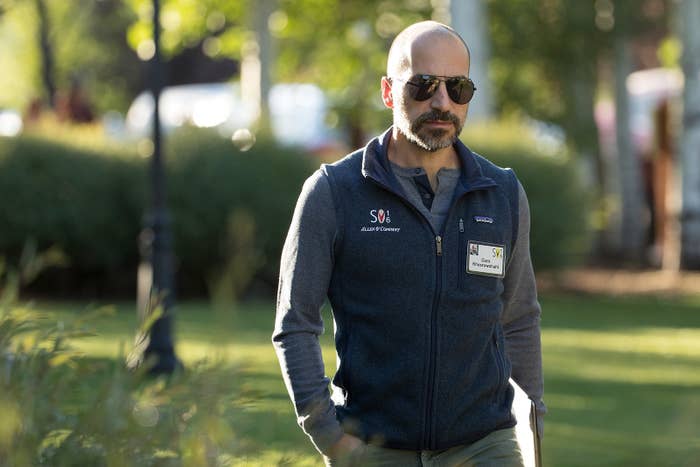 Uber Technologies picked Dara Khosrowshahi, the chief executive of travel company Expedia, as its new CEO Sunday, bringing an end to a contentious search for a new leader that has been marked by board infighting, media leaks, and a divisive lawsuit.

Khosrowshahi, according to two sources familiar with the situation, will take over at the embattled ride-hailing company shortly, leaving his post at the helm of Expedia, which he has led as chief executive for 12 years. The former Allen & Co. analyst was a shock appointment for the job, beating out much-publicized candidates Meg Whitman, the chief executive of Hewlett Packard Enterprise, and Jeff Immelt, the former CEO of General Electric.
A spokesperson for Uber declined to comment.
Whitman was widely rumored as the favorite for the CEO gig at the $69 billion ride-hail company. Uber's board spent two days at San Francisco's St. Regis Hotel to determine who would replace former CEO and cofounder Travis Kalanick, but it wasn't until late Sunday that it had decided on Khosrowshahi and not Whitman, after Immelt conceded earlier in the day that the job wasn't for him.
Khosrowshahi was voted in despite a great deal of board support for Whitman, a favorite of investor Benchmark, which controls a director seat and is currently pursuing a lawsuit against Kalanick alleging fraud, breach of contract, and breach of fiduciary duty. Kalanick resigned in June and was pushed by Benchmark to do so, after allegations of sexual harassment and discrimination at Uber led to two internal investigations into workplace culture. His mother also died in a boating accident in May, causing him to take a leave of absence before his resignation.
It remains to be seen how well Kalanick, who still sits on the board and controls two other unoccupied board seats, will work with Khosrowshahi, who has spent more than a decade leading the Bellevue, Washington-based travel company. Kalanick was staunchly opposed to Whitman, with a person close to him saying that Uber's cofounder did not trust the Hewlett Packard Enterprise CEO and viewed her as deceptive about her intentions. Over the last month, Whitman had said on two separate occasions that she did not want the position, but still interviewed with Uber board members over the weekend.
A spokesperson for Kalanick declined to comment.
The candidates met with Uber board members in the presidential suite of the St. Regis Hotel, which the company had booked through the weekend. At the hotel, security guards patrolled the 20th floor and didn't allow a BuzzFeed News reporter to wander the hallways.
The incoming CEO will have a lot on his plate at Uber. In addition to the ongoing fallout from two internal investigations into sexual harassment and discrimination and Uber's workplace culture that launched earlier this year, Uber is facing a blockbuster trade secrets lawsuit from Google's self-driving arm Waymo that will go to trial in October. The company also faces a lawsuit from an Indian passenger who says the company mishandled her medical records after she was raped by a driver, as well as regular audits from the FTC over passenger privacy. Though the company now has a CEO, it still has no CFO, and there are almost half a dozen other unfilled executive positions, as top talent continues to exit the company.
Khosrowshahi will have to determine the best path forward for a business that still hemorrhages money. The company lost $1.35 billion in the first half of the year, according to unaudited financial statements released by the company to news outlets, and recorded $1.75 billion in net revenue in the second quarter of 2017. That was up from $1.5 billion in the first quarter of this year.
Khosrowshahi may also have to act as a negotiator between Kalanick and Benchmark, whose suit against the former CEO is still ongoing. In a Delaware legal filing, Kalanick called the suit a "personal attack" and said that the investment firm had put pressure on him during a time when he was still dealing with the death of his mother.
Benchmark previously released a statement that said that resorting to litigation was a "difficult step" but a necessary one for the venture capital firm. A spokesperson for the firm declined to comment on the appointment of Uber's new CEO.
Khosrowshahi, who immigrated to the United States as a 9-year-old to escape the Iranian revolution, has served as Expedia CEO since 2005. A Barry Diller protégé, he formerly worked at IAC and before that at investment bank Allen & Co. as an analyst.
The 48-year-old Khosrowshahi has been a vocal critic of President Donald Trump and has used his background as an immigrant to lend context to his distaste for the current US leader. Like other technology CEOs, he was particularly vocal about the administration's plan to push through a ban on Muslim immigrants and refugees.
"The President's order represents the worst of his proclivity toward rash action versus thoughtfulness," he said in an email to Expedia employees. "Ours is a nation of immigrants. These are our roots, this is our soul. All erased with the stroke of a pen."

His criticism has continued in recent weeks.
"I keep waiting for the moment when our Prez will rise to the expectations of his office and he fails, repeatedly," he tweeted on Aug. 15 in his most recent posting on the social network.
CORRECTION:
Uber lost $1.35 billion in the first half of 2017. An earlier version of this post had a different figure.