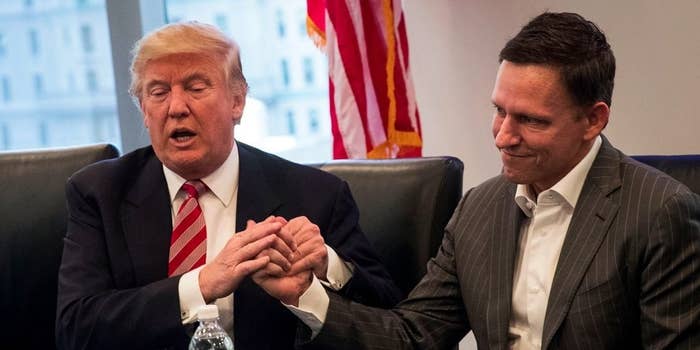 The White House is planning a second gathering of technology leaders later this month in which President Donald Trump is expected to meet with venture capitalists and entrepreneurs from emerging tech firms.

Three sources confirmed to BuzzFeed News that the Office of Science and Technology Policy (OSTP) is organizing the event, scheduled for June 22 — three days after Trump is expected to meet with the likes of Apple CEO Tim Cook, Amazon CEO Jeff Bezos, Oracle co-CEO Safra Catz, and technology executives in Washington. While that first gathering is said to focus on topics including immigration and modernizing government operations, the second meeting, which is being organized by US Deputy Chief Technology Officer Michael Kratsios, will address emerging technologies trends including the Internet of Things, commercial drones, and the funding of those companies.
While the full agenda for the June 22 meeting has not been set, one person familiar with the event who was not authorized to speak on the record said that there will be breakout discussions at the White House that will discuss the state of certain technologies and the regulations that surround them. Following the conclusions of those discussions, some entrepreneurs and investors are expected to have a roundtable meeting with Trump.
Two of the largest Silicon Valley venture firms, who declined to be named, confirmed they had received invitations from Kratsios, who previously served as chief of staff to Trump backer and early Facebook investor Peter Thiel. One of those firms said they will be sending someone to attend, while the other declined to comment on their participation.
One source said that there will be little overlap in topics or attendees between the two technology meetings, and that about 30 US-based organizations had been invited to the event on the morning of June 22.
Kratsios, as deputy CTO and as deputy assistant to the president, will oversee the meeting. While most deputy CTOs are expected to report to the CTO, Trump has yet to appoint anyone to the top OSTP position. Former Google executive Megan Smith served as US CTO under President Obama.
With reporting from Will Alden and Caroline O'Donovan.