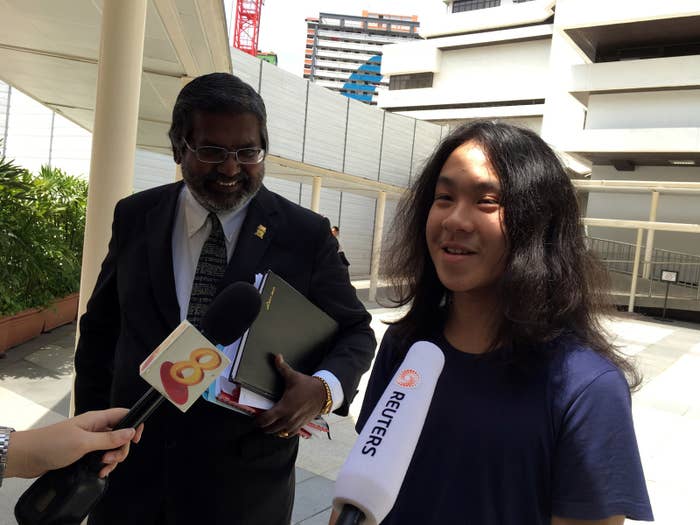 Amos Yee, a controversial blogger from Singapore who has been held in US detention for 10 months, will be freed on Tuesday after a federal appeals court upheld an immigration judge's decision to grant him asylum.
According to Yee's lawyer Sandra Grossman, the court upheld a judge's earlier ruling on the grounds that he would be persecuted if he returned to his native country, whose laws allow the government to restrict freedom of speech and expression. Yee had previously been jailed twice in Singapore on charges that included spreading obscenity and "wounding racial or religious feelings" before December when he flew to Chicago, where he was detained at O'Hare Airport.
He had been in US custody ever since, despite a March ruling from Chicago immigration judge Samuel Cole, who noted that Yee had "suffered past persecution on account of his political opinion and has a well-founded fear of future persecution in Singapore." The Department of Homeland Security then opposed that ruling, sending the case to appeals court, which ruled last Thursday that Yee should be freed.
The appeals court upheld the judge's original decision that "found that his prosecution in Singapore was actually pretext to silence his political opinion," Grossman said in an interview with BuzzFeed News.
Atossa Araxia Abrahamian interviewed Yee for a BuzzFeed News story last month that chronicled his work as an online agitator who often ran into trouble for expressing his views on religion, Singapore's government, and sex. "I do confess I display similarities to a troll," he said in a July interview. "And I do want attention. But a troll has sadistic pleasures. I want to help humans."
Grossman said that the 18-year-old Yee would be released from a Chicago Immigration and Customs Enforcement office on Tuesday, but that she was unaware of his immediate plans. Per US law, he will be able to apply for a green card after being in the country for more than a year. Grossman also said it was unlikely that the government would take the case to a higher court to oppose Yee's asylum, alluding to the amount of money that has already been spent on an individual that the DHS "never argued" was a security threat.
"I can imagine that he looks forward to getting back online and expressing his views on a variety of topics including the government of Singapore, his detention in the United States, and possibly any other topic that he wants to discuss," she said.
CORRECTION
An earlier version of this post misspelled Amos Yee's name.