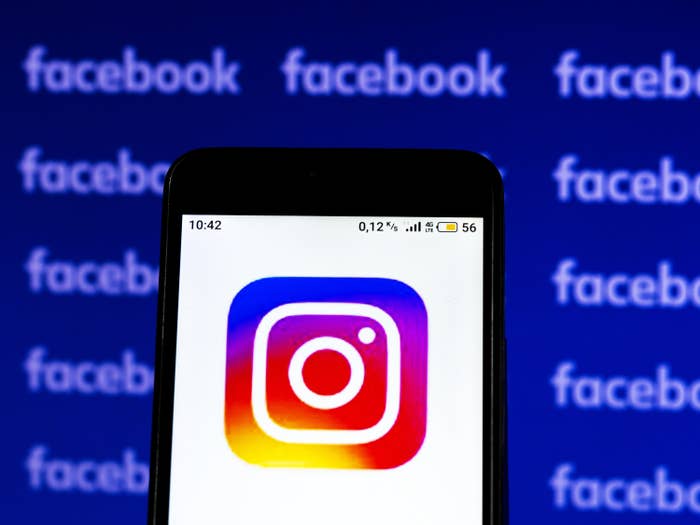 Searches for the word "dog" on Instagram's stories feature are showing an emoji for a takeout box associated with Chinese American food, angering people who are concerned the app is reinforcing racist stereotypes.

An Instagram employee noticed the issue over the weekend, according to a post on an internal Facebook message board, while users of the popular photo-sharing app have complained about the problem since 2019. Instagram is owned and operated by Facebook.
"How are the emoji's being recommended in this and can we remove this so this doesn't perpetuate Asian racial stereotypes?" wrote the employee, who works as an Instagram product integrity program manager. "I've tested this with 3 of my family members and it shows up for them."
In tests on Apple devices, BuzzFeed News was shown the Chinese American food container in searches for "dog" while attempting to place an emoji or GIF on top of a story, an ephemeral image or video that's attached to a profile for a 24-hour period. The takeout box was one of seven possible emoji search results for the word, alongside emojis of actual dogs, paw prints, and a hot dog.
The results could not be replicated on Android devices with Instagram. Story features on Twitter, Snapchat, and the Facebook app did not have searchable emojis or did not show racist results.
A rep for Facebook told BuzzFeed News said the company is investigating the issue.
"We've removed the emoji from appearing in this search and are investigating what led to this so we can take steps to keep it from happening again," said a Facebook spokesperson.
After the story was published, Adam Mosseri, the head of Instagram, said on Twitter that the takeout box emoji was associated with the term "doggy bag," which caused it to appear when searching for "dog."
"We have since removed that search term and we apologize that it was misconstrued, and to anyone we offended," he said.
The issue existed since at least 2019. In October of that year, one person tweeted that they were looking for "cute little dog gifs on Instagram" but came across the takeout box.
"Why did i search up dog on @instagram and chinese food comes up???" another woman tweeted in early 2020.
Jennifer 8 Lee, a vice chair of the Unicode Emoji Subcommittee, which helps new emojis gain approval, said the mistake was Instagram's fault. While emojis are linked to certain keywords, there is no basis in unicode, the standard for the consistent handling of text across devices, to associate "dog" with the emoji that people are worried about.

"'Dog' is not a keyword for 'takeout box' in unicode," said Lee, who also wrote The Fortune Cookie Chronicles, a book about Americanized Chinese food. "It has to be happening on that platform level and someone fucked up."
Lee said the connection between dog and the emoji for the takeout container — which is actually an American invention — echoes racist caricatures that took hold when Chinese workers came to the United States in the 1800s. As immigrants came to build American railroads, food became a differentiator in the "us versus them" narratives with Chinese workers portrayed as "strangers on our shores who eat dogs, cats, and rats."
Lee added that while some Asian countries have places that serve dog meat, she noted that white Americans also sometimes eat atypical animals like alligators. "I would say the average Chinese person never eats dog in their entire life, in the same way the average American doesn't eat gator in their life," she said.
This is far from the first time a Facebook product has been hit with allegations of cultural insensitivity. In 2018, following a deadly earthquake in Indonesia, people in the country who tried to alert friends and family that they were safe or offer condolences on the platform were shown festive balloons after the platform failed to understand that the Indonesian word for "to survive" also means "to celebrate."

This year on Martin Luther King Jr. Day, Instagram mistakenly put a coronavirus misinformation label on stories that showed a screenshot of a commemorative tweet from King's daughter Bernice King that had nothing to do with the pandemic.
"Our systems mistakenly labeled screenshots of this Tweet as vaccine misinformation," an Instagram spokesperson said at the time. "We have now removed the incorrect label on these posts."
UPDATE
This story has been updated with a comment from Adam Mosseri, the head of Instagram.