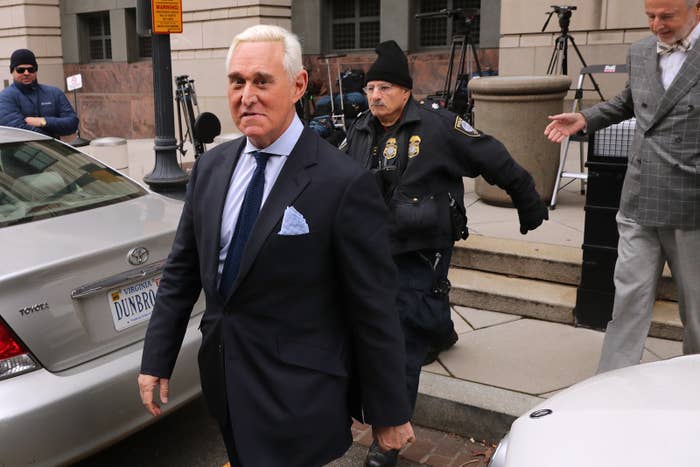 Roger Stone, a longtime Republican operative and adviser to President Donald Trump who was charged with lying to Congress, posted a photo Monday on Instagram of a judge presiding over his case in which she appears to be next to a crosshairs symbol.
The post comes days after the judge, US District Judge Amy Berman Jackson, rejected Stone's effort to get his case reassigned to a new judge.

Jackson had also previously ruled that Stone couldn't talk to news outlets in front of her courthouse.
Stone, 66, took to Instagram to bring attention to special counsel Robert Mueller, saying he used "legal trickery" to place his case in front of Jackson, a US district judge in the District of Columbia. Stone's case is being prosecuted jointly by Mueller's office and the US Attorney's Office in Washington.
"Through legal trickery Deep State hitman Robert Mueller has guaranteed that my upcoming show trial is before Judge Amy Berman Jackson , an Obama appointed Judge who dismissed the Benghazi charges again [sic] Hillary Clinton and incarcerated Paul Manafort prior to his conviction for any crime," Stone wrote in the caption to the photo, including the hashtag #fixisin.
Since January, Stone has posted regularly to the photo-sharing website to claim that he did nothing wrong with regard to charges that he lied to Congress about his contact with WikiLeaks. Last month, a federal grand jury in Washington, DC, indicted Stone on one count of obstructing Congress, five counts of making false statements to Congress, and one count of witness tampering. He pleaded not guilty at a Jan. 29 hearing.
The photograph — a version of which appeared earlier on a site pushing false conspiracy theories — featured a target symbol near the judge's head. The symbol is also associated with the Zodiac killer.

Peter Carr, a spokesperson for the special counsel's office, declined to comment.
Instagram's terms of service states that the service will "remove content that contains credible threats or hate speech" and that "serious threats of harm to public and personal safety aren't allowed." An Instagram representative said the post was a violation of the social network's rules.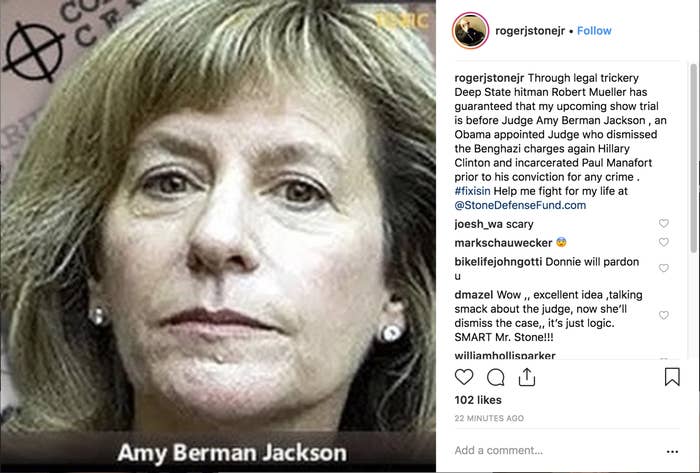 Within 30 minutes of BuzzFeed News first inquiring about Stone's post, it was gone from the photo-sharing site. A representative for Instagram said that the company did not remove the image, suggesting that Stone did so himself.

Stone later shared a statement — which he reiterated when reached by BuzzFeed News — saying, "This was random photo taken from the internet .Any [sic] inference that this was meant to somehow threaten the Judge or disrespect court is categorically false."
Stone included the hashtag #rogerstonedidnothingwrong in the caption of the new Instagram post. In a subsequent Instagram post, he provided another update saying that the crosshairs "are in fact the logo of the organization that originally posted it [sic] something called corruption central."
He later filed a "notice of apology" in court, calling the photograph and comment "improper."
"Mr. Stone recognizes the impropriety and had it removed," the filing stated.
He also texted CBS News reporter Kathryn Watson that his post was in reaction to "the manner in which my case was assigned to a specific judge rather than the judge being selected randomly."
Early in Stone's case, prosecutors designated it as "related" to a prosecution brought by Mueller's office last year against Russian nationals accused of hacking the Democratic National Committee and giving information to WikiLeaks via the online persona Guccifer 2.0 — actually Russians, according to the government — during the 2016 presidential election. The DNC hacking case was already assigned to Jackson, and by marking Stone's case as "related," that meant it got assigned to Jackson as well under the court's rules.
Stone challenged the "related" designation, arguing there was no direct connection between his case and the defendants and alleged facts in the DNC hacking case. Prosecutors countered that Stone's case and the DNC hacking case involved common search warrants and underlying events — that the alleged interference by Russians in the 2016 election was the subject of the congressional investigation that Stone is charged with trying to obstruct.
A version of the photo that Stone shared appeared earlier on conspiracy websites including one called Americans for Innovation, which engages in false deep state theories about the "pay-to-play new world order."

A blog post titled "MUELLER'S JUDGE AND PROSECUTOR TAKE THEIR ORDERS FROM HILLARY," from Feb. 6, features the photo of Jackson superimposed over a background featuring the words "CORRUPTION CENTRAL" and the crosshairs sign. The post also contains pictures of former Democratic presidential nominee Hillary Clinton, Rep. Adam Schiff, and others, with similar backgrounds and editing.
The photo Stone posted to his Instagram account — @rogerstonejr, which has nearly 42,000 followers — featured a zoomed-in version of the Jackson picture featured on Americans for Innovation.
On Feb. 15, Jackson issued a one-paragraph order stating she wouldn't take any action related to Stone's objections. She wrote that the current case assignment was "consistent" with the court's rules about related cases, but didn't elaborate further.
Jackson was nominated by President Barack Obama to the US District Court for the District of Columbia and was unanimously confirmed by the Senate in March 2011. In May 2017, she dismissed a wrongful death lawsuit against Hillary Clinton, following the attacks on an American diplomatic compound in Benghazi, Libya.
Jackson is also overseeing the criminal case of former Trump campaign chair Paul Manafort in Washington.
Stone is due back in court before Jackson on March 14 for a status hearing.