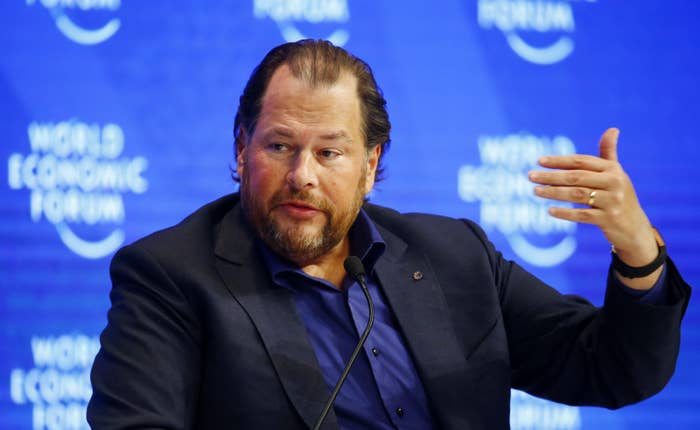 Last May at the ribbon-cutting of the Salesforce Tower, the 61-floor phallus that now dominates the San Francisco skyline, tech billionaire Marc Benioff implored the politicians, journalists, and citizens in attendance to stop blaming the technology industry for the city's issues. San Francisco has real problems, Salesforce's billionaire CEO expounded, pointing to the homeless encampments only a few blocks away from his company's new $1.1 billion home, but it was unfair to lay them at the feet of Big Tech.
"The challenges I've described today are not all the fault of the tech community," Benioff said. "Just as I'm challenging the tech community to step up, I'm challenging others not to scapegoat the tech community."
Five months on, Benioff has changed tack. Heading into the November election, one of San Francisco's richest inhabitants has molded himself into the face of a local initiative to tax large businesses and raise money to help the homeless. And there's no question who he's making the scapegoat.
"The whole technology industry is in a crisis of trust, and it's touching different companies, including ours … and it just kind of puts at question: Can we trust tech companies?" he said in a recent interview with BuzzFeed News. "Part of that is, are you giving back and are you generous? And what are your values, and why do you have this company to begin with?"
Recently, a crisis of confidence has swept over the tech industry, leading the public to question these companies' massive accumulation of wealth and outsize role in shaping social and political discourse. Benioff has repurposed the grievances about his industry to opportunistically ask what his peers are doing to address the homeless epidemic in the heart of Silicon Valley. In Proposition C, Benioff has found his cause, recasting himself as a populist pushing for a tax on his company and others that would raise $300 million annually to address one of San Francisco's most pressing predicaments. "If we're not for the homeless, then who are we for?" he said in what seems like part of a well-practiced stump speech.
That kind of talk has at least some people in San Francisco's business and political communities whispering that the 54-year-old may run for mayor and use Prop C as his springboard.
Benioff denied the rumors. "I will never run for any political office," he said. "Business is the greatest platform for change."
"I will never run for any political office. Business is the greatest platform for change."
While a rich person with a populist political message is nothing new — just look to the White House — Benioff's Robin Hood appeal comes at a time when many San Franciscans are fed up with the city's inability to deal with the 7,500 people sleeping on its streets and the associated drug and sanitation issues. And though Benioff is an awkward standard-bearer — he has a Forbes-estimated net worth of $5.8 billion, built his fortune in tech, lives on San Francisco's billionaire row, gives interviews about purchasing media companies from a massage table, and works from a tower that lords over the city — he's backed up his words by giving $11.5 million to homeless charities over his lifetime and contributing more than $1 million to supporting Prop C. (Salesforce has given an additional $4.05 million to the measure.)

"We're just out of money," Benioff said, pointing to the more than $300 million the city spends annually on addressing homeless issues. "The problem has never been as big as it is. We just need to do more at a level of scale that philanthropy cannot fully address."
Benioff's value to Prop C, which proposes a gross receipts tax of a maximum of .7% on businesses with revenue of more than $50 million annually, extends beyond his deep pockets. Though San Francisco Mayor London Breed and a host of tech investors and corporate interests oppose the measure, a billionaire CEO's support blunts the notion that Prop C could be bad for business, while simultaneously stressing the idea that San Francisco's business community can and should do more. His involvement has also raised awareness about the ballot measure, particularly due to one online spat with Twitter and Square CEO Jack Dorsey, who has donated $125,000 to oppose Prop C, citing his support for the mayor's vision.
"Which homeless programs in our city are you supporting?" Benioff, a San Francisco native, wrote in a series of stinging tweets to Dorsey, who famously used to lead new Square hires on a walk to a San Francisco Gandhi statue to discuss the company's "guiding principles." "Can you tell me what Twitter and Square & you are in for & at what financial levels? How much have you given to heading home our $37M initiative to get every homeless child off the streets?"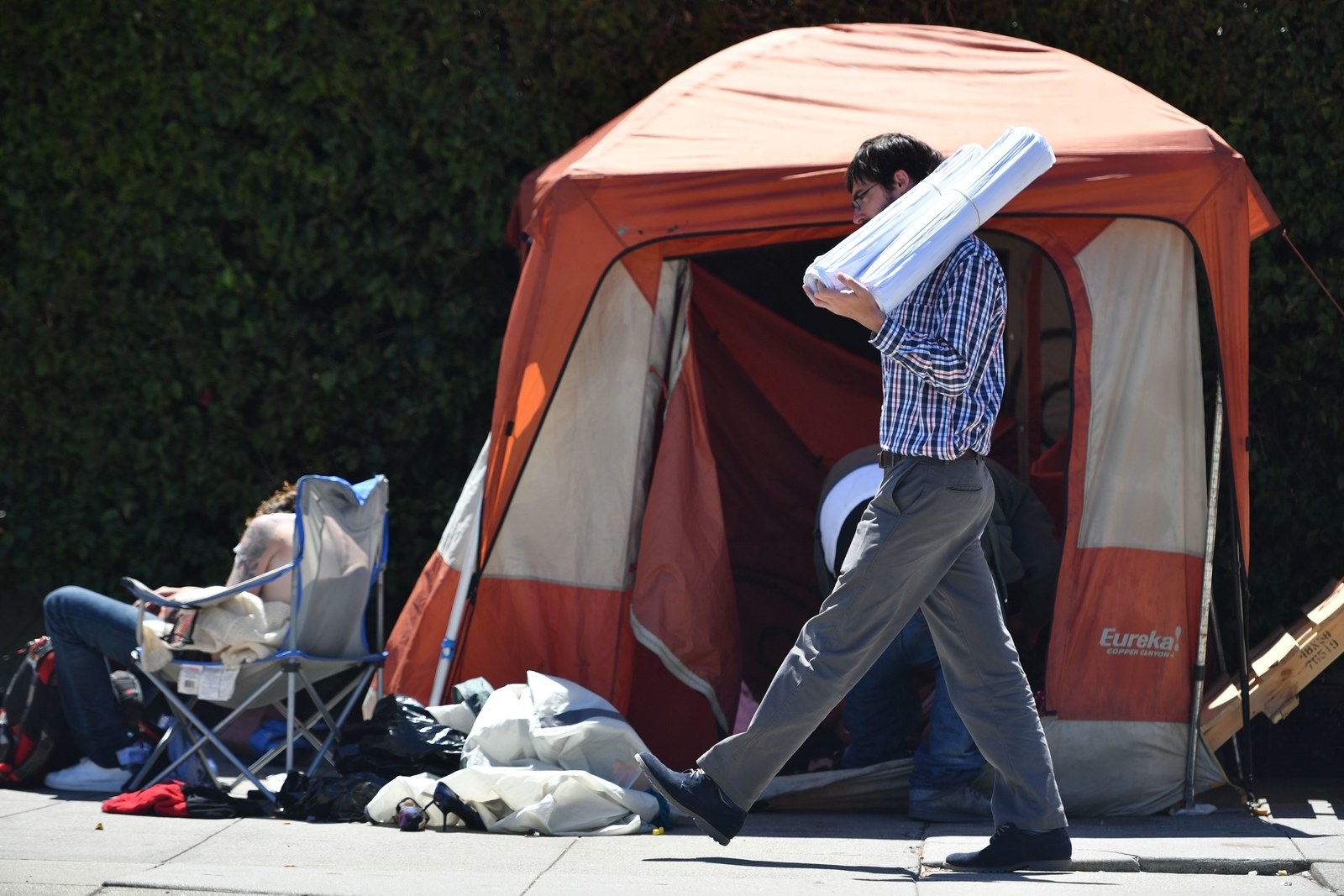 Benioff called Dorsey's involvement in their unexpected Twitter debate this month "manna from heaven" for bringing a round of news coverage that political ads can't buy. "He's probably wondering why did he tweet, because it just unleashed the energy," Benioff chuckled. Dorsey declined to comment.
Benioff's outflanking of Dorsey on the social media platform he created shows just how difficult it can be to argue with the Salesforce chief on the subject. He has a history of giving to the city's charitable causes, and it's hard to push back against someone who's asking the government to tax his company more, said one staffer of the "No on Prop C" campaign. It's also tough, the person said, when Benioff reduces everything to a binary referendum on tech's morality: You're either for solving homelessness, or you're against it.
"Anyone who claims that Prop C is a matter of being 'for the homeless or against them' is selling a facile falsehood," Stripe CEO Patrick Collison wrote in a blog post earlier this month. His company is leading the "No on Prop C" effort and has contributed $420,000. "Prop C is opposed by Mayor London Breed, State Senator and former Supervisor Scott Wiener … Supervisor David Chiu, and the SF Chronicle … These people are not against the homeless."
When asked about his own framing of the issue, Benioff looked over to his two public relations handlers during the interview and conceded, "I know that's an aggressive quote." But in a local politics landscape where few voters have time to delve into the specifics of Prop C or do not understand the complexities of a gross receipts tax, reducing the issue to "taking from the rich to give to the poor" can be politically expedient, if not effective. As if reinforcing that point, Benioff described his frequent conversations with Collison about homelessness, before claiming that Stripe and its CEO, despite paying lip service to the epidemic, have not given to any homeless charities. Collison declined an interview request.
"Some proponents of Prop C have positioned it as the panacea to homelessness, and that is simply not true," said Jess Montejano, a spokesperson for the "No on C" campaign, pointing to other proposed solutions including Mayor Breed's commitment to add 1,000 new shelter beds by the end of 2020. "Supporting homelessness and supporting Prop C are two entirely different things."
"Some proponents of Prop C have positioned it as the panacea to homelessness, and that is simply not true."
At the core of Benioff's argument is a straightforward request for the city's companies: be more generous. San Francisco, he said, was built by companies like Wells Fargo, Levi Strauss, and Gap, and the city is losing touch with its charitable roots with the influx of startups and new money. It's not just a San Francisco problem, either. Amazon, which recently surpassed $1 trillion in market capitalization, recently opposed a head tax that would have raised money to address Seattle's own homelessness issues. The company halted construction on its new downtown tower until the city council repealed the tax.

"I don't really understand it," Benioff said. "[Amazon is] a product that we all use, but they probably have a culture that could more generous."
"[Amazon CEO Jeff Bezos is] is the richest man in the world, so he's going to have more pressure to be generous like the previous richest man, Bill Gates," he added. "[Gates] made that switch. Eventually everybody has to make that switch, but it's not just about individuals. It's also about companies and organizations."
Amazon declined to comment.
In San Francisco, most of the companies behind the "No on C" effort have remained silent or hidden behind carefully crafted corporate statements. Stripe has declined to comment beyond Collison's blog post, while Lyft, which gave $100,000 last week, declined to comment, and Macy's, which has given $30,000, did not return a request for comment.
"Visa is committed to enhancing the well-being of our San Francisco community and will work closely with Mayor Breed and her administration to support additional programs addressing homelessness, as it is one of San Francisco's most critical problems," a spokesperson for Visa, which has given $225,000 to oppose Prop C, said in a statement. "However, we agree with the Mayor that Prop C takes the wrong approach."
To Dorsey's credit, he has engaged, stating in a tweet thread that his discussions with Mayor Breed have led him to believe that Prop C "doesn't have the accountability or controls" City Hall would need to manage a $300 million influx of cash. On top of that, the measure would disproportionately affect his business. While Salesforce estimated that it would only pay an additional $10 million in Prop C–related taxes per year, Square, a payment processing business that has large revenues, low margins per transaction and is yet to record an annual profit, would likely pay more than $20 million despite having far fewer employees.
Benioff scoffed at the idea that the city wouldn't know what to do with the money, and dodged questions about the tax being disproportionate by firing more barbs. "These companies are doing just fine," he said.

"The reason that most companies aren't saying anything is that for the vast majority of companies, including ours, the numbers are basically immaterial," he said. "If $10 million is going to shift your company one direction or the other and you're a multibillion-dollar company — I think Stripe is worth $20 billion and Square is worth $30 billion … — then you're going to have a problem," he added.
While Benioff said he's not particularly worried about companies moving out of San Francisco if the cost of business is too high ("This city is sold out!" he said), he does wonder if its workers and residents will leave for other places if the homeless issue becomes truly unbearable. He says that it's the only thing that people visiting San Francisco want to talk about, pointing to the complaints about homelessness on Twitter from customers who came to the city for Dreamforce, his company's annual conference.
Though Mayor Breed made addressing homelessness part of her platform, Benioff now finds himself on the opposite side and is surprised that she didn't end up supporting the measure. He recalled a recent phone call from her office asking for a charitable contribution so that a local nonprofit could rent a hotel in the Tenderloin district as a homeless shelter. That ask alone shows the city is maxed out, Benioff said, adding that he's still surprised that the mayor fell on the opposite side of Prop C.

"I think for a politician, they are in a whole other category and they have all kinds of political issues that I don't understand," he said. "She just couldn't take this risk. It's a political risk and she just couldn't take it."
Montejano pushed back, noting that it would have been "easy" for Breed to support Prop C.
"She has to govern for the entire city and take a holistic approach to all the issues facing SF," he said. "She's again showing leadership by not taking a politically convenient position which would have been supporting 'Yes on C.'"
Benioff, a city power player in his own right who has rubbed elbows with former mayors Willie Brown and the late Ed Lee, wants to pose himself as the opposite of a restrained politician: a freethinking businessperson with no political baggage and San Francisco's best interests at heart. Ultimately, he believes San Francisco should implement a "right to shelter" law like in New York, which mandates that the city must provide the homeless with a place to sleep.
But with the current ballot initiative facing so much opposition, he's leaving that battle for another time and lapping up the immediate attention.
"We haven't had this conversation in a while in our city," he said. "I haven't had reporters come into my office and say, 'Well, do you think other companies should give?' Well, maybe I should have been doing this more aggressively."