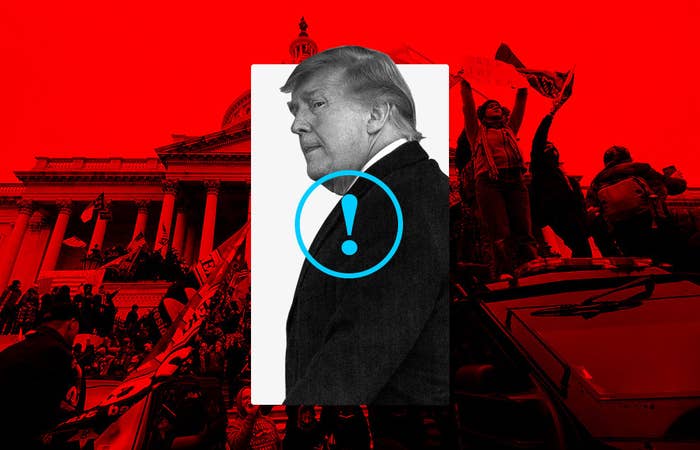 Two hours after this story was published, Facebook and YouTube removed a video in which President Trump attempted to delegitimize the election by calling it "stolen." An hour after that, Twitter removed two Trump tweets making similar claims.
As rioters stormed the US Capitol on Wednesday, President Donald Trump clung to his last vestiges of power: his social media accounts.

Wounded, embarrassed, and powerless to change the outcome of the election, the 45th president of the United States capitalized on a misguided group of followers whom he had summoned to Washington, DC, to contest a free and fair election. And as the chaos ensued, Twitter and Facebook allowed the president to cheer it on.
Weeks of the internet companies labeling, fact-checking, and calling his claims "disputed" have done little to weaken the resolve of a man unable to grasp that the majority of voters rejected him. He's tweeted and posted through it, and now the country is paying the price.
"Mike Pence didn't have the courage to do what should have been done to protect our Country and our Constitution, giving States a chance to certify a corrected set of facts, not the fraudulent or inaccurate ones which they were asked to previously certify," Trump tweeted and posted on Facebook just before 2:30 p.m. in Washington, DC, as his supporters descended on the Capitol building where members of Congress were certifying the election. "USA demands the truth!"
But what truth? The objective truth that Trump lost the 2020 presidential election? Or the twisted alternate reality that has been too long propped up by Twitter, Facebook, YouTube, and the like?
It took Twitter 10 minutes to place a label on Trump's tweet, using the same ineffectual language that's been mocked and memed since its debut in the weeks before Nov. 3, 2020: "This claim about election fraud is disputed." It took Facebook more than 20 minutes to append something even weaker: "The US has laws, procedures, and established institutions to ensure the integrity of our election."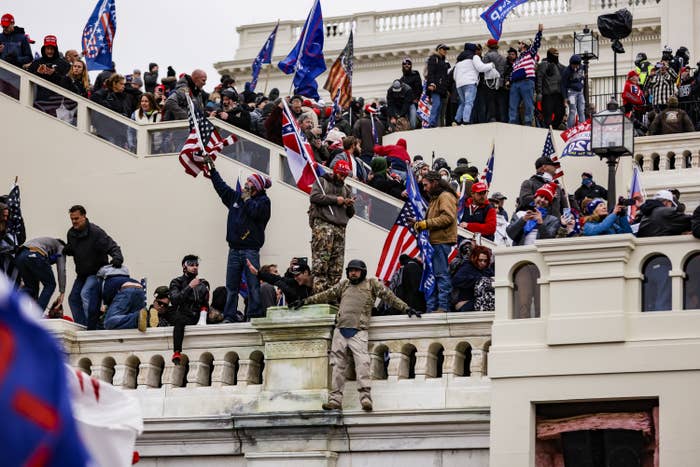 But what's the point? The multibillion-dollar internet companies are beyond rearranging deck chairs on the Titanic. They're pointing out the dangers of icebergs as people are drowning.
On the television, newscasters watched aghast. As unmasked Proud Boys, conspiracy theorists, QAnon followers, and alt-righters broke through the doors of Congress, they did so with the president's encouragement. At least one rally organizer — a man who has consulted with Twitter CEO Jack Dorsey — tweeted to "Get down to the US CAPITOL!" on "orders from POTUS." Some participants gleefully streamed the storming to platforms including Twitch, which is owned by Amazon.
The insurrection isn't just being televised. It's being orchestrated, promoted, and broadcast on the platforms of companies with a collective value in the trillions of dollars.
And the platforms have let Trump persist. At 2:38 p.m. in DC, Trump issued a new message, in which he did not tell his supporters to stand down.
"Please support our Capitol Police and Law Enforcement. They are truly on the side of our Country. Stay peaceful!" he wrote on Twitter and Facebook, as members of his own party barricaded themselves in chambers and rooms and the vice president was forced to evacuate the building. Police were overwhelmed.
As of press time, spokespeople for Facebook and Twitter declined to say if they would take further action against Trump's accounts. (Later in the afternoon, Trump put up this video.) Employees and advisers at both companies, however, pressed their leaders to act.
"Donald Trump has directly incited a terror attack on Capitol Hill," one Facebook employee wrote on the company's internal message board. "We need to take down his account right now.
"This is not a moment for half measures. Congresspeople are laying on the floor on their chambers as Capitol people protect them with guns drawn. The National Guard has been requested."
Another Facebook employee was more succinct.
"What in the ever loving fuck," they wrote, sharing an image of a television broadcast of the riot. Colleagues flooded the comments section of the post with live updates of the storming of the building.
"I can't speak for all members of Twitter's Global Trust & Safety Council (which I'm member of) but it's time Twitter deactivated Trump's account for law & order!" tweeted Alex Holmes, a member of a third-party body that advises the social media company. "Realise President of United States but action needs to be taken when someone is inciting violence & threat to safety!"

University of Virginia Law Professor Danielle Citron echoed Holmes, tweeting directly at Dorsey.
"As someone who has served on your Trust and Safety Board since its inception and counseled you since 2009, time is now to suspend President Trump's account," she wrote. "He has deliberately incited violence, causing mayhem with his lies and threats."
At 3:13 p.m. in DC, Trump tweeted again. "No violence!" the US president wrote, adding "WE are the Party of Law & Order."
Twitter did not place a label on this one.