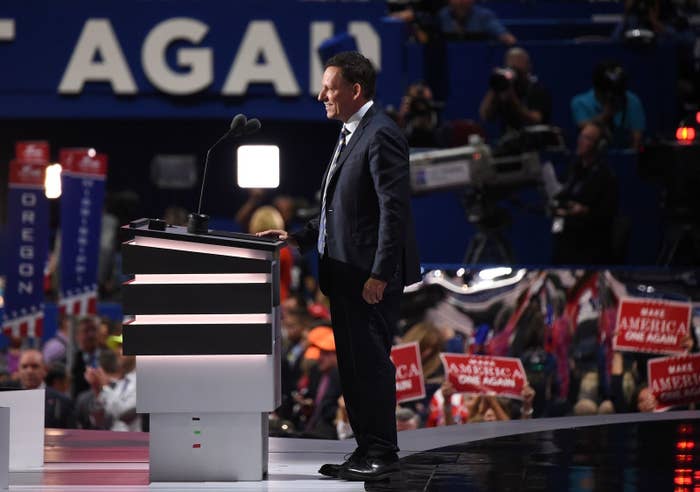 Billionaire venture capitalist Peter Thiel wants to create a new conservative cable news network and his representatives have engaged the powerful Mercer family to help with funding, according to two sources familiar with the situation.
Thiel, a Facebook board member who secretly funded lawsuits to bring down Gawker Media, had originally explored a plan to create the network along with Roger Ailes, the late founder of Fox News, according to a soon-to-be published book by journalist Michael Wolff. But BuzzFeed News has learned that Thiel has continued looking into fashioning a Fox News competitor even after the May 2017 death of Ailes, according to the two sources familiar with the matter.
Wolff writes that on May 12 of last year, Ailes was scheduled to fly from Palm Beach, Florida, to New York to meet with Thiel to discuss the launch of a new cable news network that would compete with Fox News, which Ailes nurtured into a conservative powerhouse before he was ousted in the summer of 2016 in a sexual harassment scandal. Both men, Wolff writes in Fire and Fury: Inside the Trump White House "worried that Trump could bring Trumpism down."
The plan, according to Wolff, was that Thiel — a rare tech mogul who openly supported Trump — would pay for the network. Ailes would come along and bring loyal Fox News talent Sean Hannity and Bill O'Reilly, who was forced out at Fox last year following reports about settlements he had reached with multiple women.
But two days before the meeting, Ailes fell and hit his head. Ailes told his wife, Elizabeth, not to reschedule the meeting before he slipped into a coma, Wolff writes. He died a week later.
A spokesperson for Thiel declined to comment for this story. Elizabeth Ailes could not be immediately reached for comment.
A spokesperson for the Mercer family, which is led by hedge fund billionaire and Breitbart patron Robert Mercer, didn't return a request for comment. Robert's daughter, Rebekah Mercer, served on the president's executive transition team with Thiel following the election.

One person close to Thiel said he was not aware of his plans to create a news network, and was surprised when asked about the plan. That person noted that Thiel had said in private conversations that media companies were traditionally bad investments.
Thiel's exploration, though, highlights a frequent point of discussion among conservative media executives — that there is room to flank Fox News from the right. Still, creating a cable network from scratch is an incredibly expensive endeavor that would require hundreds of millions of dollars and no guarantee of success (Rupert Murdoch, who controls Fox News' parent, 21st Century Fox, had to endure years of losses before Fox became the financial giant it is today).

For his part, Thiel has made few investments in media. He was a seed investor in the technology news site PandoDaily, and as of late last year, was trying to bid for the archives of Gawker.com, which is being shopped around by the estate of its bankrupt parent company. A person familiar with his thinking noted that the billionaire saw an opportunity to expand his influence after speaking at the RNC and serving on the transition team.
In just a matter of hours, Wolff has faced pushback from some politicians and operatives featured in the book, including vehement pushback from the White House and the president himself, who contended the book is the work of a disgruntled Steve Bannon, the former White House chief strategist. Ailes and Wolff were longtime friends (and Ailes was a generous source to Wolff). After the news executive's death, Wolff reported for the Hollywood Reporter that he spoke to Ailes a week prior about "the possibilities for a new conservative network." Wolff noted that Ailes was bound by a noncompete agreement with Fox News, but that he said he was taking calls.

With reporting from Charlie Warzel and Joseph Bernstein.