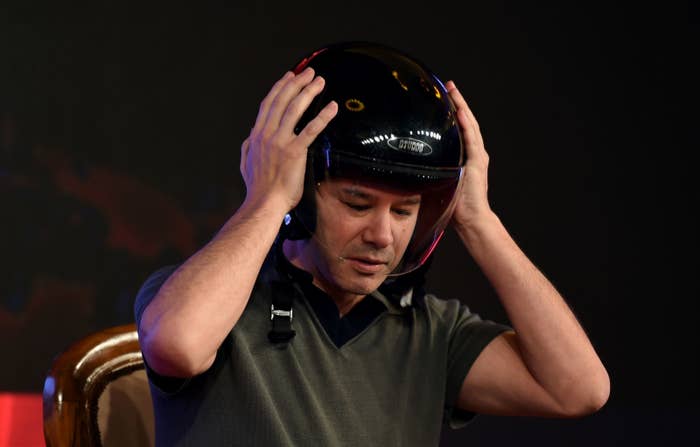 Benchmark, an early investor and one of the largest shareholders in Uber Technologies, is suing the company's former CEO, Travis Kalanick, for fraud, breach of contract, and breach of fiduciary duty.

In a lawsuit filed in Delaware on Thursday, the San Francisco-based venture capital firm, which holds an Uber board seat, accused Kalanick, the company's cofounder, of engaging in a power play to get himself reinstated as CEO. Kalanick is said to have misled his company's investors and kept himself involved in the company's decision-making process after his removal as CEO through the prior creation of "fraudulently procured [board] seats."
"Kalanick's overarching objective is to pack Uber's Board with loyal allies in an effort to insulate his prior conduct from scrutiny and clear the path for his eventual return as CEO—all to the detriment of Uber's stockholders, employees, driver-partners, and customers," Benchmark said in its complaint.
The board forced Kalanick to resign as CEO in June after a series of sexual harassment scandals and revelations of long-standing misbehavior at the executive level. He still remains on the company's board and has interfered with the search for a new CEO, according to Benchmark's lawsuit.
Among Benchmark's biggest concerns is that Kalanick's continued influence will harm the company at a "critical juncture" while it is searching for a new CEO. The lawsuit cited a report in the New York Times that various candidates for Uber's top gig have withdrawn due to the former CEO's involvement.

Benchmark's lawsuit is the latest instance of chaos at the $69 billion company, which has been without a CEO for more than a month. Also on Thursday, longtime executive Ryan Graves announced he would be departing the company's day-to-day operations, but will remain on the board.
"The lawsuit is completely without merit and riddled with lies and false allegations," said Kalanick's spokesperson in a statement. "This is continued evidence of Benchmark acting in its own best interests contrary to the interests of Uber, its employees and its other shareholders. Benchmark's lawsuit is a transparent attempt to deprive Travis Kalanick of his rights as a founder and shareholder and to silence his voice regarding the management of the company he helped create."

Uber declined to comment. A spokesperson for Benchmark said the firm declined to comment beyond the lawsuit.
Benchmark led an $11 million round in Uber in early 2011, and today holds about 13% of the company's stock — or 20% of its total voting power — according to the complaint. At the company's current $69 billion valuation, Benchmark's total holding in Uber amounts to about $9 billion. In a tweet on Monday, the firm said the company "could comfortably be worth over $100B in just two years."
With the company's past and current scandals, it may never get there. In its lawsuit, Benchmark alleges that Kalanick deliberately concealed "gross mismanagement and other misconduct" in June 2016 during a crucial vote to expand the number of seats on the board. Those practices included the illegal obtainment of the medical records of a rape victim who was attacked by her driver in India as well as the acquisition of self-driving car startup Otto — which had allegedly stolen intellectual property from Waymo, a subsidiary of Google parent company Alphabet.
Uber is now being sued by the rape victim and has been engaged in a long legal battle with Waymo, leading to the depositions of Kalanick and Alphabet CEO Larry Page. Uber also sought to prevent Benchmark's Bill Gurley — who previously sat on Uber's board before being replaced by partner Matt Cohler — from testifying in the Waymo suit.
"As we have long said, there is significant and direct evidence that Uber is using stolen Waymo trade secrets," a Waymo spokesperson said in a statement.
Benchmark alleges that Kalanick was aware of the misbehavior and issues at the company and chose to conceal them when he sought to make changes to the board voting agreements. He pushed to create three more board seats, according to the lawsuit, in which he would have "the unilateral right to pack the Board with three additional directors of his choosing.
"Kalanick also understood that these matters, once revealed, would likely force him to resign as Uber's CEO, and thus sought to grant himself a way to play an ongoing leadership role at Uber once the truth came out," the suit reads.
Benchmark's suit hopes to invalidate the June 2016 decision that gave Kalanick control over three board seats, and also hopes to remove him from the board. It also seeks an unspecified amount of damages from Kalanick, who currently holds about 10% of Uber's stock, and controls about 16% of the voting power at the company.
Even as a showdown unfolds between Kalanick and his investor, the boardroom drama could be complicated by SoftBank, the Japanese conglomerate that this week said it was studying a possible investment in the ride-hail giant. "We are interested in discussing with Uber, we are also interested in discussing with Lyft, we have not decided which way," SoftBank CEO Masayoshi Son told reporters on Monday, according to Reuters.
A New York Times report in late July said an investment from SoftBank could help Kalanick regain power, causing concern among some Uber insiders. SoftBank is also already an investor in several big rivals of Uber in Asia.