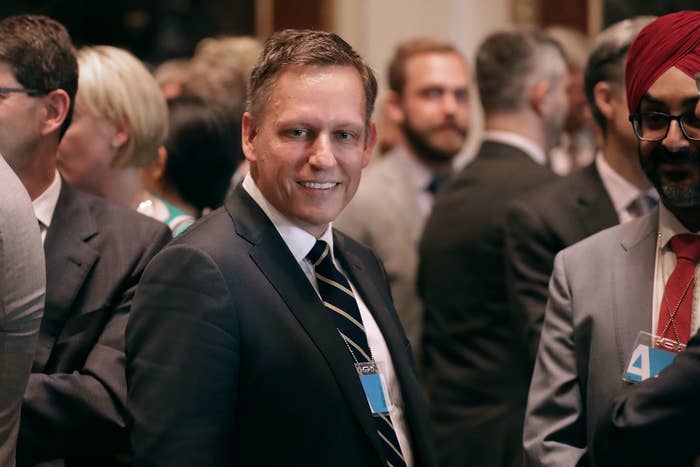 Lawyers for the bankrupt estate of Gawker Media said that Peter Thiel, the billionaire who covertly helped fund multiple lawsuits against the company, should not be allowed to bid for what's left of its assets until potential legal claims against him are settled.
In a filing made in federal bankruptcy court in the Southern District of New York on Wednesday, Gawker's lawyers argued that the venture capitalist should be barred from the bidding for former news and gossip site Gawker.com after Thiel's lawyers alleged last week their client had been unjustly left out of the process. Whoever wins that bidding process will end up with Gawker's flagship site and its archives, which still remain online, and will have the right do with them what they see fit, including delete them.
On the day before Thanksgiving, Thiel's lawyers submitted a document that called their client "the most able and logical purchaser" of Gawker.com. That filing came more than a year after the revelation that Thiel helped finance a clandestine legal war to destroy Gawker.com's parent company, Gawker Media, which went bankrupt and sold most of its online properties to Univision in August 2016 for $135 million.
"We can't have him participate as a bidder up front because it will completely destroy bids from other folks," said William Holden, Gawker's bankruptcy plan administrator, noting that an opening bid from Thiel could intimidate others from stepping in. He said that he was considering alternative measures in which Thiel would be allowed to try to buy Gawker.com once an initial bid from another party was placed, or the billionaire could pay to purchase the potential claims against him in a settlement type arrangement.
Thiel and the Gawker estate are currently engaged in a legal back-and-forth in which the estate is arguing that it should be able to open discovery into Thiel's role in financing the lawsuit that bankrupted Gawker. After being revealed by Forbes, Thiel said he spent about $10 million financing Hulk Hogan's claims against the New York–based media company of invasion of privacy, which resulted in a $140 million victory for the former professional wrestler and soon led to Gawker declaring bankruptcy (Hogan and the Gawker estate later settled for $31 million).
A spokesperson for Thiel declined to comment on the filing. Lawyers for Thiel and the Gawker estate are due back in bankruptcy court on Thursday.
"Thiel's statement that he is the most 'able and logical purchaser' and that he should be treated 'like any other prospective bidder' strains credibility."
Wednesday's filing, which was submitted by Greg Galardi, a lawyer representing Holden and Gawker's estate, says "there is simply nothing wrong or improper about excluding Thiel from the sale process at the present time." While Thiel's lawyers claimed in their filing last week that they had called the estate to glean information about the sale process, Galardi alleges that Thiel has never provided any written indication of interest for Gawker.com or the other assets.
"Thiel's statement that he is the most 'able and logical purchaser' and that he should be treated 'like any other prospective bidder' strains credibility, especially in the face of his continued resistance to Court approved discovery regarding the actions he took to destroy the very business he now seeks to own," the filing reads.
Thiel could possibly be interested in buying Gawker.com to stem any possible legal threats against him, like those that may emanate from impending discovery, or to remove content. A 2007 story stating that Thiel is gay remains online in the Gawker.com archive.
Given that, Holden and Galardi have been cautious in giving Thiel's representation any information on the bidding process. They cited earlier behavior from Thiel in which the billionaire and his attorneys offered to not sue Gawker Media's former employees and contractors to obtain a release from potential claims against him.
"Such an offer is nothing more than a veiled threat to continue to bring vindictive litigation against those former employees and contractors who waived their indemnification claims under the counsel on the steps that have been taken in the process and there is no requirement that the parties agree entirely on the sale process," the filing reads. "... Given Thiel's long history of vindictive conduct against the Debtors and the fact that his interests are plainly adverse to those of the estate while the Thiel Claims are being investigated, the Plan Administrator has legitimate concerns regarding Thiel's participation in the sale process."