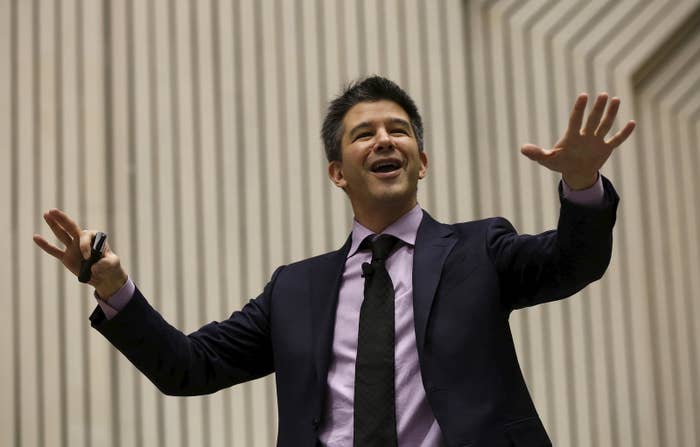 A Delaware judge on Wednesday told former Uber Technologies chief executive Travis Kalanick and one of the company's largest investors to hash out their differences behind closed doors, sending a lawsuit against the tech billionaire to arbitration.

Earlier this month, Benchmark — a storied venture capital outfit that has invested in the likes of eBay, Twitter, and Snapchat — filed its suit against Kalanick, accusing him of fraud and alleging that he had attempted to interfere with Uber's search for a new CEO. After Kalanick and Benchmark spent the last few weeks sniping at each other in court filings and appointed new CEO Dara Khosrowshahi on Monday, lawyers for both sides appeared in Delaware to argue in front of Judge Samuel Glasscock in the state's Court of Chancery.
The judge's decision is a victory for Kalanick, who may now be able to keep the case out of the public eye and avoid depositions. It's been a horrendous year for the Uber cofounder and former CEO, who was forced to resign in June after employee complaints, press reports, and two internal investigations revealed sexual harassment, discrimination, and executive misbehavior at the ride-hailing giant.
"Mr. Kalanick is pleased that the court has ruled in his favor today and remains confident that he will prevail in the arbitration process," a Kalanick spokesperson said in a statement. "Benchmark's false allegations are wholly without merit and have unnecessarily harmed Uber and its shareholders."
An Uber spokesperson declined to comment.
Kalanick still remains on Uber's board, which also includes Benchmark partner Matt Cohler. The former CEO also currently controls two other unoccupied board seats, which were granted to him in a 2016 decision that Benchmark is disputing in the suit.
In its lawsuit, Benchmark alleges that Kalanick had withheld crucial information about the business from investors while he was CEO and argues that he should be stripped of the board seats granted to him. Benchmark, citing press reports, also claims that Kalanick was interfering with the company's CEO selection process in hopes of working his way back into the top job at Uber, which was recently valued by investors at $69 billion. Benchmark's lawyers had asked the judge to temporarily restrict Kalanick from any business matters, while they proceeded with their lawsuit, which ultimately sought to completely remove Kalanick from the board.
Judge Glasscock declined Benchmark's request and ordered both sides to engage a third-party mediator to sort out their differences. The judge did not grant Benchmark's request to freeze Kalanick from current business affairs, though an arbiter could still decide on the issue.
"We look forward to presenting the facts as the case proceed," said a Benchmark spokesperson in a statement. "This case is fundamentally a question of integrity and values and the facts will fully support Benchmark's position."
While some Uber executives and investors have distanced themselves from Benchmark's dispute with Kalanick, others dove head first into the fray. Shervin Pishevar, an early Uber investor and a personal friend of Kalanick's, wrote several letters to Uber's board, offered to partially buy out Benchmark's Uber stake and attempted to intervene in the lawsuit itself when his initial overtures were ignored. On Wednesday morning, Pishevar released a verbose and vociferous statement regarding Benchmark's lawsuit against Kalanick, which Forbes said he initially penned to inspire Kalanick's legal team last week.
"Let our just cause give pause to those who would ever dream of ever emulating the shameful shenanigans of these sanctimonious hypocrites who fling filings and letters de haut en bas: when it is we who have the higher moral ground and our letters and filings will hail down upon their platforms, exposing them as bitterly barren barons of moral turpitude," Pishevar wrote.
On Wednesday, Pishevar said he was pleased with the decision in a statement and added that "we continue to believe that Benchmark filed this public lawsuit to vilify Travis Kalanick in the court of public opinion."
Meanwhile, at an all-hands meeting held on Wednesday morning, Kalanick and other board members put on a united front to introduce Uber employees to Khosrowshahi for the first time. Kalanick took the stage to a standing ovation and reportedly teared up in his first meeting with employees since he resigned in June.
Khosrowshahi was interviewed by Uber board member Arianna Huffington; the two discussed how to change Uber's aggressive work culture, his plans to find a chairman, the possibility of an IPO, and the leaks that resulted from clashes between the company's leaders.
Huffington also asked Khosrowshahi about the possibility that Expedia CFO Mark Okerstrom will follow Khosrowshahi to Uber, which Khosrowshahi reminded her on stage wasn't public information yet. A few hours later, Expedia announced that Okerstrom would be replacing Khosrowshahi as Expedia's CEO.
According to Uber's communications team's Twitter account, Khosrowshahi's first words to Uber's staff were a blend of praise for Kalanick and promises of better management to come.
"This company has to change," he said. "What got us here is not what's going to get us to the next level."
UPDATE
This breaking story has been updated to include the fact that Expedia CFO Mark Okerstrom will replace Dara Khosrowshahi as CEO of Expedia.