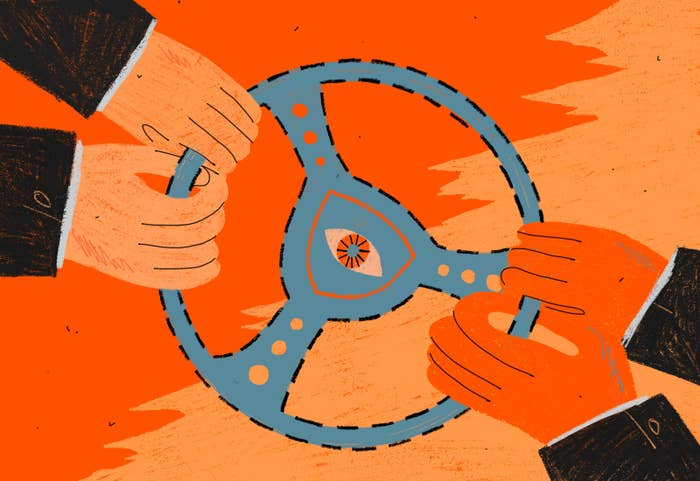 On Wednesday, jurors in the Waymo trade secrets theft trial against Uber were treated to an Oscar-worthy performance, and it wasn't delivered by a lawyer, a judge, or even an impassioned witness. Instead, it came in the form of a clip from the 1987 film Wall Street and showed Michael Douglas as Gordon Gekko proclaiming, "Greed is good."
While Douglas won an Academy Award, no one in the San Francisco federal courtroom applauded on the third day of Waymo's trade secrets trial against Uber. Instead, the lead attorney for Waymo, the self-driving car subsidiary of Google's parent company Alphabet, used the clip as ammunition to suggest that Uber's former CEO and a former Google engineer had abetted the theft of intellectual property. The video clip, which had been sent by that engineer, Anthony Levandowski, to Travis Kalanick was one of various communications and documents — ranging from text messages to emails to employee notes — that attorneys examined as Kalanick took the stand for the second day in a row.
Kalanick was an important witness for Waymo, which alleges that he helped facilitate the theft of eight self-driving car trade secrets so that Uber could bolster its own autonomous vehicle effort. Uber's legal team, on the other hand, portrayed the company's former leader to the jury as Google's friend-turned-competitor, who was not responsible for Levandowski's actions after he left his previous job and founded his own self-driving car startup.
That startup, Otto, existed for only a few months before Uber acquired it for what was expected to be $680 million in August 2016. Waymo alleges that Levandowski, who will likely plead the Fifth Amendment if he is asked to testify, founded Otto using its trade secrets and that Uber knowingly acquired stolen intellectual property. Waymo is suing for damages that could end up totaling more than a billion dollars.
Kalanick, who began his testimony Tuesday, cut a more animated figure on the stand, particularly upon cross-examination from Uber's lawyers. On Wednesday, Waymo's lead attorney, Charles Verhoeven, began by asking whether Kalanick told other executives at the ride-hailing company to "minimize the risk" that Uber would be sued by Google following the Otto acquisition.
"There's lots of risk in a deal," Kalanick said. "That was certainly one of them."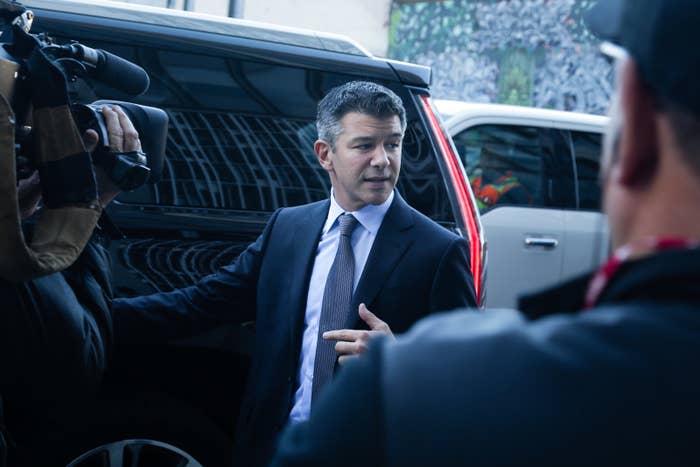 Verhoeven also probed the reason why Kalanick approved agreements that sought to indemnify, or legally protect, Levandowski and other Otto employees in the case of a lawsuit from Google. Kalanick testified that he didn't read the paperwork that he signed, later attesting on cross-examination that he has endorsed hundreds of documents as CEO and, like many people, doesn't read everything.
Waymo's legal team examined text messages between Kalanick and Levandowski, who had met even before the engineer had departed Google, and questioned why Kalanick's phone auto-deleted texts after 30 days.
But some of those texts were recovered, and Verhoeven showed the jury messages between the pair that includes phrases like "burn the village." (Kalanick said he did not recall what that message was regarding.) Another message from Levandowski to the Uber cofounder included a link to the "Greed Is Good' speech and asked Kalanick to deliver a similar speech to employees with a winking face emoji.
Waymo's mainly used the messages, however, to establish the idea that Kalanick and Levandowski understood the importance of being first to build a self-driving car. Establishing that the former Uber executive believed that "second place was first loser," Verhoeven built a case that showed a pair of individuals who were very close and willing to take shortcuts and use "cheat codes," as stated by Kalanick, to eat into Waymo's lead in the self-driving car space. Did you ever call Levandowski "a brother from another mother?" Verhoeven asked the witness.
"That's something I've said a couple times," Kalanick replied.
On cross-examination, the former Uber chief became more animated, dropping one-liners and at one point attempting to joke with Judge William Alsup about not remembering certain incidents. He explained that Google invested in Uber in 2013, a detail left out by both sides in opening arguments, and that he had always been interesting in partnering his ride-hailing company with Google's self-driving technology once it was ready. He noted that the first time he was introduced to an autonomous vehicle was when Google CEO Larry Page picked him up in one to seal his company's 2013 investment in Uber.
Despite those hopes, Kalanick became worried when rumors swirled that Google was testing its own ride-hailing service in 2015. In turn, he said he decided to begin his own autonomous vehicle unit, acquiring a team from Carnegie Mellon University in the spring of 2015. That eventually led to a meeting with Page.

"Larry was fairly upset with us about us acquiring the [Carnegie Mellon] team and starting an autonomy effort for ourselves and competing," Kalanick remembered. "He sort of was a little angsty and said, 'Why are you doing my thing?'"
He then recalled a phone call with Page, who he described in earlier testimony as "un-pumped," in October 2016 following the Otto acquisition. While the discussion began about flying cars, something that Google has been investing in, Page eventually brought up the subject of Uber's hiring of employees from Google's self-driving program and accused Kalanick of stealing intellectual property.
"Your people are not your IP," Kalanick said he responded to Page.
Following another brief exchange with Verhoeven about the meaning of "cheat codes," Kalanick was released from the stand. "You can go on a vacation anywhere you want to go," Alsup said to the witness.
Kalanick then stood up and walked through the court's double doors, closely followed by his father.