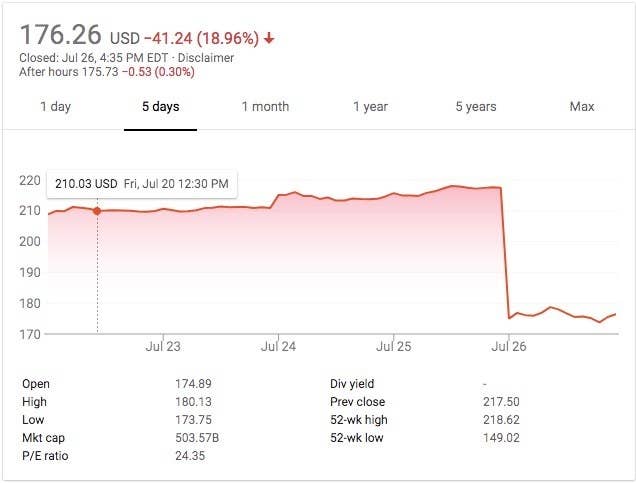 The erasure of more than $119 billion from Facebook's market capitalization on Thursday was the largest one-day loss of any company in US stock market history.
On Thursday, the social network's share's closed down about 19%, following Wednesday's disastrous earnings call in which the company disclosed slowing revenue and user growth figures. According to CNBC, which cited data from market analysis firm FactSet, no other company in US history has lost more than $100 billion in a single day of trading.
As BuzzFeed News reported yesterday, Facebook has faced heavy criticism for its role in the Cambridge Analytica data scandal and has been investigated for its role in helping to spread Russian state-sponsored misinformation before and after the 2016 election, but investors had not seen a slowdown in the company's core financial metrics until Wednesday. The company reported a 42% increase in quarterly revenue to $13.2 billion but missed Wall Street's expectations by $200 million. More troublingly, the company said it expected revenue growth rates to decline by "high single-digit percentages" in the third and fourth quarters of 2018.
The company now has 1.47 billion daily active users, up from 1.45 billion, a 1.4% increase quarter over quarter, compared to a nearly 3.5% increase in users in the previous three months.