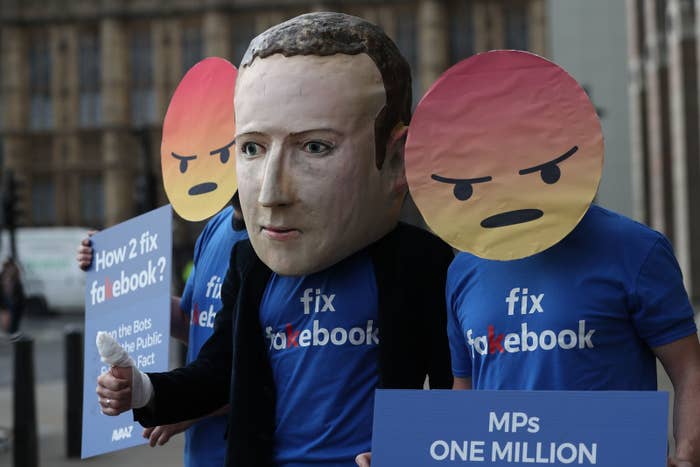 A Facebook employee, who helped harvest and sell data from millions of users of the social network for political consulting firm Cambridge Analytica in a previous job, has quietly been placed on administrative leave by the Menlo Park, California–based company.

Joseph Chancellor, a quantitative social psychologist for Facebook, has been on leave for a few weeks following revelations of his role in a data privacy scandal that has rocked the Silicon Valley giant, according to two sources familiar with the situation. In March, it was revealed that Cambridge Analytica, a consulting company that did elections work for Republican presidential candidates Ted Cruz, Ben Carson, and Donald Trump, inappropriately obtained user data from a third-party app developer. That app company, Global Science Research (GSR), was founded by Chancellor and his research partner Aleksandr Kogan, and obtained Facebook user data on up to 87 million people.
Kogan's involvement in the scandal has resulted in international headlines and testimony before a parliamentary committee last month. Meanwhile, Chancellor, who was hired by Facebook in November 2015 after leaving GSR, has managed to largely avoid the press. He did not return a request for comment for this story. A Facebook spokesperson declined to comment.
Chancellor's employment at Facebook has put the company in the difficult position of explaining why it hired a person who violated its developer terms of service by transferring user data to another party. Damian Collins, the chair of the UK parliament's digital, culture, media, and sport (DCMS) select committee, noted the issue when addressing Kogan during a hearing last month.
"When Facebook's response from their deputy general counsel described your work as 'a scam and a fraud' ... and they singled you out to say that 'you'd lied to us and violated our platform policies,' those remarks must apply to Joseph Chancellor as well," Collins said.
A former postdoctoral student at Cambridge University, Chancellor cofounded GSR with Kogan in 2014. The company's first project was to develop an application in conjunction with Cambridge Analytica's parent company, SCL Elections. With SCL providing the funding, GSR developed the app and data models, eventually handing over about 30 million behavioral profiles on US Facebook users to the London-based firm. In December 2015, the Guardian first reported the relationship between GSR, SCL Elections, and Cambridge Analytica, which at the time was doing consulting work for the Cruz campaign.
Kogan, who has published papers with Facebook researchers and served as a consultant for the company in November 2015, previously told BuzzFeed News that Chancellor had informed his future employer of his GSR tenure during the job interview process. Chancellor and Kogan were equal partners at GSR, sharing ownership of the startup evenly.
Despite this, the repercussions for the two have been quite different. Facebook made Kogan the center of its public relations response — blaming him for the misuse of data in ads, company statements, and Mark Zuckerberg's congressional testimony last month — while also deleting his Facebook and Instagram accounts. Chancellor's Facebook account remains online, with Facebook officials leaving him out of official statements and explanations until last week, when Chief Technology Officer Mike Schroepfer appeared in front of the DCMS committee.
In his testimony, which lasted about five hours, Schroepfer initially said Facebook had been unaware of Chancellor's role at GSR when he was hired, and had only learned of it in 2017. The Facebook CTO subsequently revised his answer later in the hearing.
"In the recruiting process, people hiring him probably saw a CV and may have known he was part of GSR," Schroepfer said, before disclosing that Facebook had an ongoing employment investigation into Chancellor. "Is it possible that someone knew about this and the right other people in the organization didn't know about it? That is possible."
On Wednesday, Cambridge Analytica and its affiliated company SCL Elections filed for insolvency, claiming their business prospects had been damaged by the Facebook fallout. In a statement, Facebook said the move will not affect its decision to continue with an audit to understand how its user data was transferred from GSR to other parties.
"This doesn't change our commitment and determination to understand exactly what happened and make sure it doesn't happen again," a company spokesperson said. "We are continuing with our investigation in cooperation with the relevant authorities."
Kogan told BuzzFeed News on Thursday that an audit, at least for him, has yet to begin. After verbally agreeing to undergo the process, Kogan said Facebook has yet to follow up with him to begin it.