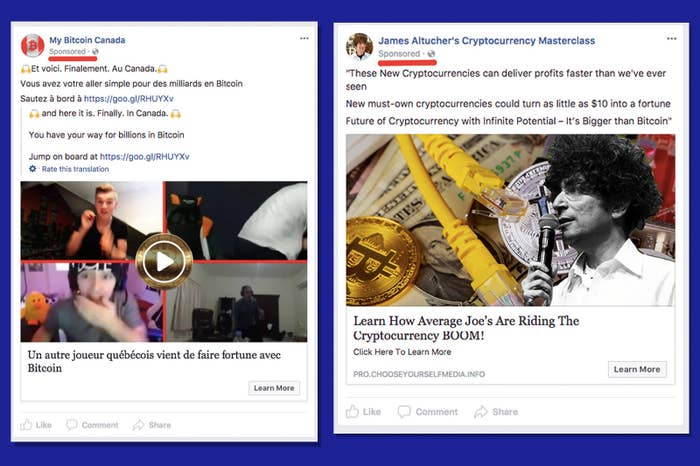 Facebook has banned ads that promote bitcoin and other cryptocurrencies in an effort to protect its users from "financial products and services frequently associated with misleading or deceptive promotional practices."
Recently, some users have been highly critical of the platform for hosting dubious cryptocurrency-related ads, some of which appeared to promote get-rich-quick schemes and potential scams. Earlier this month, BuzzFeed News highlighted how some of these Facebook ads peddled bitcoin-related disinformation and fake news touting cryptocurrency services and initial coin offerings (ICOs).
"We want people to continue to discover and learn about new products and services through Facebook ads without fear of scams or deception," Robert Leathern, a Facebook product management director, said in a company blog post. "That said, there are many companies who are advertising binary options, ICOs and cryptocurrencies that are not currently operating in good faith."
Among the ads targeted are those from "crypto-genius" James Altucher, a digital currency evangelist who's been featured on media outlets like CNBC. Altucher did not respond to a request for comment.
"Arguably it was a poor ad-review process that let these ads through in the first place."
Gavin Sheridan, CEO of legal startup Vizlegal and a frequent critic of Facebook's ad policies, welcomed the move with a few caveats. "The adage to trust what people do — not what they say — holds true as ever," he told BuzzFeed News. "In effect, Facebook already bans many of these sorts of deceptive ads — often placed by advertisers that redirect to websites made to look like news providers such as CNN, that in turn lead to websites that seek to obtain credit card details — often in situations where users have no idea what they are buying. Arguably it was a poor ad-review process that let these ads through in the first place."

The move to police cryptocurrency-related ads comes as Facebook works to fix its platform, which has routinely been exploited by bad actors, from scam artists to fake news purveyors to foreign governments seeking to upend US politics. In the past few weeks, Facebook announced significant changes to its News Feed intended to limit the reach of untrustworthy news sources while boosting local news outlets and posts from friends and family.
It also comes just weeks after Facebook CEO Mark Zuckerberg publicly endorsed cryptocurrency as something that can "take power from centralized systems and put it back into people's hands."

Just how well Facebook will enforce the policy it just announced remains to be seen. Last year, for example, ProPublica reported that Facebook allowed advertisers to exclude users by race. Following that report, the company vowed in February to crack down on discriminatory ads, but when ProPublica followed up in November, it was still able to purchase advertising that wouldn't be shown to black people, people who need wheelchair ramps, and even Jews, among others.
"We may not catch every ad that should be removed under this new policy," Facebook said in its announcement, which also noted that the ban extends to other company-owned platforms including Instagram and Facebook Audience Network.
It's not clear whether the policy has already been enforced, but some of the types of advertisements Facebook intends to target are still on the platform. A Facebook spokesperson confirmed that James Altucher's ads will no longer be allowed, but an unverified page using Altucher's name, for example, is still promoting advertisements for "new must-own cryptocurrencies" that "could turn as little as $10 into a fortune." The ads lead to a website that looks to sell Altucher's online course, "Masterclass on Cryptocurrencies."
"If you follow my script below, you could turn $100 into a retirement fortune in the next 12 months… while minimizing your risk," reads the banner at the top of the page.
UPDATE
This story was updated to include information about Facebook's ban on cryptocurrency ads extending to Instagram and Facebook Audience Network.