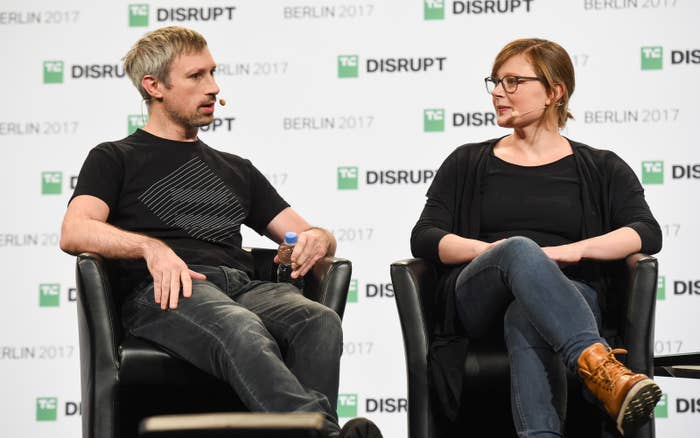 Gavin Wood, the cofounder of multibillion-dollar cryptocurrency project Ethereum, wrote a graphic blog post in 2013 in which he described having sex with an 11- or 12-year-old girl dying of AIDS.

Wood confirmed he authored the blog post, but in a statement to BuzzFeed News described it as fiction and "a made-up story meant to spark debate and conversation."
"My blog posts at the time were meant to provoke intellectual debate and discussion around generally taboo subjects like the nature of consent," he wrote. "Nothing about it should be taken as indicative of my personal position."
In the now-deleted blog post, Wood wrote that he was 18 at the time and the girl was at least six years younger. In the United Kingdom, where Wood grew up, the age of consent for sex is 16. The law states that children under the age of 13 cannot legally give their consent to any kind of sexual activity, and the penetrative sex described by Wood would be a serious criminal offense with a maximum sentence of life imprisonment. BuzzFeed News conducted records searches and interviews in Lancashire, the county in northwest England where Wood lived, but was unable to find a death certificate for the child he described in his blog post.
Wood, a prominent member of the cryptocurrency community, was the founding chief technology officer of Ethereum, an open-source project that allows technologists to build applications on top of the blockchain, a decentralized, public ledger of transactions. Ethereum's cryptocurrency, ether, is the world's second most valuable digital coin behind bitcoin with a total market capitalization of more than $30.7 billion.
The 38-year-old Wood helped develop and launch Ethereum with creator Vitalik Buterin, who is widely seen as its face and de facto leader. Wood left the Ethereum Foundation in 2016 and went on to found other blockchain-based projects that have raised millions of dollars in funding.
Wood has never publicly addressed what he wrote on his blog, which internet users brought attention to late last year on a cryptocurrency Reddit group. Shortly after, a copy of Wood's blog vanished from the Internet Archive, a popular online digital library. BuzzFeed News confirmed the authenticity of the post and Wood's blog, which had more than 80 posts as of August 2014, through screenshots and a second online archive.
On his now defunct blog, "Insights Into a Modern World," Wood wrote about his work, which included early visions for Ethereum as well as opinions on topics ranging from internet privacy to porn to feminism. One blog post about building applications on the blockchain protocol was shared from Wood's Twitter account and then reshared by Ethereum's official Twitter account in April 2014, after his writings about "Elizabeth." The text of that post about Ethereum was later republished on Wood's personal website. None of the other posts published before or after the "Elizabeth" post reviewed by BuzzFeed News resemble fiction.
On Dec. 18, 2013, Wood, then 33, posted a first-person account of a relationship with a much younger girl from a troubled family named Elizabeth, a neighbor of his grandmother's whom he claimed to have known since her birth. Wood wrote that he used to babysit Elizabeth.

When Wood was 13 and Elizabeth just 6, she was "found to have HIV and be in the advanced stages of AIDS," he wrote. (He said the "theory" was that she had "inherited it from her father," although HIV and AIDS aren't hereditary.) They grew closer over the next few years, and Wood "began to notice just how beautiful she was," with "large, innocent brown eyes coupled with a mischievous grin, a slim figure and quite average height."
"The tragedy of her illness, combined with her exquisite attitude only added to her beauty," Wood wrote.
In December 1998 — when Wood was 18, meaning Elizabeth would have been only 11 or 12 — the girl told Wood she was dying, according to his post. "Her young body was maturing behind her mind" and she wanted "to know love," Wood wrote. He claimed she asked him to "take her virginity" while he was home for the Christmas holidays from university and described the sexual incident that followed in detail.
"By the next morning, she was tired and sore, but more content than she had ever known," Wood wrote, adding that Elizabeth died a few days later.
A search of national and county death records, along with newspaper and obituary clippings, yielded no evidence of the death of a child named Elizabeth in Lancashire County on or around Dec. 31, 1998. Wood wrote that Elizabeth died on New Year's Eve the year he turned 18 and moved away to attend university, but not before he "gave her youthful lips a final kiss." A Lancashire county official and an administrator for the General Register Office for England and Wales told BuzzFeed News it would likely be impossible to obtain death records for a minor without her last name.
BuzzFeed News was able to verify some details mentioned in the blog post that aligned with Wood's personal life. His LinkedIn profile says he attended the University of York from 1998 to 2002 and went to a private school for boys in Lancaster, the city where his grandmother lived. In the post, Wood wrote that Elizabeth gave him a woven bracelet from a trip she took to Guatemala. He has been seen wearing a woven bracelet in photographs and at public events.
Through a spokesperson, Wood said he deleted his blog after August 2014, but that its contents resurfaced on Reddit in late 2017 when someone shared the text of the post about Elizabeth and archival links to the page. Those archival contents were erased from the records of the Internet Archive, a nonprofit organization whose Wayback Machine tool has captured and recorded more than 338 billion web pages.
Administrators at the Internet Archive can remove pages from the digital library, but only do so upon request, according to Chris Butler, an office manager with the organization. Webpages that have been de-indexed and removed, like Wood's blog, have a message on their corresponding Wayback Machine link that reads, "This URL has been excluded from the Wayback Machine," according to Butler.
"Not everything is taken down," Butler said. "There can be some exceptions, but very often we get requests from a site owner to be excluded from the Wayback Machine, which we respect."
Butler did not comment specifically about who asked for Wood's blog to be removed from the archive or when it was taken off the Wayback Machine. Users on a Reddit thread addressing the blog post note that links to the Wayback Machine's archive of the blog's contents did not work following discussion of Wood and his writing. "The weirdest part of this story is that it was taken down from Wayback Machine after the thread was posted," one user wrote.
While Wood's blog post about Elizabeth was seen by some cryptocurrency investors, two sources told BuzzFeed News, the British entrepreneur has seen few if any professional repercussions for writing a story about sex with a minor. On his personal website, Wood says that he has founded multiple companies, spoken at conferences and with major media outlets, and advised several companies and digital asset investment firms.
Wood's reputation is largely built around his early involvement with Ethereum. In August 2014, he incorporated a company called ETH DEV and listed fellow Ethereum cofounders Buterin and Jeffrey Wilcke as directors. The now-dissolved company was initially registered to an address that was once associated with Wood's grandmother in Lancaster, a city in Lancashire, according to publicly accessible business records.
"Gavin can also be largely credited for the subtle change in vision from viewing Ethereum as a platform for building programmable money, with blockchain-based contracts that can hold digital assets and transfer them according to pre-set rules, to a general-purpose computing platform," Buterin wrote in a post titled "A Prehistory of the Ethereum Protocol" on his personal website.
When contacted about the blog post, Wilcke said in an email he was not aware of its existence and said that he and Wood were not personally close and that they never lived or worked at the same office. Buterin did not respond to an emailed request for comment.
Wood's current company, Parity Technologies, where he serves as chair and chief technology officer, develops cryptocurrency wallets and tools for developers to create and modify so-called "decentralized applications." Parity also oversees Polkadot, a protocol created by Wood that aims to make it easier for different blockchain projects to communicate with one another. Polkadot, which raised more than $140 million from investors last October, is in turn supported by the Web3 Foundation, a Wood-founded nonprofit that envisions a new, decentralized future for the worldwide web.
With that background and his reputation as one of the founders of Ethereum, Wood has been a fixture at blockchain and technology conferences and has appeared on stage at TEDxVienna and TechCrunch Disrupt Berlin last December. He is also an "advisor and founder of other organizations including Grid Singularity, Blockchain Capital, Polychain Capital and Melonport," according to his LinkedIn.
BuzzFeed News requested comment from all four companies. None responded.
Here is Gavin Wood's statement in full:
Acknowledging and Explaining a Fiction Story on My Blog


Over the past few months, several reporters have approached me or my associates asking aggressively about a fiction story that I authored more than four years ago and is no longer posted online.




The story posted on my blog was fiction ‒ a made-up story meant to spark debate and conversation.




The fact that my blog is no longer on the internet and reporters, unassociated with my industry, have still "found" and pursued it indicates that individuals with less than good intentions have been actively trying to disparage and slander me.




My public acknowledgement of the story, along with my strongest possible rebuke that any part of this story is true, is meant to end all attempts to destroy my reputation. I sincerely apologise to anyone who found my experiment in creative writing upsetting, and I hope we can all come together in understanding its original intent and purpose. The content in question was created four years ago, when I wrote a story in rather poor judgement. I published it to my personal blog, Insights into a Modern World, in which I offered readers "projections of thoughts for you to reflect upon and refract over." To reiterate, this story was entirely a work of fiction ‒ no characters or events described anything real. The story, entitled "Elizabeth" was the last in a series of posts ("Sexism and Physics" followed by "Lolita Justice" and then the post in question) that were prompted by current affairs at the time, specifically the Jeremy Forrest case in the U.K.




My story is fiction and was written purely as a literary thought-experiment in the context of current events. In the months before I wrote those posts, I had read "Surely You're Joking, Mr. Feynman!": Adventures of a Curious Character by the physicist and Nobel-winner Richard Feynman, in which the author applied a unique critical perspective on the world, ruffling a few of his audience's feathers along the way. Along those lines, my blog posts at the time were meant to provoke intellectual debate and discussion around generally taboo subjects like the nature of consent. Nothing about it should be taken as indicative of my personal position. My only position here is that rigorous, rational and unrestricted discussion on all topics is generally a requirement to make informed decisions as a society.




It was not my intent to upset anyone, and I took the story down as soon as I realised it was being misconstrued. Recent re-publications of this story have been entirely by others, and I am very sorry to anyone that may have become upset by its contents.




Gavin Wood