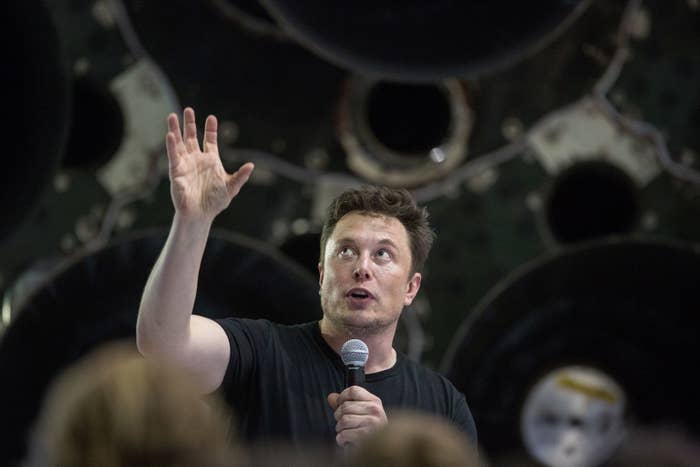 Ahead of the finalization of a settlement with the Securities and Exchange Commission that would have ended a monthslong ordeal involving his botched attempt to take his company private, Tesla CEO Elon Musk tweeted an insult about the government regulator.
A little more than 15 minutes after US stocks ended trading Thursday, Musk tweeted, "Just want to [sic] that the Shortseller Enrichment Commission is doing incredible work. And the name change is so on point!"
The dig comes less than a week after the embattled technology billionaire pulled out of a settlement with the SEC, then was sued, and then agreed to a harsher settlement with the stock market regulator over an August tweet about having the funding necessary to take his company private. That tweet, in which said he was considering taking Tesla private at a price of $420 a share, sent the stock rocketing. Later, it was revealed that Musk had no such funding sources in place and would not be taking the company off the public market.
After the SEC sued Musk last Thursday, the two parties reached an agreement on Saturday that required Musk and Tesla to pay the federal agency $20 million each. Musk also agreed to step down as chair within 45 days of the settlement's finalization and not seek reelection for three years, with Tesla committing to appointing two new independent members to its board and an independent chair.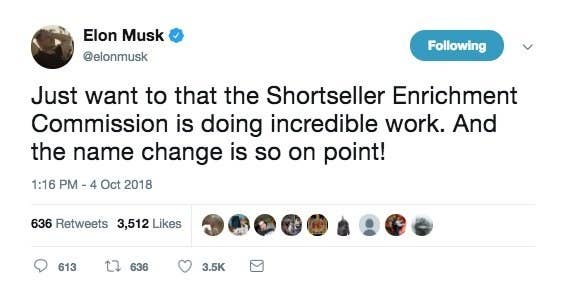 It's unclear why Musk decided to insult the SEC, particularly because the settlement is not yet finalized. As Reuters reported, a federal judge asked Musk, Tesla, and the SEC to justify its settlement in a joint letter Thursday.
Spokespeople for Tesla and the SEC did not immediately return a request for comment.
Interestingly, the SEC settlement also included terms in which Tesla agreed to "put in place additional controls and procedures to oversee Musk's communications," presumably meaning someone at the company would oversee Musk's tweets. Given the settlement has not been finalized, there was likely no one overseeing the billionaire's comment about the "Shortseller Enrichment Commission" on Thursday.