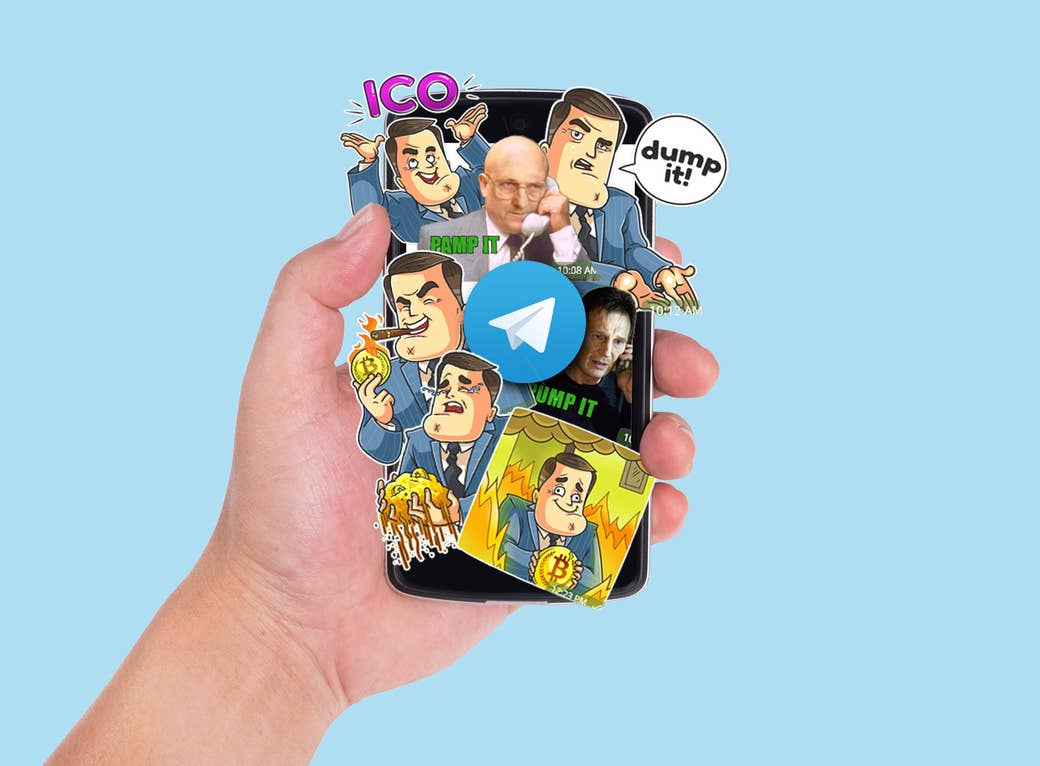 Crypto Callz, a free-to-join chatroom on Telegram that artificially inflates the price of cryptocurrencies, is not shy about advertising what it is.
"Welcome to Crypto Callz, a leading cryptocurrency pump group where we skyrocket the value of coins for six hours at a time," an unnamed narrator explains in a slick welcome video. Quick, polished animations offer a seemingly easy paint-by-numbers path to crypto riches: Open an account on a New Zealand–based cryptocurrency exchange! Follow our Telegram channel for what coin to buy and purchase it as soon as possible! Watch as your coin's value increases "by 1000% to 2000%!" The video concludes with a burst of animated dollar-bill stacks. "Together we profit!" it exclaims.
Crypto Callz currently has about 5,729 members, and it's one of dozens of pump-and-dump groups that have set up shop on Telegram, one of the world's most popular messaging apps. Their goal: to conjure speculative buying frenzies around new digital currencies and cash in on them. These groups are easy to find, mostly free to access, and largely unpoliced by Telegram, which has become the go-to gathering place for bitcoin and "altcoin" traders to exchange news, tips, and, increasingly, to orchestrate cryptocurrency scams.
"What we are doing is perfectly legal," a Crypto Callz administrator who identified himself as Maxwell Anderson told BuzzFeed News. He noted that "being a part of well-managed professional crypto pump groups like Crypto Callz is just getting early info on a coin" and wasn't worried about Telegram cracking down on such efforts.
"What we are doing is perfectly legal."
Telegram's recent growth appears to have coincided with the recent digital currency mania. A confidential internal company document reported by TechCrunch suggests that Telegram has lately been gaining some 50,000 new users daily and expects to reach 200 million users in the first quarter of 2018. Those users, according to the document, will "provide the required critical mass to push cryptocurrencies towards widespread adoption." Also worth noting: The company reportedly plans to raise $1.2 billion by selling a cryptocurrency of its own in an initial coin offering (ICO).
A Telegram spokesperson did not respond to multiple requests for comment.
Launched in 2013 by entrepreneurs Pavel Durov, the founder of Russian social media site VKontakte and his brother, Nikolai, Telegram began as a WhatsApp alternative before becoming a popular messaging app in its own right. By offering supposed end-to-end encryption, chatbots, and public discussion channels its user base has doubled since February 2016, when it had 100 million monthly active users.
Telegram is particularly popular among cryptocurrency enthusiasts. Bitcoin.com launched a Telegram channel in September 2016 that now boasts more than 65,000 members. Binance, the world's largest cryptocurrency exchange by volume, briefly shifted its customer support apparatus to the app before reconsidering the move. Rod McLeod, a spokesperson for Kik, a messaging app that had its own ICO in September, cited Telegram's "strong community management controls for cryptocurrency projects" as the chief reason it moved its Kik token communications to the platform. "Many projects and cryptocurrency community members were already on the app, which made it an easy choice," he said.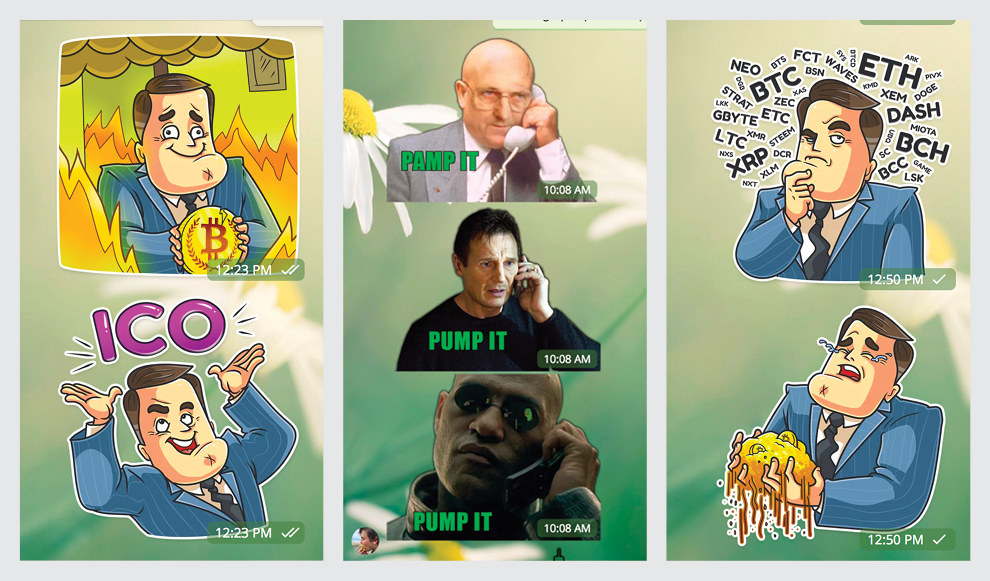 But Telegram is an equally easy choice for cryptocurrency profiteers who use it to prey on less sophisticated investors, often via pump-and-dumps like those arranged by Crypto Callz.
"Sure, 'pump-and-dumps' are fraudulent in the securities industry," said Anderson over Telegram. "But as of now, the only regulations and statement the [Securities and Exchange Commission] has implemented involving crypto has been with ICOs."
"It is an unfortunate situation for anyone left holding the bags."
He acknowledged that "it is an unfortunate situation for anyone left holding the bags," but noted that as long as his group members saw consistent profits they weren't particularly worried about others getting hurt. Regulatory bodies like the SEC may take a different view. The agency warned investors about digital currency–related pump-and-dumps in August, though it has yet to take action against any of their perpetrators.
Until it does (if it does), the practice will continue. As BuzzFeed News reported, some groups like Telegram channel Big Pump Signal have been using fake social media accounts and fake cryptocurrency news to spark buying hysteria around a coin. Big Pump Signal conducts pump-and-dumps on a weekly basis with more than 77,000 users on Telegram and another 200,000 members on Discord, a messaging app for gamers.
"Though the activities border on unethical, they are not illegal and do not violate our Terms of Service, so we are not currently shutting these servers down," a Discord spokesperson said in a statement. "The cryptocurrency market remains the wild west and while we don't have rules specifically addressing this area, we will be constantly looking at how this fits in to our TOS."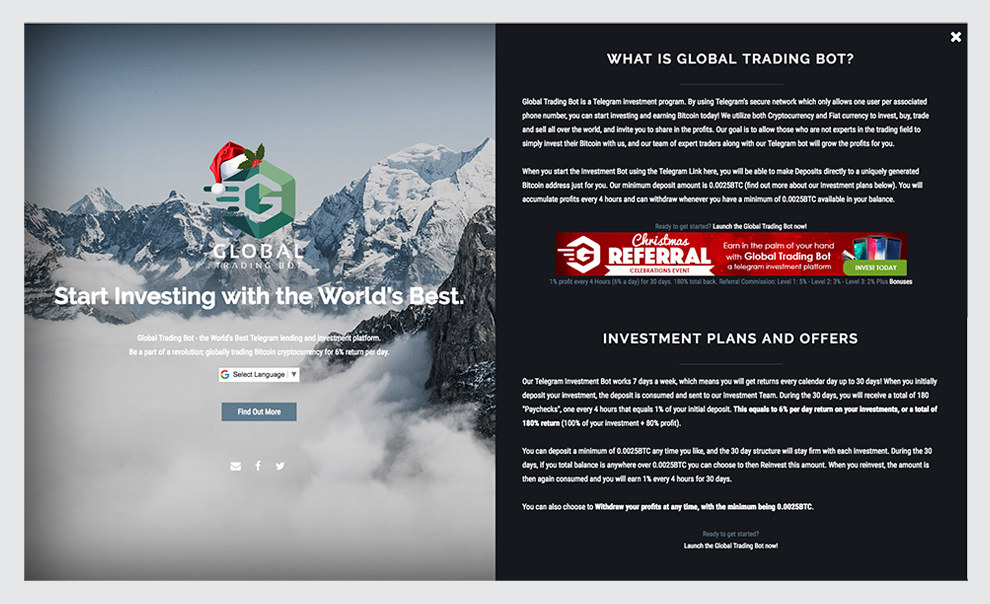 An Automated Ponzi Scheme
Beyond serving as a petri dish for pump-and-dumps, Telegram also hosts a number of cryptocurrency trading bots promising big returns to users willing to invest their bitcoin. Often these bots are Ponzi schemes run by unknown "investors" who eventually take the pool of money and run.
Because Ponzi schemes succeed by amassing more and more new members, social channels like Telegram, Twitter, and bitcoin forums are rich recruiting grounds for their proprietors. "Before we had the internet, there were telephone-based scams that would call you up and promise you a great investment opportunity," Marie Vasek, an assistant professor at the University of New Mexico who has studied cryptocurrency-related fraud, explained. "Even [Charles] Ponzi himself had his own storefront and got the word out through the newspaper."
The bots on Telegram offer a different level of sophistication. Many, like Global Trading Bot, claim to leverage the arbitrage in global cryptocurrency prices, where there can be discrepancies in valuation — for example, buying bitcoin on a US-based market and then selling on a South Korean exchange, where it may have a higher price. The bots tell the user to send some amount of bitcoin, litecoin, or other currency to a wallet, where it will invest hold it for you for a certain period of time — usually around one to three months — before you can start to withdraw the money. In the meantime, you can check your ever-growing balance, using the Telegram bot, which provides a record of your supposed 1% growth every four hours, and sends you links to share with your friends and family.
But often it's all theater. Launched in the fall of 2017, Global Trading Bot stopped responding to users near the end of the year with an administrator noting on Jan. 4 that "the project is over now because the bot ran out of funds." A slew of angry messages and posts on the bot's Facebook page followed. Reached by BuzzFeed News, the anonymous administrator for the bot's associated Telegram community, which is still live with 1,800 members as of writing, had little in the way of explanation. "All I know is that the bot ran out of funds," the administrator said. "Like a classic Ponzi scheme."
"I've fucking gone mad over this."
Doug Walker, a sales director at a Northern California brewing company, lost money on Global Trading Bot. He estimated that he sent a total of $750 in bitcoin to the bot's wallet after hearing about it from his friends. "I should have known something was wrong from the start," Walker told BuzzFeed News, noting that he thought it was odd that people couldn't withdraw their money for 30 days. "I realized that there weren't actual payouts and the bot was just feeding me numbers from a ledger," he said.
John Healy, a Sydney-based airport cargo worker, told BuzzFeed News he and his wife put about $12,000 of bitcoin into the bot. After positive experiences speculating on smaller altcoins like Reddcoin and Dogecoin and seen good returns, they heard about Global Trading Bot from a friend's brother, who "seemed to be up in the lingo of cryptocurrencies." The daily 6% return on investment was too good to pass up, according to Healy.
"I've fucking gone mad over this," he said, describing how his funds disappeared, the updates stopped, and the bot stopped responding. Healy also noted that he has another $3,200 in a different Telegram bot called iCenter.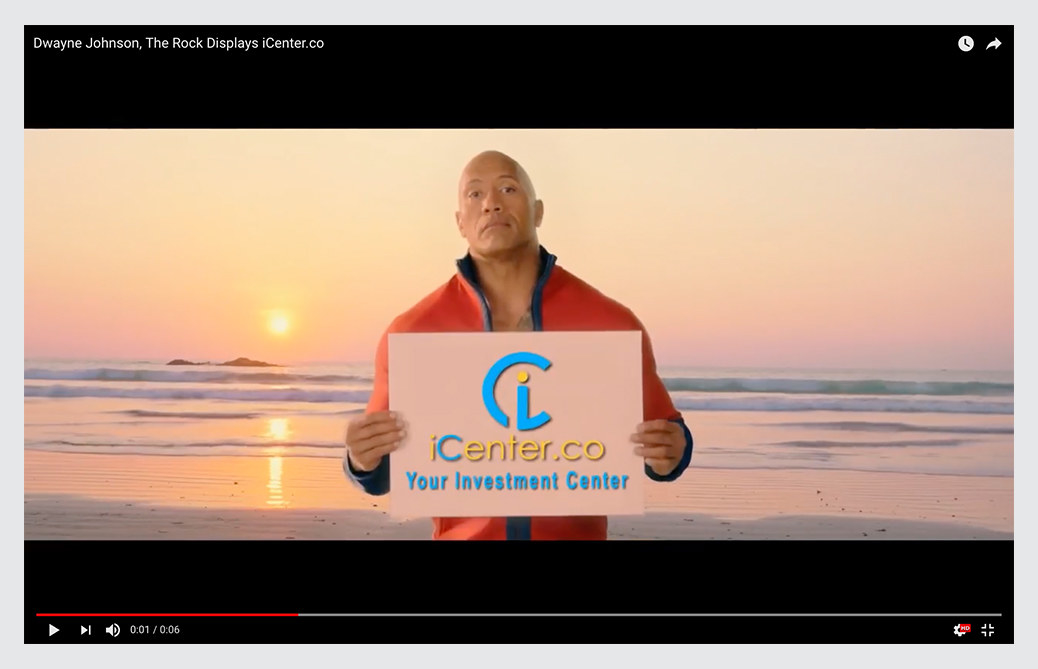 "Just Took a Chance"
Type "icenter.co" into your computer's browser bar, and up pops a site that tells you to "relax and watch your bitcoins grow." It promotes a bitcoin bot it claims has been running for 202 days, with more than 115 bitcoins invested — about $1.3 million at current conversion rates. There's a "Free Bitcoins" link on the site that summons a YouTube video with stock footage of exotic sports cars, yachts, and models on Jet Skis touting the promise of "a real opportunity to live."
iCenter runs two investment bots on Telegram — one for bitcoin and one for litecoin deposits — and its creators have done quite a bit to make it appear legitimate. The news section of the site features informational articles — some lifted word for word from cryptocurrency publications like Coindesk — and posts that regularly remind readers that iCenter is not a scam, Ponzi, or pyramid scheme. There's also a blog featuring bogus celebrity video endorsements. In one, Dwayne "The Rock" Johnson holds a sign featuring iCenter's logo. In another, Justin Timberlake and Christopher Walken are deceptively edited so that they appear to talk up iCenter instead of the health drink they push in the original ad.
Representatives for Johnson and Timberlake did not respond to a request for comment. Walken's manager Toni Howard responded to BuzzFeed News' emailed questions about the fake ad with one word: "Untrue."
"Everything screams 'don't put money in.'"
Healy, a 43-year-old Irish transplant to Australia, saw these videos while doing some brief research into iCenter and felt they added some legitimacy to its offer. So he joined iCenter's Telegram chatroom. There, he found other people singing its praises and rushing to give new members referral codes to climb the pyramid.
"There is no information on who's running it and it's promising 1.2% daily returns with no information on investment strategies," said Dmitry Kalichkin, chief research officer as Cryptolab Capital, a new investment fund with about $10 million in assets. He also examined the website, noting that it had been built with a relatively common WordPress template. "Everything screams 'don't put money in,'" he said.
Miguel Salvador, who runs a website called ezcashlover.com, has been a regular in the iCenter Telegram community, where he offers advice to newcomers and posts tutorial videos and images of himself holding bundles of money. Reached by BuzzFeed News, Salvador refused to answer organizational questions about iCenter, insisting they were not involved with the group's management in any way. Salvador referred us to someone he claimed is iCenter's director — John Eric — before going dark and deleting all his messages from his discussion with us. A support administrator for iCenter's Facebook page told BuzzFeed News that Eric was traveling and unavailable to talk.
BuzzFeed News was unable to find any information about iCenter's owners or its parent company. A UK Companies House registration document from October that was posted by iCenter and featured Eric's name, listed an address at 120 Fleet Street in London, but the only tenant of that address is Goldman Sachs' London office. "We can confirm that none of these entities or people are connected to Goldman Sachs," a spokesperson for the company said in a statement.
Per Vasek's advice, we also looked up icenter.co's associated IP address and uncovered a host of other associated websites — many of them tied to other investment bots. One associated site with the same IP address was customhyipbot.com (HYIP is an acronym for high-yield investment program), which promises in broken English to build custom Telegram bots for any kind of project.
"If you need to make scam it's only for you."
Responding to a BuzzFeed News inquiry, "Md Khaled" — a person claiming to be one of CustomHYIPBot's "professional telegram bot developers" — offered to build us a bot similar to iCenter's. The script itself would cost just $500, he said, with monthly hosting and maintenance running an additional $100 a month.
"If you need to make scam it's only for you," he said, noting that he had built bots for other companies. "You can stop bot at any time."
iCenter is operational as of this writing. Its bots are up and running, and some members of its Telegram channel continue to claim daily payouts — though most appear to be admins. And despite all the red flags — the faked celebrity advertisements, the guaranteed returns with no information on investment strategies, the bogus address, and the occasional bot outages — people still appear to be putting money in.
That speaks to the madness of the cryptocurrency landscape right now. The aforementioned warning signs suggest that iCenter may not be legitimate, but what if it is? What if those promised 1.2% daily returns are true? For novice investors gambling on what looks like a cryptocurrency investment, the calculus here can be tough. And as Vasek noted, you can't be certain you've fallen victim to a Ponzi scheme until it shuts down and disappears with the money.
Healy, whose $3,200 base investment and supposed gains sit in iCenter bots, seems less aware of that possibility. Having downloaded Telegram and engaged with the bots on his friend's advice, the 43-year-old Irish transplant to Australia said he "just took a chance."
The potential losses don't seem to phase him. BuzzFeed News asked him, given his usage of the app, if he'd be willing to invest in Telegram's reported $1.2 billion initial coin offering.
"I was thinking about it," he said. "Telegram seems legit. Does it not?" ●