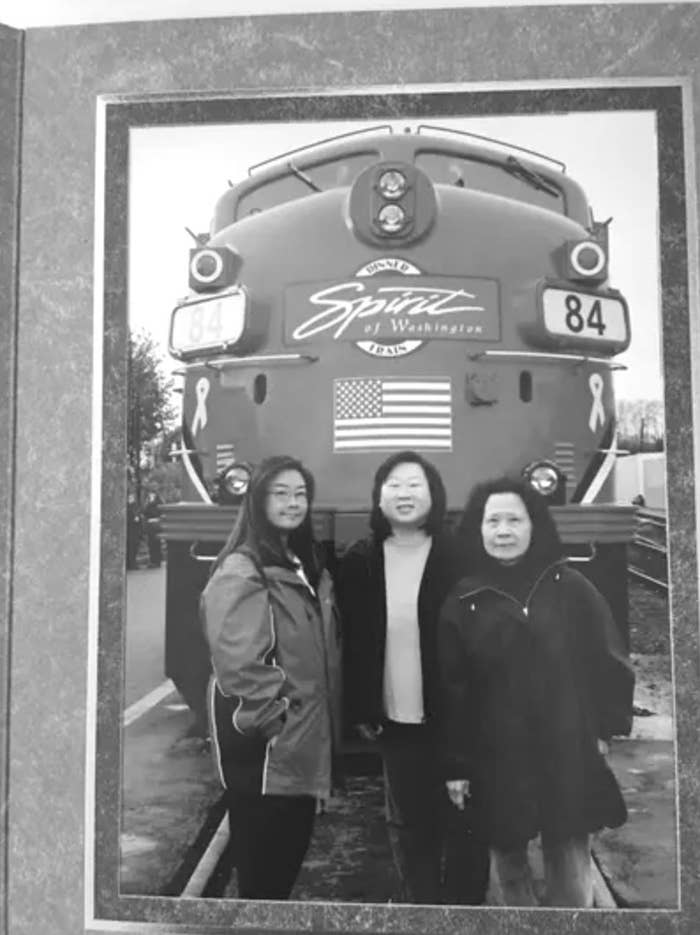 The journalists at BuzzFeed News are proud to bring you trustworthy and relevant reporting about the coronavirus. To help keep this news free, become a member and sign up for our newsletter, Incoming.

Regina Lim Lee was ready to retire. She and her older sister, Willa Lim Lee, had just paid off the Everett, Washington, home they shared with their mother, Susie Lee, and were planning the travel that they hoped would fill the rest of their lives.

For the better part of two decades, mapping out trips was something Regina did for others. As a Costco Travel agent, she spent hours on the phone every day booking cruises, finding deals, and making arrangements at the vacation arm of the retail giant. Colleagues remembered her as a team player, who would always take their shift if they needed to switch or pitch in if extra help was needed.
She didn't have to work that Saturday.
It was March 14, and while it wouldn't typically be busy, a flood of calls hit the travel center from those worried about a lesser-known disease called COVID-19. Some wanted to cancel their travel completely, horrified by broadcast news stories of cruise passengers forced to quarantine for weeks aboard what became floating metal prisons. Other callers hunted for bargains, hoping to take advantage of the swirling fear to book their next getaway.
Regina came into the office, which Costco had refused to close. Despite being within King County — the country's first known coronavirus hot spot — Costco's headquarters and its travel office remained open. Its CEO Craig Jelinek decided that if retail workers still had to work in stores, corporate employees should continue to work from their desks.
Costco employees who spoke with BuzzFeed News in April remembered Regina's incessant cough on her last day in the office. They worried about their 59-year-old colleague, who had diabetes and whose symptoms were so obvious that she had to be checked by a supervisor.
She died on Monday, March 16, from COVID-19.
Regina was the first known Costco employee — and one of the first people in the US — to die of the virus. For some of her colleagues, her death made them aware of their expendability to Costco, and how little their employer did to protect them in the early days of the pandemic.
For Raymond Lee, one of Regina's two surviving brothers, her death marked a tragic beginning. By the end of the month, Willa, 60, and Susie, 82, would also die from complications associated with the coronavirus, likely having contracted the disease from Regina.
"COVID-19 took a toll on my family," Raymond told BuzzFeed News in April. "I lost 60% of my family in two weeks."
"It came and took everything away."
Regina Lim Lee was born on Aug. 21, 1961. Her father, Albert Chin Lee, an immigrant from China's Guangdong province, served in the US Army and later brought over his spouse, Susie, upon completing his service. They had four children, with Regina being the youngest.
Raymond, the second oldest, recalled a blue-collar upbringing. The family settled in the Seattle area, and the children went to Franklin High School, from which Regina graduated in 1979. Around that time, her parents opened New Gallery Garden Restaurant, a gathering spot for Asian American teens that served burgers and steaks and hosted local musicians. The kids worked there while attending college.
While two of her elder siblings attended the University of Washington, Regina went to beautician school, but never finished. Instead, she worked as a travel agent and eventually joined Costco Travel, which the wholesaler started in 2000. She told her family it was a good, stable job, allowing her to provide for her mother, who was by then widowed, and with whom she and her older sister, Willa, lived in Everett, Washington.
"Regina was a fun-loving person, who liked to joke around, while Willa was the serious middle child," Raymond recalled. "Both took care of my mom, and there was nothing for her to worry about."
At Costco Travel, Regina was an institution. Having worked there for 20 years, she interacted at one point with almost everyone in the office, whether it was sharing a vanpool or leaving them surprise chocolates while they were away. While she rarely offered details about her personal life, she loved to organize office potlucks and celebrate colleagues' birthdays to bring workers out of their cubicles.
On her last day at work, however, coworkers remembered Regina's soft voice and quiet giggling were replaced by a cough that got more noticeable throughout the day. As the calls rolled in from worried travelers, Costco kept the agents crowded in desk pods where working spaces were less than 6 feet apart. Some showed early symptoms of COVID-19 — including fatigue and cough — but still came in, hoping not to use vacation days to take time off.
It took a full 24 hours for Costco to notify Regina's colleagues of how she died, leading the company to close the travel office for cleaning the day after her death. By the end of the week, they were back at their desks.
"I was so mortified that they didn't close the office when my friend died," said the anonymous travel employee, who has been with the company for more than a decade. "People kept coming back after that, and it was just so wrong!"
Raymond didn't find out Regina had been sick until Willa told him that she had suddenly died. Regina had collapsed at home, and although paramedics attempted CPR on her, they could revive her. As the person whom his sisters called when something needed to be repaired at the house, Raymond felt helpless when he was told that the house was under quarantine and that he couldn't visit.
"I always felt like a superhero for the family," he said. "But this is the one time you can't help the family out at all."
Willa, a training director at a biomedical company, developed a 101-degree fever the morning Regina died and was admitted to an intensive care unit seven days later. Two days after Willa arrived at the hospital, her mother, Susie, didn't answer the door during a wellness check, leading paramedics to break in and find her collapsed on the ground.
Susie died on March 27, officially of a staph infection, though a doctor told Raymond that coronavirus tests weren't up to standard and that she had also likely contracted the disease. Willa died on March 29, spending her last moments on a ventilator.
Regina and Willa are survived by their brothers, William and Raymond Lee. Susie is survived by her sons William and Raymond, sister Margaret, and brothers Albert, David, Edwin, and James.
This year, there will be no celebrations for Chinese New Year, when the Lee family would traditionally gather at Regina and Willa's Everett home. Raymond told BuzzFeed News in December that he is social-distancing from his older brother, William, and taking whatever precautions are needed.
"This is going to be a very lonely year," he said.