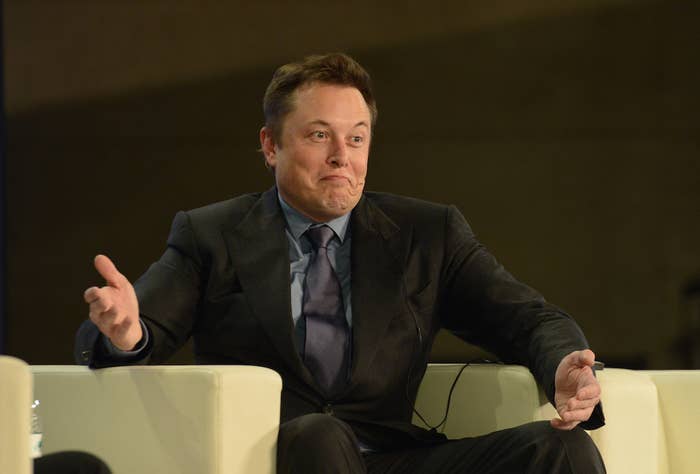 A British citizen instrumental to the rescue of 12 children trapped in a cave in Thailand has filed a defamation lawsuit against Tesla CEO Elon Musk, who previously alleged the man was a pedophile and "child rapist."
Vernon Unsworth and his attorneys filed the suit in the US District Court for the Central District of California on Monday after previously signaling their intent to seek legal recourse against the tech billionaire's continued and unsubstantiated allegations. Musk first disparaged Unsworth as a pedophile, calling him a "pedo guy" on Twitter in July after the Brit criticized the mini submarine Musk's engineers built to help rescue 12 Thai youth soccer players and their coach from a flooded cave system in Thailand's Chiang Rai province. After publicly apologizing, Musk revisited the allegations in August during another Twitter argument, asking why Unsworth hadn't sued yet if his accusations were indeed untrue.
Musk then sent a series of emails to BuzzFeed News in which he elaborated on his allegations and called Unsworth a "child rapist" who took a 12-year-old bride. He also claimed Unsworth had been asked to leave the Thai cave rescue site. BuzzFeed News published those emails and asked Musk for further evidence of his claims, though he did not provide any.
BuzzFeed News found no evidence to support Musk's allegations, and determined his claim that Unsworth had been kicked out of the cave rescue site to be demonstrably false. Musk's tweets and his emails to BuzzFeed News were submitted as exhibits in Unsworth's lawsuit.
"Elon Musk falsely accused Vern Unsworth of being guilty of heinous crimes," Unsworth's lawyer, L. Lin Wood, said in a statement. "Musk's influence and wealth cannot convert his lies into truth or protect him from accountability for his wrongdoing in a court of law."
A spokesperson for Tesla could not be immediately reached for comment on the suit. Musk, who had previously told BuzzFeed News, "I fucking hope [Unsworth] sues me," did not immediately respond to an email request for comment.

Unsworth's suit is just the latest addition to Musk's mounting legal problems. The billionaire is reportedly facing a Securities and Exchange Commission investigation for an August tweet about taking Tesla private, which has also inspired several shareholder lawsuits. Meanwhile, the electric automaker is in a court tussle with the National Labor Relations Board over allegations it had prevented factory workers from unionizing.

Unsworth's defamation suit, which does not name any of Musk's companies as defendants and asks for jury-determined compensation in excess of $75,000, lays out an extensive history of the cave rescue from Unsworth's point of view. It paints the 63-year-old British citizen as "a highly respected caver" with more than 40 years of experience, including a handful of cave rescues in the UK in the 1970s and 1980s. It explains that Unsworth first visited Thailand in 2011 and began exploring the Tham Luang Nang Non cave system, where the Thai boys became trapped, in May 2012.
The suit claims Unsworth spent six years surveying that cave system, extending its known length to 10 kilometers from 6 kilometers. It also states that Unsworth was "the first foreign rescuer" to arrive on the scene after receiving local calls for help, and crucially "among the last persons to leave" — which contradicts Musk's accusation that the rescuer was banned from the site.
The suit also offers further context for Unsworth's remarks about Musk's mini submarine, which prompted an irked reply from the Tesla CEO. Unsworth, who previously told CNN in a video interview that the submarine "had absolutely no chance of working" and that "[Musk] can stick his submarine where it hurts," notes in the suit that eight of the 12 children had already been extracted from the cave by the time the watercraft arrived on scene. And while Musk previously maintained that the submarine was built to specifications given to him by another rescue diver, Unsworth argues that its 12-inch diameter would likely not have fit many of the boys and that it's unclear how divers would have maneuvered it in "zero visibility" around tight corners with stalactites and stalagmites.
The rest of the suit details and rebuts various accusations Musk has made about Unsworth on Twitter and in written correspondence over the past weeks. "Mr. Unsworth is not a child rapist," the suit states. It includes similar denials for allegations of sex trafficking, pedophilia, marriage to a minor, and lying.
Unsworth's complaint notes that he's never visited Pattaya Beach, a Thailand destination known for sex tourism that the Tesla CEO claimed the rescuer had visited in a previous email to BuzzFeed News.
"Musk falsely states that Mr. Unsworth had visited Pattaya Beach or lived in Thailand for 30 to 40 years and falsely stated that he lived in Chiang Rai with a 12-year-old bride," Unsworth's lawyers write. "While the Cave System at issue contains a shelf and air pocket nicknamed 'Pattaya Beach,' which is near where the stranded Boys were located, Mr. Unsworth has never visited Pattaya Beach in Thailand."
Beyond alleging Musk's statements are false, Wood accuses him of knowingly making those false statements, a requisite for any defamation case. Pointing to a previous apology tweet, where Musk claimed he made his original accusation about Unsworth in anger, the suit paints the Tesla CEO as a vindictive billionaire "apparently angered by his efforts being rejected or not be recognized."
"The False and Defamatory Accusations include accusations by Musk that are the product of intentional misrepresentation of comments by third parties," the lawsuit reads. "Musk published the False and Defamatory Accusations without any reliable or credible sources of information."
Unsworth's complaint seeks recovery for "worldwide damage he has suffered to his reputation," though it notes that a separate suit will be filed in the High Court in London. That separate suit will seek compensation for reputational damage in England and Wales.
The English lawsuit may move more quickly than its US counterpart. There is also a different burden of proof: It will be up to Musk to prove the allegations he made against Unsworth are true, while the British diving specialist will only need to show that the Tesla CEO caused serious harm to his reputation.
Unlike financial damages in US courts, any potential damages won by Unsworth in the English libel action would be capped at around £300,000 ($395,000). A recent libel ruling said there was a "ceiling" for awards, with the top end reserved for the most serious libel, such as accusations of genocide, terrorism, and murder. But the high court would also be able to issue a costs order — where the loser pays the winner's legal costs — meaning that if Musk loses the case, he would be liable to pay Unsworth's legal fees on top of any damages the court awards.
CORRECTION
Fudge! Elon Musk wrote "I fucking hope he sues me." An earlier version of this post misplaced the f-bomb in that sentence.