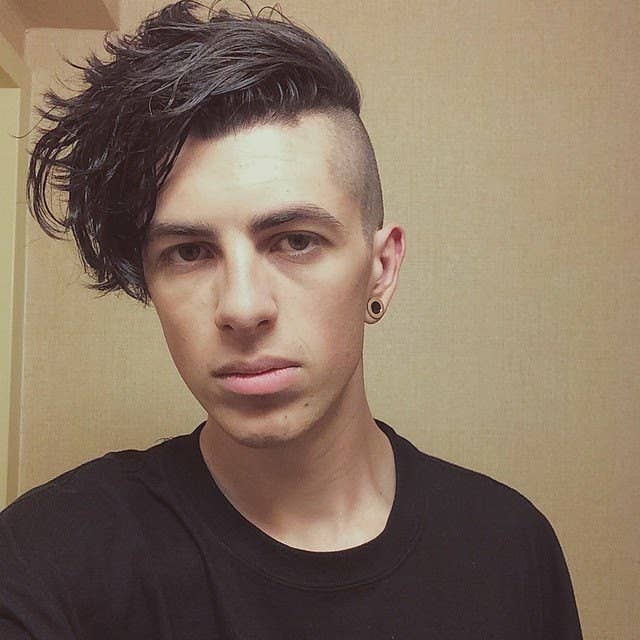 Another woman has told BuzzFeed News that YouTube celebrity Sam Pepper sexually assaulted her.
The new allegation comes a week after the former U.K. Big Brother contestant sparked outrage with a prank video that features him groping and pinching women on the street. In the video, Pepper approaches women on the street and asks for directions. As the women answer him, Pepper groped them with his hand hidden beneath a large sweatshirt. Pepper said the video was a "social experiment" and the women were in on the stunt.
But soon after the video was published, three women came forward with stories of being inappropriately touched or harassed by Pepper. A fourth woman told BuzzFeed news on Wednesday that Pepper solicited nude photographs of her in 2011 when he was 22 and she was 15.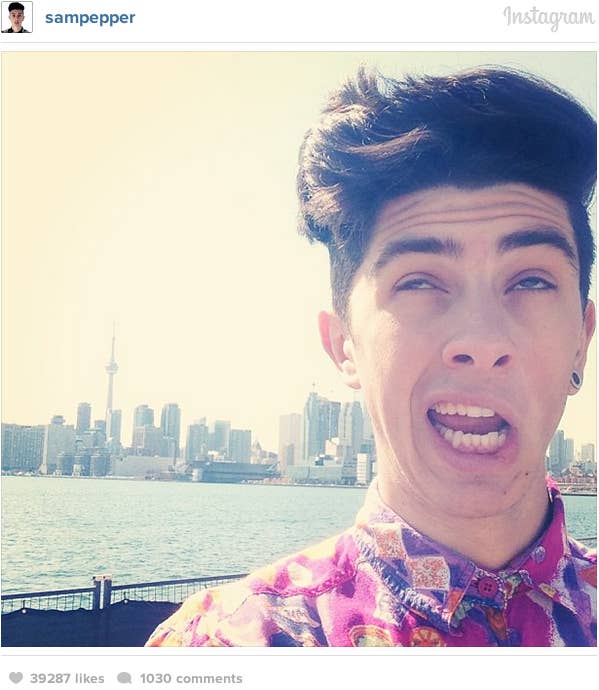 In an interview this week with BuzzFeed News, a 20-year-old from Toronto who asked her name be withheld, alleged that she was sexually assaulted by Sam Pepper in 2013 while he was on tour with the rapper Sammy Adams and singer T. Mills. She said that she met Pepper on April 26, when the tour stopped in Toronto.
"I didn't even know who Sammy Adams was," she said. "I just went because my friends, we all really liked that whole YouTube thing at that time and my friends told me about [the concert] and said that [Sam Pepper] would be there."
The woman, who was 18 at the time, said she, her older sister, who was 21 at the time, and a family friend, all responded to Pepper on Twitter after he posted that he was in Toronto. The three women exchanged Facebook information with Pepper.
The woman now accusing Pepper said that he messaged her on Facebook and asked for her to come to his room at the Westin Hotel. Westin Hotel staff would not confirm to BuzzFeed News that Pepper was a guest of the hotel on April 26, 2013, citing privacy laws.
The woman gave BuzzFeed News screenshots of what she said are Facebook messages between her and Pepper.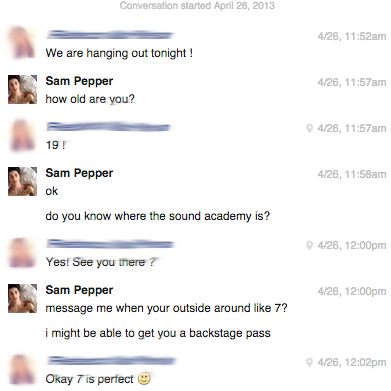 The woman told BuzzFeed News that she lied to Pepper about her age, saying she was 19 — the legal drinking age in Ontario, Canada — so she could get into the concert. The woman said she told Pepper that she and her sister and friend didn't have tickets to the show; Pepper told her that he might be able to get her — but not the other two women — a backstage pass for the show that night.
She said that Pepper told her that she should come to his room before the show to hang out. Both the woman and her older sister told BuzzFeed News on Friday that Pepper urged her to come to his room alone.
"I walked into his room, he was sitting on a queen-sized bed watching TV," she said. "There were two beds in the room, and I had no interest in lying next to him on a bed, so I sat on the other one and began to talk to him."
She said he requested that she come over to his bed and sit next to him. When she did, she said Pepper got on top of her and began pulling down her pants and trying to pull up her shirt. She said she told Pepper that she did not want to have sex with him.
"The most I could blurt out was 'Well, I can't have sex with you. Please don't have sex with me, I don't do this kind of thing,'" she told BuzzFeed News. "Which was true, at this point in my life I had never done anything like this with a boy."
She said at that point Pepper forced her to perform oral sex on him.
"He continued to do things to me against my will and then forced me to give him head, nearly choking me," she said. "Afterwards, he threw me a napkin and told me that it was time to go."
Pepper did not respond to requests to comment on these allegations.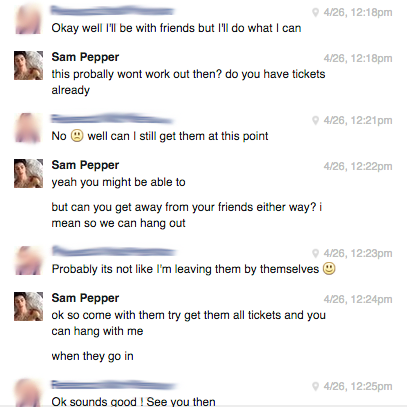 The woman said she then went downstairs to meet her sister and her friend, who were having dinner in the hotel lobby.
"We were getting really worried and we started to text her," the woman's sister told BuzzFeed News on Friday. "She came back downstairs and her hair was all a mess and her makeup was running down her face and she just looked so distraught and I knew right away that it wasn't an innocent thing that had happened."
The three women then walked a half hour up the road to the concert to see if Pepper could get them tickets. According the woman's sister, Pepper refused to get all the three women into the concert, only offering to bring the woman accusing Pepper into the venue.
Before the woman's sister and her friend left, the woman's sister asked for Pepper's phone number. Pepper told her that he would make sure that her younger sister got home safely, she said.
"I didn't want her to go," the woman's sister said. "He was really forceful with her and he seemed aggressive with her and she seemed afraid to say no."
After her older sister and her friend left, and the concert had ended, the woman accusing Pepper said that she told Pepper that she needed to go home. She said he told her that he would take her home. But he instead told his driver to take the two of them back to the Westin Hotel, she said. When she asked why they were going to the hotel, she said Pepper told her they were going to hang out for a little bit.
"I was plotting an escape plan in my head but I didn't have the courage," she said. "I didn't want him to get mad at me and I didn't want someone with that kind of power to be mad at me, I guess."
The woman said the two went back up to Pepper's room.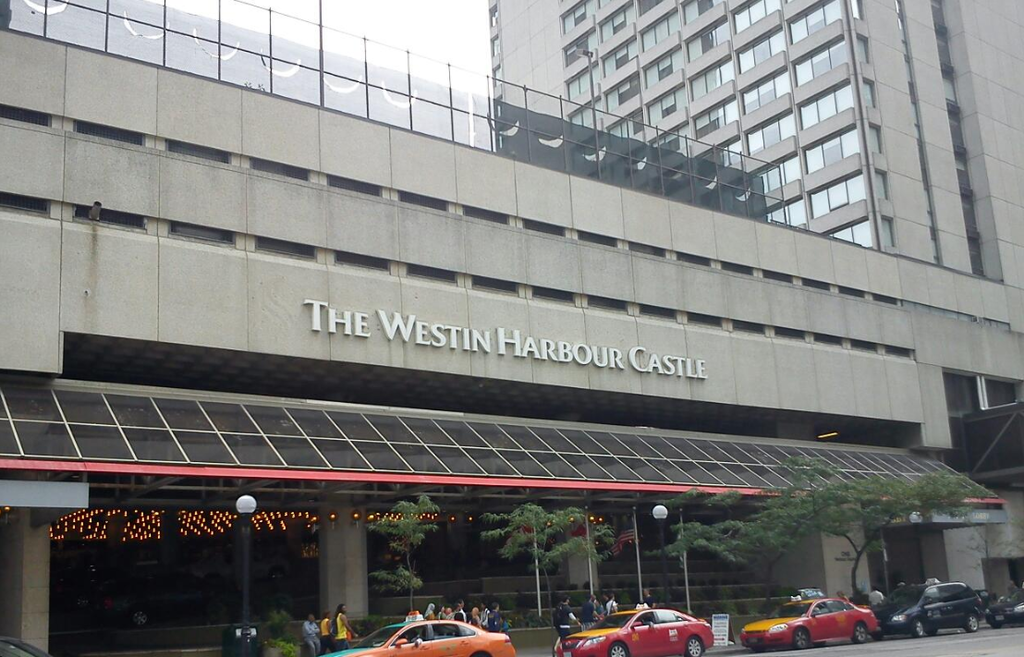 "My mind was racing, I tried to think of ways to avoid being assaulted again," she said. "I asked him if we could watch a movie and he put on Fight Club. The internet connection was weak and it did not load, he closed his laptop."
That's when Pepper got on top of her, held her wrists down, and began to rape her, she said.
"I kept saying no and he laughed and pinned me down," she said. "At first, I thought he was joking around, but then I realized he was having sex with me."
She said she struggled underneath him and ended up falling off the bed. She said she was sitting on the floor when he ejaculated into her hair, which she said he told her was karma for not wanting to have sex with him.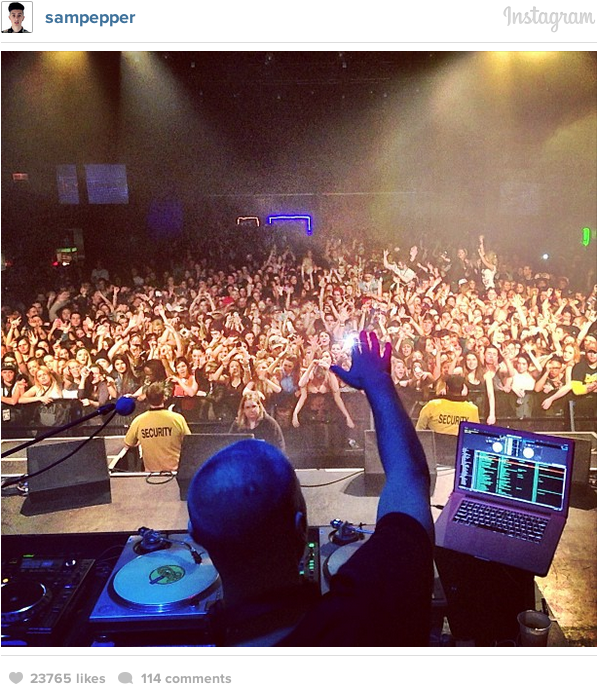 The woman spent the night in the hotel room with Pepper. In the morning, she said he tried kissing her and flirting with her. She left and went to the apartment where her sister and her friend spent the night.
"She's telling us everything that happened I could tell that it was affecting her," the woman's sister said. "I had never seen her like that before."
The woman accusing Pepper said he continued to text her throughout the day, asking her if she had a good time the night before.
"I think he wanted me to give him reassurance," she said.
The woman said she then went to a local hospital to get tested for sexually transmitted diseases.
"I remember clearly the lady at the clinic telling me, 'If he does this to you, he's going to do this to other people.' And she said, 'Please give me his name,'" The woman said.
But the woman didn't report Pepper because she feared she was overreacting, she said. Before contacting BuzzFeed News, the woman said she wrote about the alleged assault on her Tumblr this week as other women began coming forward, but her friend convinced her to delete it minutes later.
"I thought it was my fault," she said. "When I found out that he did it to other people, it felt like a sock in the face because she told me that he would."

BuzzFeed News emailed Pepper for comment at 4:58 p.m. ET on Friday listing the woman's accusations. Pepper has yet to respond. Pepper's Tumblr, Facebook and Instagram pages all appear to have been deleted by 6:30 p.m ET on Friday.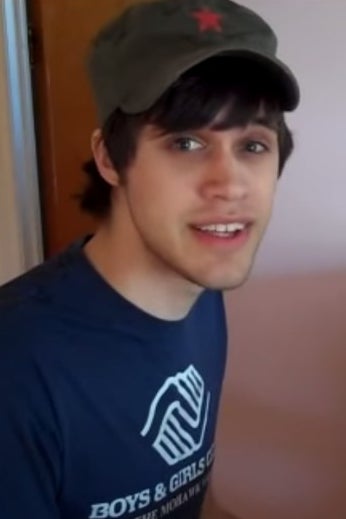 Pepper is part of a group of well-known YouTube stars with thousands of fans, many of whom are teenage girls. He currently has over 2 million subscribers on YouTube. In June, Pepper was a featured guest at VidCon, a large online video convention held in southern California every year. He is not the first YouTube celebrity associated with VidCon to be accused of sexual misconduct with fans.
YouTube musician Mike Lombardo (pictured left) performed at VidCon in 2011 and was sentenced to five years in prison after pleading guilty to a felony charge for receiving child pornography. Authorities discovered that Lombardo had exchanged explicit photos and videos with six underage women over the period of three years.
Tom Milsom (pictured right) was accused last spring of having a relationship with a 15-year-old fan when he was 22. Milsom's accuser said she met him in 2010 while he was performing at VidCon, the popular convention founded and organized by John Green, the author of The Fault in Our Stars, and his brother, Hank.
Milsom and Lombardo were both signed to DFTBA Records, a record label founded in 2008 by Hank Green and Alan Lastufka.
Contact the reporters: ryan@buzzfeed.com, ellie.hall@buzzfeed.com