What We Know About The Teen Allegedly Behind The Mass Stabbing In Pennsylvania
The Murrysville community is now looking for answers as to what drove a 16-year-old boy to attack his classmates with knives, leading to 21 injuries, at least five of them critical.
Updated — April 10, 10:45 a.m. ET: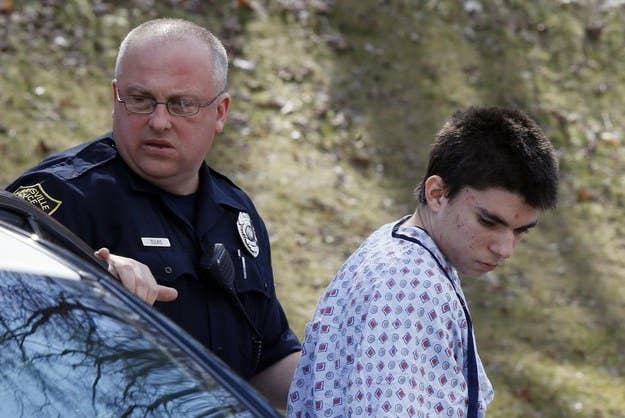 Alex Hribal, 16, a sophomore at Franklin Regional High School in Murrysville, Penn., is the alleged knife-wielding attacker whose rampage led to the injury of 21 people on Wednesday morning.
Hribal pulled out two knives in the hallway of Franklin Regional as students were arriving for classes. Hribal reportedly tackled another classmate, repeatedly stabbing the student in the stomach. He then allegedly went on a stabbing and slashing spree, which led to the injury of 20 students and one security guard before Assistant Principal Sam King tackled the 16-year-old suspect. Hribal was then handcuffed by the school's resource officer.
Five of the victims suffered critical injuries, with one student placed on a ventilator after the knife pierced his liver. Hribal injured his hands during the incident and was treated at a local hospital while in police custody.
It is not yet known what triggered the attack. According to Murrysville Police Chief Thomas Seefeld, authorities are looking into reports of a threatening phone call between the suspect and another student Tuesday night.
District Attorney John Peck said Wednesday that after he was taken into custody, Hribal made comments suggesting he wanted to die.
Hribal was charged as an adult. He will face four counts of attempted homicide and 21 counts of aggravated assault.
Matt DeCasare, 17, a junior at Franklin Regional High School, had friends in common with Hribal. He says the Hribal family was well-regarded in the community and that many students were shocked. DeCasare said there were rumors of Hribal acting "on edge" earlier this week.
"I know some people who knew him well and they can't seem to put an exact pinpoint on what caused it," DeCasare told BuzzFeed. "I heard earlier this week when people tried to talk to him in Spanish class — I know one girl tried to talk to him and he seemed a little on edge, a little different than usual this week."
The FBI and Murrysville Police searched Hribal's home and were seen to have removed at least one computer.
Hribal's defense attorney, Patrick Thomassey, described Hribal as remorseful, although conceded that his client did not fully appreciate the gravity of what he's done. Thomassey is asking for a psychiatric examination.
"At this point, he's confused, scared and depressed. Over the next few days we'll try to figure out what the heck happened here," Thomassey told ABC's Good Morning America on Thursday. "I think he understands what he did. ... I don't think he realizes how severely injured some of these people are."